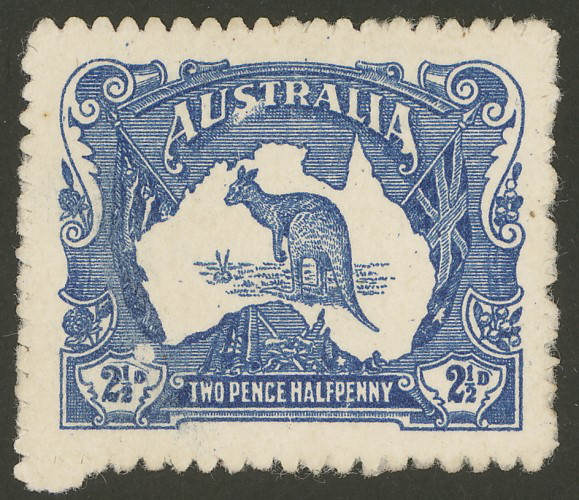 Well the certain Tete Beche pair got beaten out in $US price by this item 4 years back .. but is this a "stamp"?
http://www.glenstephens.com/snjune06.html
=========================
A 1912 unadopted essay for Australia's first Kangaroo and Map stamp issue was auctioned April 22, 2006 for
$A174,750
or $US130,573.
In US dollars at least ($US130,573) this is a record price in US dollars for any Australian stamp item, essay or proof. My research indicates it may be a world record price for a single stamp essay from any country.
The auction result was obtained by Prestige Philately in Melbourne.
The essay in bright blue is on thick ungummed unwatermarked paper roughly rouletted percé en scie gauging 14½. This same design is known to exist in several different colours.
This essay is catalogued in the "Australian Commonwealth Specialists' Catalogue" as number #KE2 at $75,000, so the realisation was way over twice current catalogue price.
Previous record price for any Australian philatelic item was set in March 2003 when Spink auctioned a joined pair of 2d red King George V head stamps for the then equivalent of $A217,898 ... however that only came to $US130,028, hence the new "record" Greenback price!
The two 1930 King George V 2d red stamps were joined "upside-down" (tête-bêche), transforming two otherwise common stamps items into (then) the most costly item in Australian philately. This pair if separated would become two hinged mint common stamps which have a retail value of a couple of dollars each.
Another Kangaroo and Map design essay in the same April 22 Melbourne auction also realised more than double catalogue price. This was a vertical format 1d red Roo with two value tablets, and the island of Tasmania omitted. This is in dull red and imperforate on ungummed unwatermarked paper.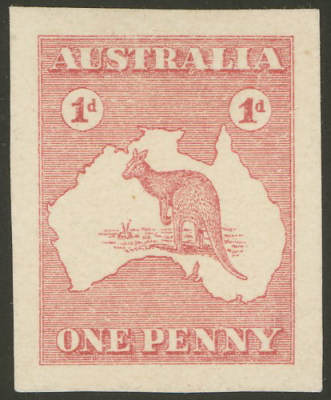 This example with commissions sold for $A154,362 but an Australian buyer would need to add 10% GST tax to the hammer price.
Gary Watson, owner Prestige Philately was delighted with the result. He refused to divulge whether the essays would stay in Australia.
"At this point I am sworn to secrecy by the vendors and the purchaser(s) as to whether one buyer purchased these two, and the other two major Kangaroo and Map essays we sold at this auction."
I understand from a later press report that the buyer of all the four Kangaroo essays was
Hugh Morgan.
Mr Morgan is ex-CEO of massive Australian conglomerate Western Mining Company, and a keen collector and exhibitor of Australian stamps. With Morgan's high visibility in the business world, this purchase was a feature story in the "Australian Financial Review."