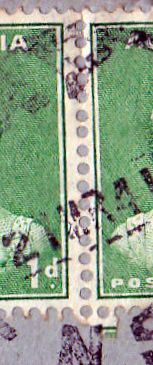 How about this one? May be philatelic but can't imagine how?
Was pricing it up today at $50 as a nice Ford Motor advertising cover (which are very sought after) and which allegedly has the
"large holes"
special perforation (ACSC 182bh $150 a pair if they are), and the thought occurred to me
WHY
did it have 5d postage????
Very roughly opened so not obviously philatelic. Nothing on back. Sent mid WW2. Carelessly cancelled at Hay, and cancelled in 1941, so years from issue date.
Why 5d?
May have been double weight I guess (but recall mail went up from 2d to 2½d in 194TWO) but hard to imagine that on a small size cover.
Any guesses?
My best guess is it was meant to be sent Reg'd and that was not asked for or done at PO counter it seems weird. Reg'd rate was 5d up to Dec 1941 so that may be the answer.
Hay is a smallish town, but even so the 5d Ram stamp for that rate would be a standard item in the stamp book you'd have thought.
So I'm leaning to the boss saying
"that one is to be Registered"
and the mail girl putting 5 x 1d on it in anticipation, and neglecting to tell the PO clerk to add the label.