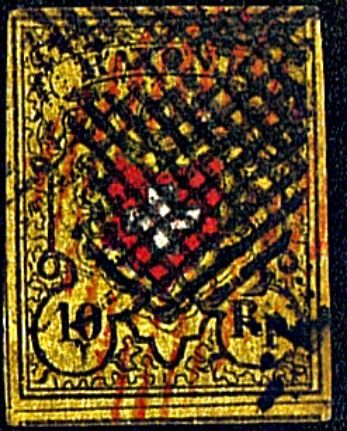 Dear CHzug1291:
I tried to email you the image via your email address but
it did not go through.That is why I am posting the better
image here also this is the link to the location of the image
at photobuck which you could adjust the brightness as well
as the size .About the stamp I should tell you that it has the
full frame around the cross with triple grid cancel plus another
incomplete blue cancel.So it as black,red and blue cancel wh
ichis quite unique since I have followed the sale of similar stamps
in the market place and almost all have P.P. cancels on them.
That is why I need to obtain more information about the stamp.
I had shown the stamp to the expert in southern California and
they verbally O.K. it but I need a Swiss experts opinion on it for
my own sake.I appreciate your research on the stamp via the
website you are a member since I do not speak Swiss.This is the link to the original location of the stamp's image.Take care-Ali
2Fs1069.photobucket.com%2Falbums%2Fu464%2Fphilatelia1%2F%3Faction%3Dview%26current%3DSWISS6-1.jpg