Hi fellow-collectors,
I have a small number of covers carried on the official
2009 Bicycle Post 41st Anniversary Re-enactment ride,
at the New Zealand National Stamp exhibition in Timaru that year.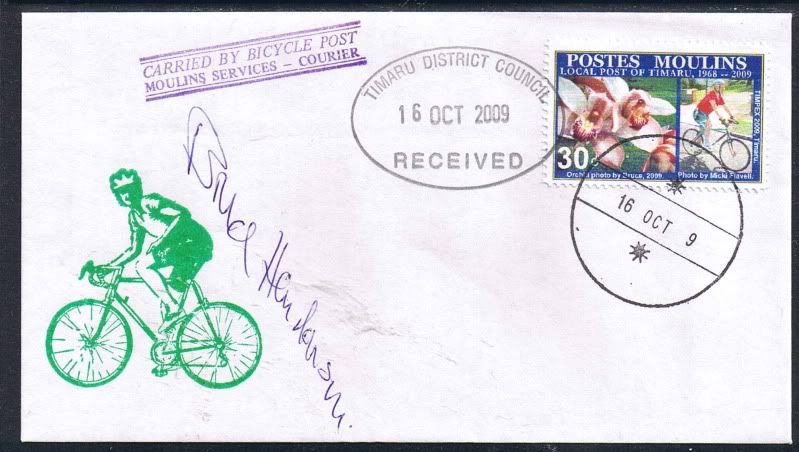 Timaru Local Bike Post cover, carried on 16th October 2009,
and with cycle post datestamp plus the city Mayor's Office
datestamp also. Signed by the cycle postie.
(Add your own name & address.)
I am happy to give one free to anyone who requests one, plus a miniature sheet of the 30c stamp (8 stamps), plus some media photocopies about the event.
In return though, I do request that you reimburse the postage by sending me a few mint commemorative sets of recent stamps of your country that I can sell locally to recoup the airmail cost.
Contact me at:
Bruce Henderson
P.O. Box 876
Auckland
New Zealand 1140.
Post to send these is approx $3, so please don't email me about these: just write, give your address. If you feel like sending me some of your spare mint or used or FDCs of your country as well, I will gladly send similar of New Zealand when responding.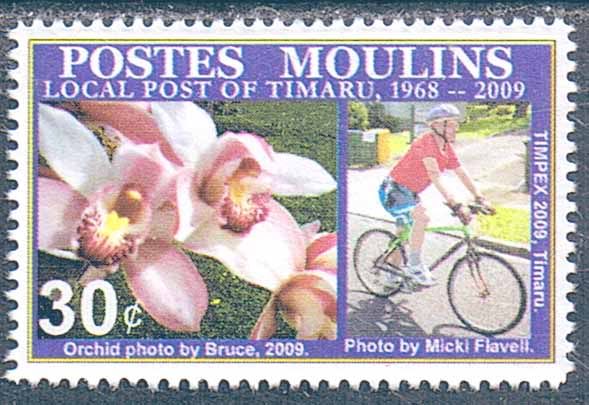 Enlarged photo of the 41st Anniversary stamp.
I will use one on your outer envelope as well, next to a New Zealand stamp or stamps,
so you will get enough material to make a several-page display of this historic event!