PeterS wrote:

.... thin paper were "By Authority".
Well YES and NO.
YES
in the REAL WORLD, that most of us here thankfully inhabit.
But
NO
in that ether world of clueless dreamers, and con men and idiots called
EBAY
!
So only on EBAY, the home of every Bunny Buyer to ever have hopped on this planet, we get the
TOTALLY UNIQUE
Ash imprint Pairs offered on
THIN
paper!
http://cgi.ebay.ph/Robes-1-Blue-Slate-Thin-Paper-John-Ash-Imprint-Pair-/250665811128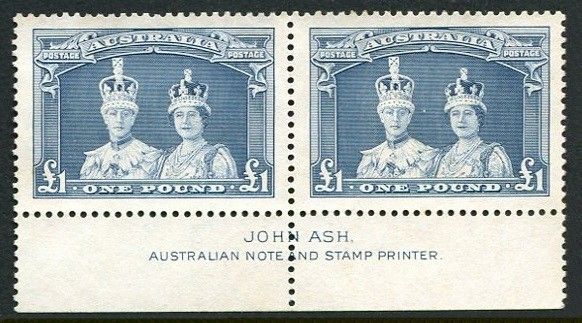 The either clueless or deceptive seller -
officialidsport
- called this pair -
1949 Robes £1 Blue-Slate

Thin Paper

John Ash Imprint Pair -MNG -

SG # 178a



NOTE - Please note scans are a pivotal part of my description.
===============
Total fiction and misrepresentation of common thick paper, as the far scarcer THIN paper.
Now anyone with any brains knows the main way "no gum" copies of this exist, are that it was once mint with heavily toned gum and rust spotting. Being chalk faced paper these stamps absorb moisture and fox easily. Toned imprints are a dime a dozen.
They either add absurd looking obvious "zinco" forged cancels, like these from
3partners
- previously 'mentioned in dispatches' here - calling them "Fine Used" (gee, a
1930
cancel on a stamp not issued until 1937!) and then cheerfully offer them to the bunnies for $US150.
http://cgi.ebay.com/ws/eBayISAPI.dll?ViewItem&item=360248587619
Or in the case of "no gum" - the seller most likely - has washed off the gum, probably given the item a light bleach too, thus removing part of the chalk facing, and offered the 2 now treated stamps on ebay.
So we now have 2 x treated and no gum stamps, worth say $15-$20 each in the
real
world.
What do the ebay Bunnies madly push it up to - via 14 frantic bids on it - -
$A122.11!
The successful bidder was -
scamprex
- to be fair the seller was Australian, and the deceit was in him calling it
"Thin paper SG 178a."
So shame on
officialidsport
- and I trust you refund in full on this dreadful mis-description - if anyone wants to email
scamprex
so he can chase a refund, this link to this thread is -
http://tinyurl.com/ebayBunnies
A Thin paper £1 looks nothing
remotely
like a Thick paper - imprint or no imprint. Mint or used.
Hey
scamprex
- they do say life is a learning curve. Send me $A122.121 and I, or any other
REAL
stamp dealer in the country will mail you an Ash Imprint pair £1 Robes with
ORIGINAL GUM!
Aaah, ebay
never
ceases to astound me. The seller's knowledge is generally as low as the buyers, and we then have a clueless match, made in heaven! The blind leading the blind.
Paying $122 for "bargains" that no real dealer would pay $22 for.
Glen