This is an attempt to do a census on the Papua 1930 airplane o/print stamp (SG117) in
deep carmine
.
The normal o/print is in carmine and the deep carmine is very rare indeed, it was listed in Gibbons but has been de-listed for some reason.
Croaker reported that less than 10 sheets were printed in the deep carmine in the first lot of the Harrison printing but that shade was deemed unsuitable so it was changed to carmine.
Current research put's the number of sheets seen to at least 12 and my colleagues in the Papuan Philatelic Society believe this is more like 18 to 20 sheets.
It was also thought that it only occurred on the Harrison printings on yellowish paper but recent research shows that it also occurs on the rare early white paper printing.
Here are three examples of what I'm talking about. The top stamp is the normal carmine o/print (white paper) left hand bottom one is the yellowish paper printing with deep carmine o/print and the bottom right one is the white paper printing in deep carmine: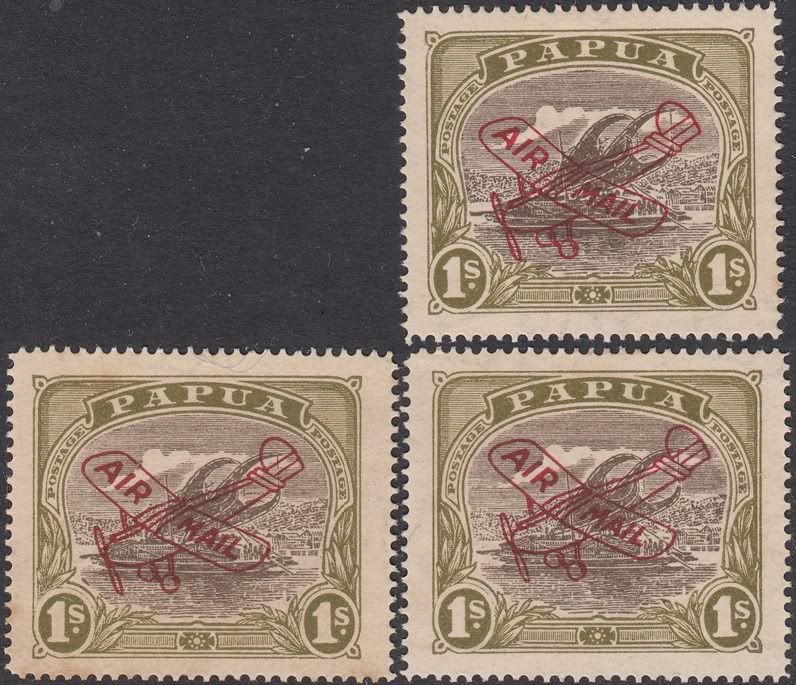 You can see that they are distinctly different shades and the normal carmine (light cherry reddish) shade shows up very well when you look at the cloud area in the top stamp. The deep carmine isn't as bright in that area as you can see in the bottom two stamps.
So how do we do the census
Basically the only way to be sure how many sheets are out there is to tally up all the printers imprint's which occur once on the bottom of each sheet.
So if any members here has a scan of one of their imprint/part imprint blocks or even one stamp with a part of the imprint in
deep carmine
they can post up here, or if they can even post up an image from an auction catalogue (mentioning auction house name and sale date) that would help immensely
We can then cross reference that with those we have or are aware of and build a database.
Any scans posted under here will be appreciated