(Text size now doubled in post #1)
I have written a "Stamp News" piece on this as it has always fascinated me. Posted below.
In fact WA quite incredibly
FIRST issued
all the 2/6d to £1 high values -
many YEARS after Q.Vic had died!
KEVII was near totally bypassed for 10 years by all Colonies here.
=============
http://www.glenstephens.com/snapril05.html
As is generally known, Australia became a 'Commonwealth' on January 1, 1901 - the month Queen Victoria died. For postal arrangements, the amalgamation of the six different state Post and Telegraph services was required. This occurred on March 1, 1901.
That date can be regarded as the date after which any stamps issued, were done so by the Australian Commonwealth Postmaster-General's Department.
However, the Post and Telegraph Act 1901 was not enacted into law until November 1, 1901. Interestingly enough Colonial stamps were never demonetised, and most continued to be valid for use (in any State) after 1901 - indeed were fully legal on any mail until 1968. Many collectors and dealers used them for normal mail to other collectors as low values were very inexpensive.
For near a century 'Australian' stamp issues have been regarded as those commencing with the Kangaroo and Map series in 1913. The ACSC catalogue (correctly) broadly defines them as any stamps issued since 1901.
Some of these state new 'issues' are perforation or watermark amendments of pre-existing designs, but of course there were also a large number of totally new designs issued after 1901.
LONNNNNNNNG live the Queen!
Curiously, despite Queen Victoria dying in January 1901, nearly all stamps on sale across Australia until the Kangaroo series was issued in 1913 featured her image - which itself was over 70 years old.
I have NEVER understood why the next 2 monarchs were not depicted on the letter-rate stamps.
[size=150]A person licking a 1d or 2d Queen Victoria stamp onto every letter they mailed for 12 years after she had died, as there was no other design choice, seems incredibly bizarre. If you lived in Victoria or Queensland or South Australia, that was your only option.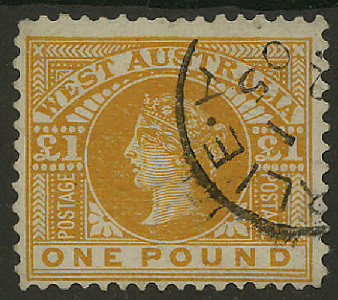 Issued 4 years after the Queen died.
Entirely new designs issued well after her death depicted QV - and not the reigning monarchs King Edward VII or later King George V. The Western Australia 2/6 to £1 quartet were first issued latter 1902 - and all depicted QV despite her dying nearly 2 years earlier.
As were the South Australia vertical 'Postage' series issued late 1902. The 'Thick' postage new design was not issued until 1904. All depicted Queen Victoria.
This £1 orange shade Western Australia top value was not issued until mid 1905. Why they did not use King Edward VII's portrait is a mystery to me.
This FU 1905 dated example illustrated nearby was from the March 19th Prestige Philately Auction.
The youthful image of Queen Victoria is about 65 years old - looking very much like the same portrait used on the 1840 GB 'Penny Black'. Who said women were vain about their photos?!
King Edward VII's Coronation was 9th August 1902. Other than the well known Victoria state £1 and £2 high values, he was not depicted on any other state's postage stamps. (But curiously, was depicted on many Queensland, NSW and South Australia duty stamps!)
There were certainly a number of KEVII finished design essays in existence (as this new ACSC shows, illustrates and prices) with the KEVII portrait, from at least 3 states, but none progressed into issued postage stamps.
The South Australian one recorded as ACSC (E20a) was in fact the design basis for that state's 1902 Duty Stamp series to £10 - or so it appears to me anyway.
Interestingly, the £1 state of Victoria first printing KEVII high value (illustrated nearby) was issued in November 1901, eight months BEFORE his Coronation.
They were only issued as Victoria urgently HAD to have high value 'postage' stamps above 5/- for parcel and telegraph use as the 'Stamp Statute' and 'Stamp Duty' high value issues were demonetised for postal use on June 30, 1901.
So very clearly new designs COULD be created, engraved, approved and printed with quite commendable speed back then - if the PO wished to act. Victoria and Tasmania both also issued KEVII postal stationary. KEVII died in May 1910. The 'Commonwealth Stamp Design Competition' was not announced until 1911.
The King turns GREEN
The £1 KEVII Emerald Green colour trial/plate proof illustrated nearby sold for $A11,650 at Gary Watson's rarity auction in 2004. That was comfortably in advance of the new ACSC catalogue value of $10,000.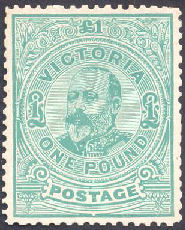 The oft-given argument that 'cost' was an object to issue a new design is totally spurious. The Australian States had discovered around this exact time that new and interesting stamp designs were popular - and highly profitable from the ensuing collector revenue.
The 1897 and 1900 large sized 'Charity' issues from 3 different states all quickly sold out. The 1900 Queensland charity pair had only 6,500 sets printed, so it was clearly economical to print even that small a number and make money.
Countries such as Canada and the USA with their obscenely high value sets to $5 in the late 1890s paved the way for the excesses we know too well today. Those sets cost many weeks gross wages for a working man back then, and made an absolute fortune for their respective Post Offices.
No KGV portrait stamps
Even more curious was the Coronation of King George V on 22 June 1911 - and not one adhesive stamp was issued celebrating the accession or reign of this very popular King from any of the Australian states.
KGV was an incredibly keen stamp collector - a fact well known one feels certain, to all colonial Postmasters General. KEVII died in May 1910, so that was the time to work on a new series of KGV designs.
Australia certainly issued a range of 'Commonwealth Of Australia' inscribed postal stationary in 1911 depicting the new King in an attractive series. Lettercards and postcards abounded.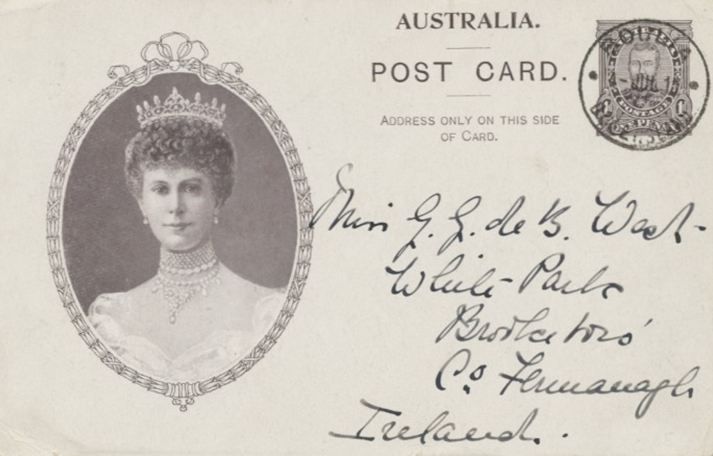 The First time KGV appeared on this continent
The 1911 postcards in fact were in a rather vast collectible array featuring various Royals, design variations, even colour variations, and are termed the 'Coronation' series.
Such an collection would be near impossible to assemble. I today asked Gary Watson, Australia's leading dealer expert on postal stationary if he had even handled a full set, and he said he had not. Nor had he ever seen or heard of one being offered.
He feels a 'complete' set of this 1911 KGV official postcard series would number about 100 different postcards, and to his knowledge only one person, a Melbourne collector, would own a complete or even near complete set.
King George V had opened our first Federal Parliament (then in Melbourne) on May 9, 1901 when titled The Duke of York, as part of a national tour. He was of course then heir to the throne - of Australia, not only of Britain.
One would have imagined stamps depicting him as King would have been most popular with the public, and bureaucrats alike. No future British monarch or reigning monarch had even set foot on Australian shores at that time.
Every state Postmaster General surely was thinking in 1910:
'if I issue a set of attractive stamps depicting this new King, my Knighthood/OBE/MBE may well be assured'.
Trust me - that 'Gong' syndrome was not an uncommon expectation for senior Bureaucrats in Commonwealth countries.