And Domburd, that is indeed a Barwani SG 24. The only other possibility would have been SG 7 - also a ¼ Anna on glazed paper, perf 7 - but once you see them side by side, you can't mistake them.
This
is SG 7: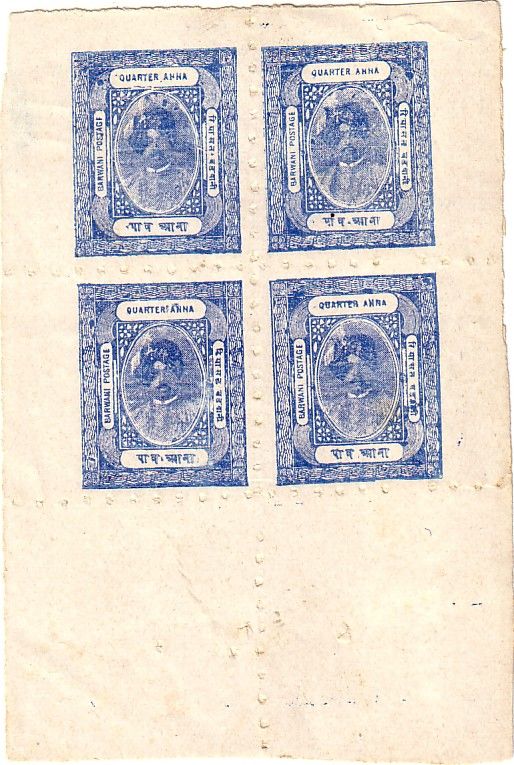 SG 24-25 was an interesting pair, by the way. It appeared just as Barwani started producing postcards. The ½ Anna plate was taken apart, and later reassembled, for the first time, to provide a cliché to print the cards.
And what can I say about the Bamra? Very nice stuff indeed. I don't have any multiples of the first type - always fight shy of it, because of all the reprints. As soon as I have the time, I'm going to go back to that Bamra Web site, and thoroughly check through my accumulation of first types I've put aside as probably bad.
Poonch: the range of papers is slightly eye-glazing, but big blocks like yours are the perfect demonstration of why it's so popular. This is true Ugly Country! The identity of your block is a bit harder. It seems to belong to the middle, Yellow Paper Period, perhaps group (f) - yellow laid bâtonné - or (g), if the paper is thickish. As I recall, genuine but unlisted types
may
be remainders. The best place to look for more information about it would be
http://poonchstamps.com/
, and enter 'kahuta'. If that doesn't help, I can put you in touch with a Poonch specialist, who might be able to do something for you.