Here is one for the bulletin board. I was wondering if anyone can help solve this mystery. I do not own the cover.
BACKGROUND:
Kingsford Smith & CTP Ulm left in the Southern Cross from Richmond NSW to England. They were lost in north-west Australia in what became the
Coffee-Royal
episode. Covers were covered and cancelled RICHMOND NSW 10:30 AM 30 MR29 signed by both pilots (AAMC131). Here is a great link on the episode:
http://kimberleycruising.com.au/Kimberley%20History/kingsford%20smith.htm
A recent Flight Cover came up on eBay stating "VERY RARE Coffee Royal Australian flight cover & letter (Item#300134512659). It was listed at AU$799. Here is the image: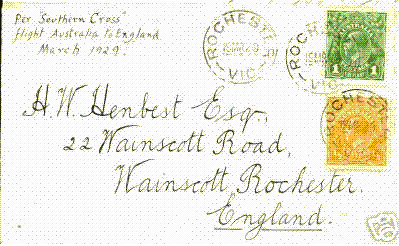 I followed up with the seller and asked if this was a variation and did he have anything to indicate that this was actually flown on the KS Flight. He replied: ....It is definitely a variation of this cover because of the following reasons.
1. The letter is dated 19/3/1929.
2. The cover is dated the same date.
3. The letter refers to Kingsford Smith having ANOTHER try of the Australia to England flight and also asks for the return of the cover if received. Quite a nice item. I am
aware that Eustis refers to 6 covers being from Richmond & signed but one needs to ask the question, was that the only mail on the flight? In addition to this, this was the only flight this cover could have gone on because there were no other flights between this date & the coffee royal flight.
DETECTIVE WORK:
I reviewed the cover from scan and also requested and received a copy of the letter. The letter was interesting. It was signed by a Mr. Hodgkinson in Rochester, VIC. Which is even today a very small town of a few thousand people. It is was addressed to Rochester, KENT in England. An unusual connection. I followed up and can confirm there was a Mr. Hodgkinson in Rochester, VIC who had sent a letter on Alan Cobham's epic flight to from Australia to England on 24 Aug.1926 (AAMC.100) cover. This makes me feel the writer and letter are legitimate. So the intent was there. But did it fly on the Southern Cross and is it a Coffee Royal Cover? My sense is no, it did not fly on AAMC131 Coffee Royal.
My observation was this was not one of the 12 covers usually described, it was not postmarked Richmond, it was not signed by any of the crew, it had no back stamps, looks to be in good condition, and there is no indication that it was carried on the later successful flight to England such as dual franking. It has a hand written "Per Southern Cross on the top left.
REQUEST:
This is where I'd like your help. Did this letter fly on AAMC131- Coffee Royal or did the writer just wish it did.
Thanks, Phil