6th Birthday, April 1 – GIVE prizes and WIN great prizes HERE!
Stampboards turns 6 years old on April 1.
We are the world's leading Bulletin Board, with 3ΒΌ million posts, from 10,000 members, in 127 countries as Kevin Hedley's maps clearly shows -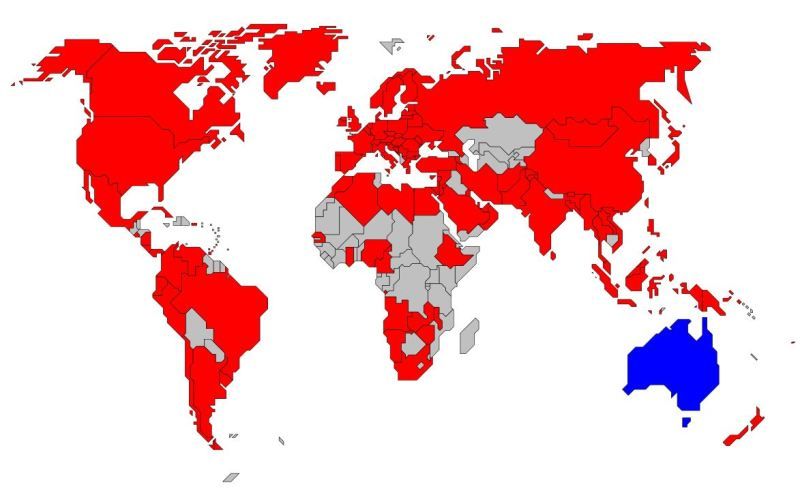 British member
Feebletodix
last year came up with a neat idea this week to celebrate our Birthday.
He emailed me asking if it was OK to give away a selection of his surplus stamps to others - as his Birthday gift to the board.
We got to thinking, and the idea has great merit.
We are a COMMUNITY here
– something you see on few Bulletin Boards - globally. We share member tragedies and losses, and we have social get-togethers.
We are basically like a large friendly Stamp Club in cyberspace really.
What we are asking for is members to post images here of stamp stuff you are happy to mail gratis to another member in April to celebrate Birthday 6.
EVERYONE has spare bits and pieces laying around that you no longer collect or enjoy. Or that you got as part of an auction lot, or a mixed lot, or you bought by mistake etc.
Those two dozen FDCs from New Zealand you are not sure of the origin, or those Railway thematic stamps from the Caribbean etc, or stuff you were given, or inherited.
The idea is to post pix HERE of what you have to give away. Remember you are agreeing to pay shipping, so anything heavy may not be too wise to offer - as your "match" might be 10,000 miles away!
Add one pix of your stuff or 10 pix – up to you!
What value should there be – well clearly that does not matter. As winners are randomly selected, as outlined below.
We suggest it should be roughly like the β€œSecret Santa" guidelines – a rough real value of about $A10-$20 per gift seems pretty much right.
But if you have more goodies, well go ahead or offer 2 or more different packets of presents, by all means. At any time.
You post photos of them here, and number your offer. i.e. if the offer above yours is β€œGift 5" – yours will be called by you β€œGift 6" etc.
Here is the thread from last year – it has 400 posts and really shows the Community and generous spirit here! And it shows the type of things others gave away.
http://www.stampboards.com/viewtopic.php?f=27&t=35395
How will we give away the prizes?
Easy – via a random number generator.
Every member has a unique member number, based on when they signed up, in date order.
Feebletodix
is member number 3562 for example
Which is all publicly accessible via the "MEMBERS" tab on top of the board -
http://www.stampboards.com/memberlist.php?sk=c&sd=d&start=3500
The idea is, we get 50 or 100 members or whatever, on this thread posting up the goodies they are happy to donate for our 6th Birthday.
Then we select someone above reproach via a random number generator, to pick a list of numbers - that we will match up with our unique member numbers.
WE have been fortunate to have a volunteer offer to do this. Gary Brown ("
GJ50
") - Vice President of the massive 'Melbourne 2013' Committee, and past Federal President of the APF. Many thanks for his kind offer to assist.
Gary has selected about 4 times as many numbers for the Gifts we will likely have, between numbers 1 and 10000 (about the number of members we have) so we will have a lot of 'back up' numbers.
There are web based random number generators, and it is a simple task to pick the numbers.
He or Norm will be asked to post that list here after competition ends, which is
midnight Sydney time March 31, 2013
. That is also the deadline for Gifts to be pledged.
GJ50
has created and stored the list NOW, so there is no suggestion of any inside running!
Then Norm - Volunteer Moderator
fromdownunder
has very kindly offered to go down that list, and isolate the members who 'qualify' - i.e.
have made at least one post during the past year
, i.e. from April 1, 2012.
It makes sense that in order to get a free gift, you are an "active" member of this Community.
Norm runs the super successful AFL football tipping competition here each year, and his stats matching ability and accuracy is 100 times better than mine - and time proven!
His decision is final, and no correspondence will be entered into - unless accompanied by a $50 note, in a plain brown envelope.
Norm will then post here after his research, and announce something along these lines -
Gift 1 goes to member 2046 -

"billybob3"


Gift 2 goes to member 354 -

"RichardNixon"



etc, etc

"The donater of Gift 1 is to please email member

"billybob3"

via the board to get their preferred mailing address. That contact and mailing is between the 2 of you, and Admin or Norm has

no

part of it. As value of the Gifts is nominal, ordinary mail is all we ask. By all means when

"billybob3"

gets the gift, please post here to mention that, and thank the donater.
All members have been emailed re this competition and thread, and advised that
winners will ONLY come from members who have posted at some point in the past year since April 1, 2012 - i.e. 'active members'.
You'd HATE your member number to be first or 10th chosen, and miss a great gift as you have not posted -
so make a post somewhere NOW
to ensure you are a valid entrant.
It is thus an incentive for members to make a post if they are not regulars, and gives all members a chance to share in the Birthday Celebrations, by offering a prize AND win something interesting as well!
Also be CERTAIN your email address in "My Profile" is current and operational. Lots of members change emails over the years and never update here. That way you will
never
hear from your Gifter seeking your address.
If they do not hear in 72 hours of the names being announced, they are to advise Norm, who will declare their prize voided, and nominate the next eligible person on his master list.
So please get down to scanning your donated prizes please!
Glen