time2fish and hendriks
hendriks wrote:
Is it just me, or does the right side on the 4ct look re-perforated as well?
Well, that certainly is a legitimate concern - at least in my opinion. I assume you mean the
left
side of the stamp when viewed from the front, rather than the
right
side.
Reperforation is one of the most devilish problems to spot in U.S. philately. The left side of the 4c. certainly fails some important tests -
1) Odd man out (i.e. three sides are similar when compared to the suspect one), the perfs. at the left are definitely different, they are smaller and they are out of line.
2) They are certainly scissors cut as pointed out by Glen.
However, to be more sure, the stamp should be checked on the Kiusalas U.S. Specialist gauge at 12 - 66.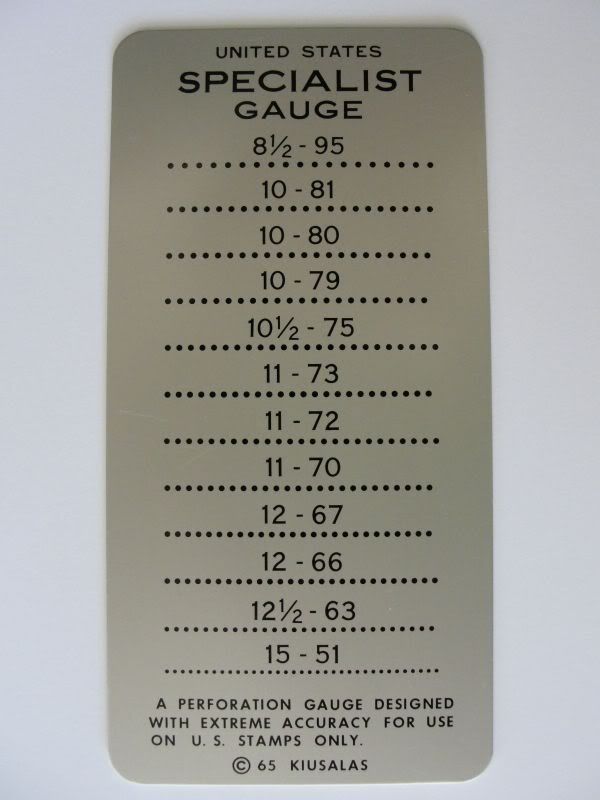 It is, of course, impossible to check this without having the stamp available for examination.
However, if the vertical sides of the 4c. are measured (from the scan) with an accurate steel rule, such as -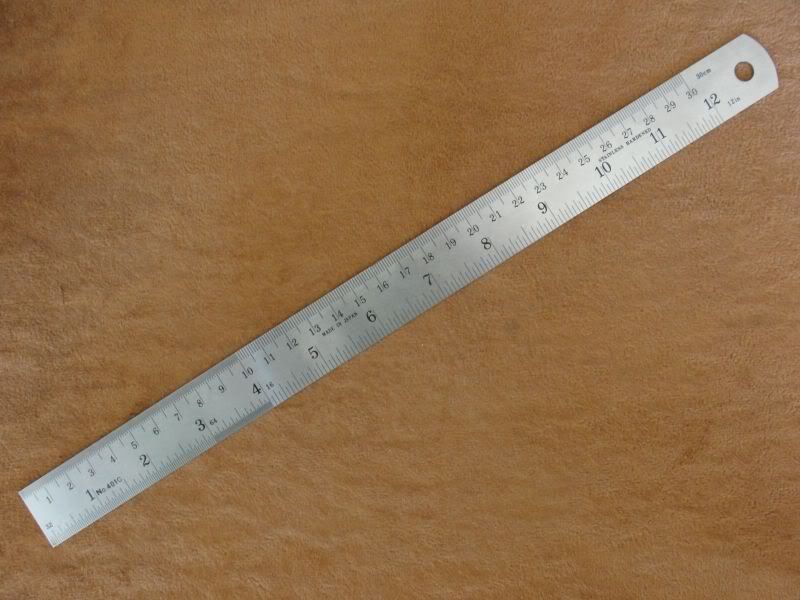 Taking the center-point of a perforation hole on the lower left side to the center-point of a hole, twelve holes up, I measure it at 10.25 cm. This compares to a distance of 10.50 cm for the same distance on the right side.
When making similar measurements on the 50c. and $1.00 scans, the distances for the 12 hole spans for each stamp are the same, left and right. I measure 10.20 cm for the 50c. stamp and 10.70 cm for the $1.00 stamp. These differences are perfectly acceptable since the scans are slightly different sizes, the important point being the equality of left and right sides for the
same
stamp.
Now, hendriks, I would hesitate to state
definitely
that the stamp is reperforated without examining it on the gauge above, which is only, as stated on the gauge, for U.S. stamps.
I do, however, very much share your concerns about the stamp. It had occurred to me instantaneously when seeing the scan, as did the fact that the stamp was scissors cut.
A similar Kiusalas Specialist gauge exists for Canadian stamps.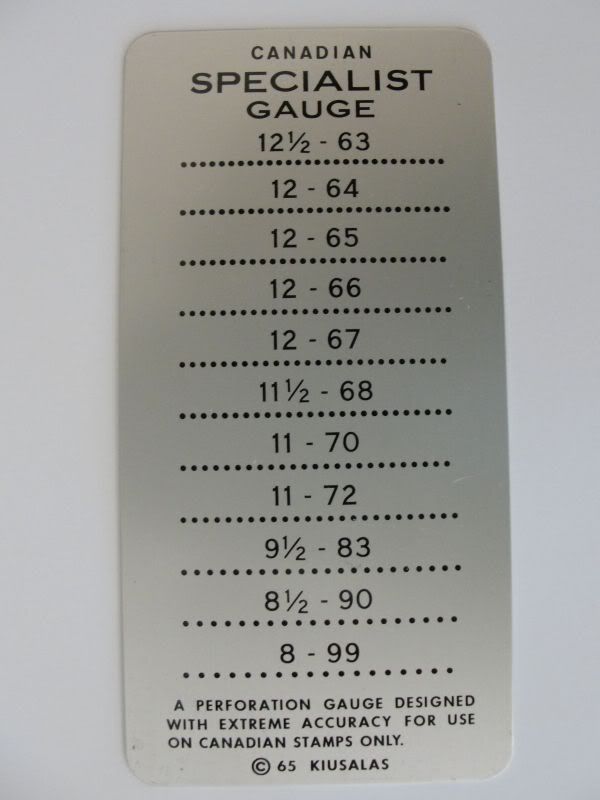 Both these gauges are pretty much available only in the U.S. with the Canadian one being harder to obtain.
Additionally Glen is perfectly correct about the gum problems on the 50c. which I had not addressed.
Kindest regards, Richard