I came across an article in
Atalaya
entitled "Audhali revisited" that included a picture of the 70 cents issue from the 1964-65 series issued by Aden overprinted
AUDHALI
. The other values of the definitive set were also overprinted.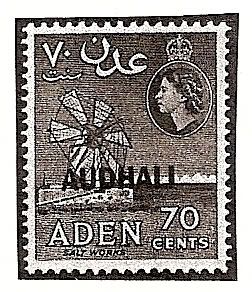 The overprint seems to have been done professionally.
Other than that bit of speculation by the writer of the original article, there has been nothing more about this overprint in
Atalaya
. Does any board member have any more information?
The image is taken from
Atalaya: Cinderella Magazine
, Winter 2007-08, Vol. 33, No 1, p. 5.
Thanks,
AndrewG