muruk wrote:
I have a connection with a freedom movement and am looking for ideas.

I want to focus on cinderella production, so won't mention which movement lest the discussion becomes political.

Imagine a situation like East Timor before independence. An oppressed people, some at home and some in exile abroad, seeking independence from foreign rule.

...
Is it better to produce sheets of each design, or mini-sheets containg one of each design?

Your thoughts please ...
Hello, only just spotted this topic, which is one I have been quite involved with.
I organised the
Tibet Flag cals
in New Zealand (which someone mentioned above.) I collect
Tibet
stamps, but few others in this country do.
Now, as a result of the fiasco of the NZ Post Office attempting to "claw back" the cal stamps, plus the notoriety that they got after the Post Office began "censoring" foreign mail with these stamps on (covering up the stamps with large airmail stickers!!), every philatelist in NZ now not only knows the name

TIBET

in a philatelic context, but also knows what their flag looks like.
Tibet flag cals, printed by NZ Post to my specifications, 2009.
And on a personal note, my

Tibet

collection now has one frame of blocks, proofs, usages, errors, and correspondence about these stamps.

So I conclude that yes, you could well go the "cal" route. I realise Australia Post do not allow cals, but several Aussies have bought up cals from NZ Post, including
Joe Inneo
(Melbourne)
for his engagement and later, his wedding, and the
Melbourne Stamp Exhibition
this year.
But the other way to go (and which I personally favour) is to just print cinderellas for your entity. The
Albanian
&
Croatian
exile issues (mentioned above) are now classics, and I'm sure every serious collector of those countries has the cinderellas in their collections.
(They may not rate them highly, but I'm sure they are extant there!)
Bangladesh
did the same, when they began campaigning for freedom from Pakistan. The cinderellas they printed were no good for mail, but after liberation
(thank you to India for the help here!)
, the same designs were printed as Bangladesh's new definitive set.
(The non-postally-valid ones were inscribed as two words: Bangla Desh.)

Today, I print limited-edition cinderellas for many entities around the globe, and may be able to assist you.
PM me with details, or see some of my works here:
http://www.angelfire.com/country/mevu/
http://www.angelfire.com/art/icis/
http://portmaria.orconhosting.net.nz/
http://okusi1.tripod.com/
http://www.angelfire.com/country/raoul/
Occussi-Ambeno 2002 Horses.

(Is that Trigger?)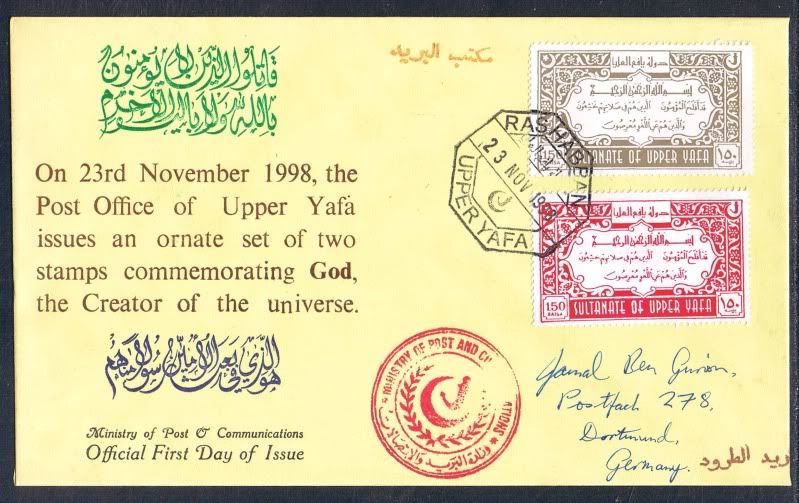 Upper Yafa 1998 commemorating GOD, the Creator of the Universe

(and many would say, more worthy of a celebratory stamp than some of the trivia honoured by mainstream Post Offices?)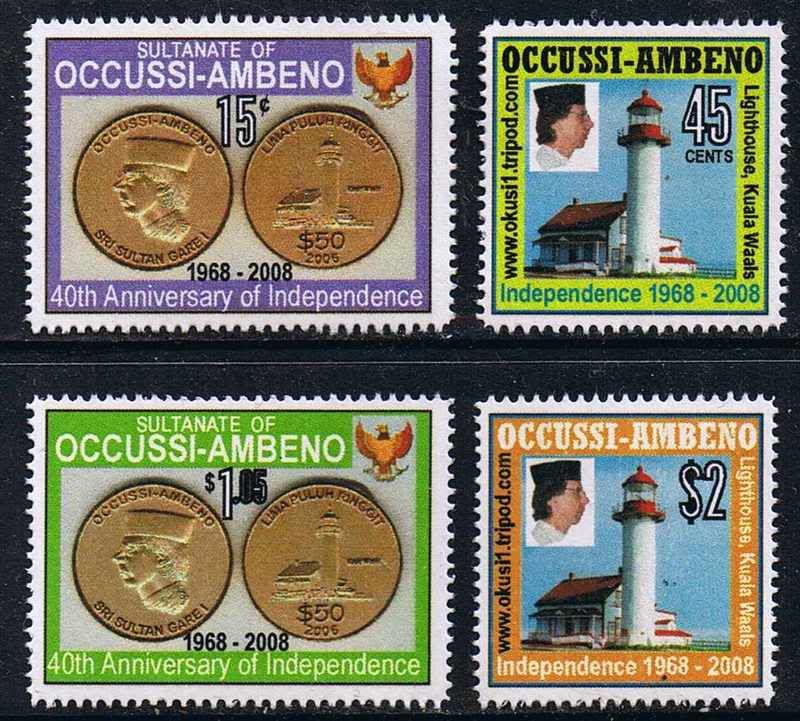 Occussi-Ambeno 2008 40th anniversary of independence.
And to answer another of your questions Muruk, this Occussi-Ambeno set was printed as two minisheets of 8, each with a block of four of two of the values. But I recommend you have your full set in the same minisheet, for ease of posting to other collectors.
I also recommend your entity get coins produced:
folks were stunned and amazed when Occussi-Ambeno issued gold and silver coins!
I was so stunned I felt the gold coin
HAD
to be the subject for the 40th anniversary stamps!