Eric Casagrande wrote:
John ... at the risk of showing my (obvious) ignorance ...

What does "precancel" mean?
Eric:
Asking is always much better than just wondering.........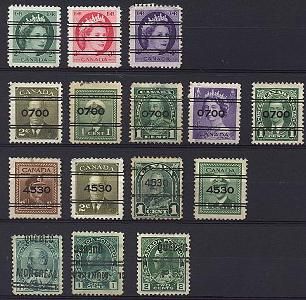 (image borrowed for speed of posting - from Jan Langenberg - Nederland - http://web.inter.nl.net/hcc/Langenberg/precancels.html)
Precancels are stamps that have been authorized to be canceled ahead of usage. The bars, wavy lines and/or numbers represent authorized cancellations from city post offices for high volume users.
This definition seems to work best:
Quote:
There is no single definition of a precancel, but perhaps the most satisfactory is that given by the US Precancel Stamp Society, Inc. which states that:


"a precancel is any postage stamp, stamped stationery, or revenue stamp
which has been cancelled prior to the actual use for which it was issued,
by, under the supervision of, or with permission of proper authority, with a
device that was used for no form of post-cancelling by the same office."
Many countries have authorized their usage and for some countries, these have become quite collectible...... Belgium, France, Canada and USA come to mind quickly.
John A
_________________
Armstrong'sStamps**
http://www.armstrongsstamps.ca
Knowledge is Key.....Libraries work!