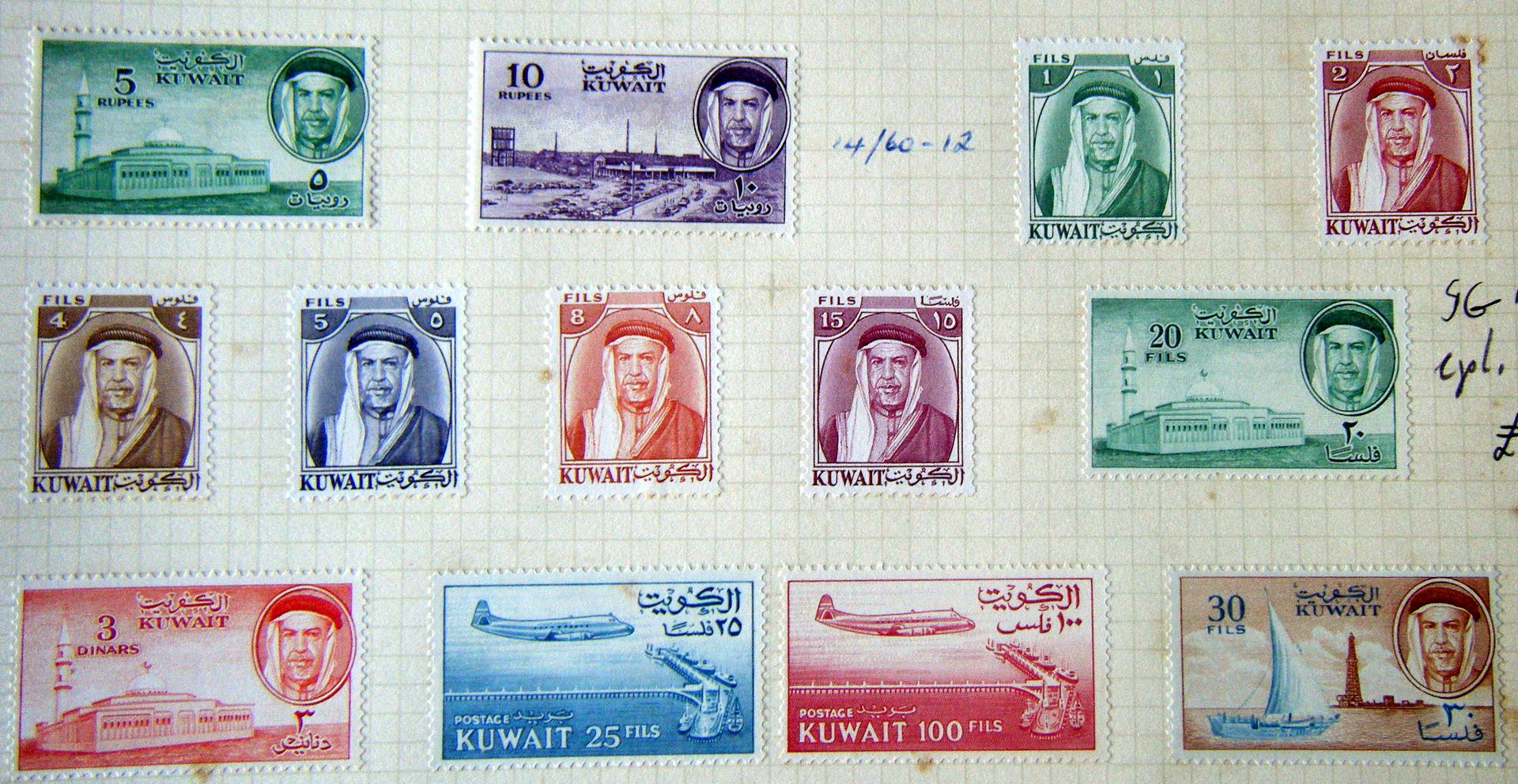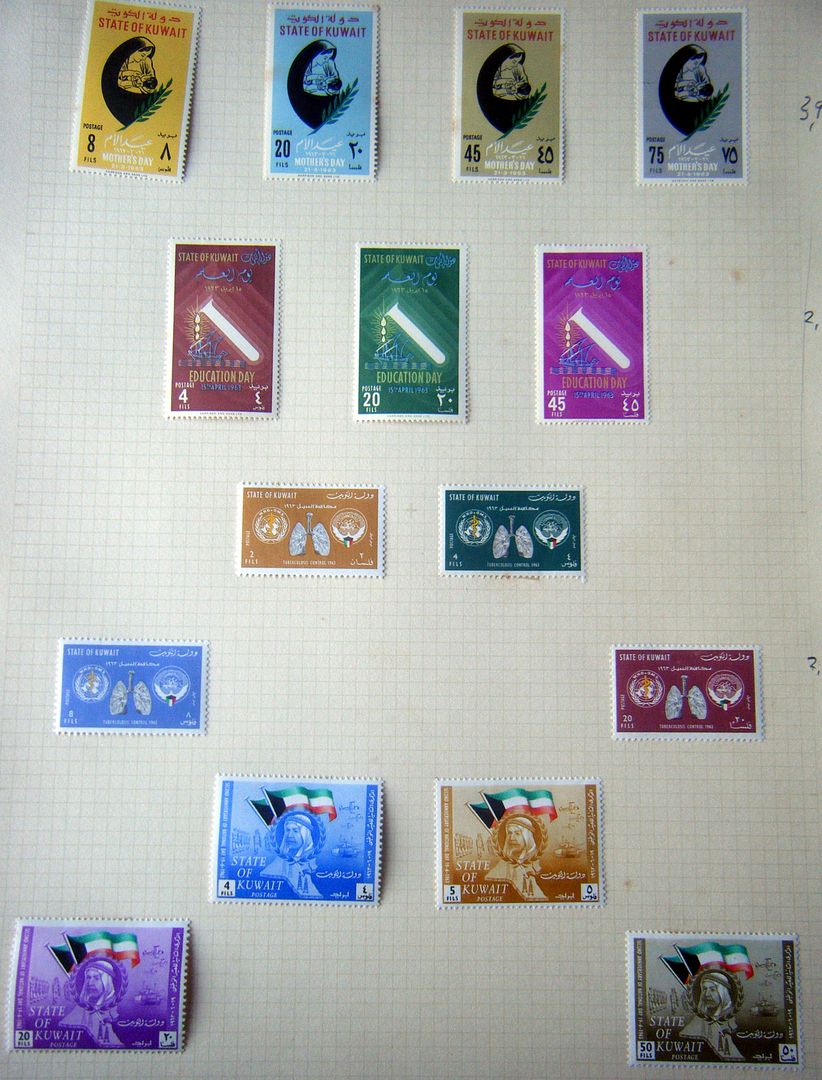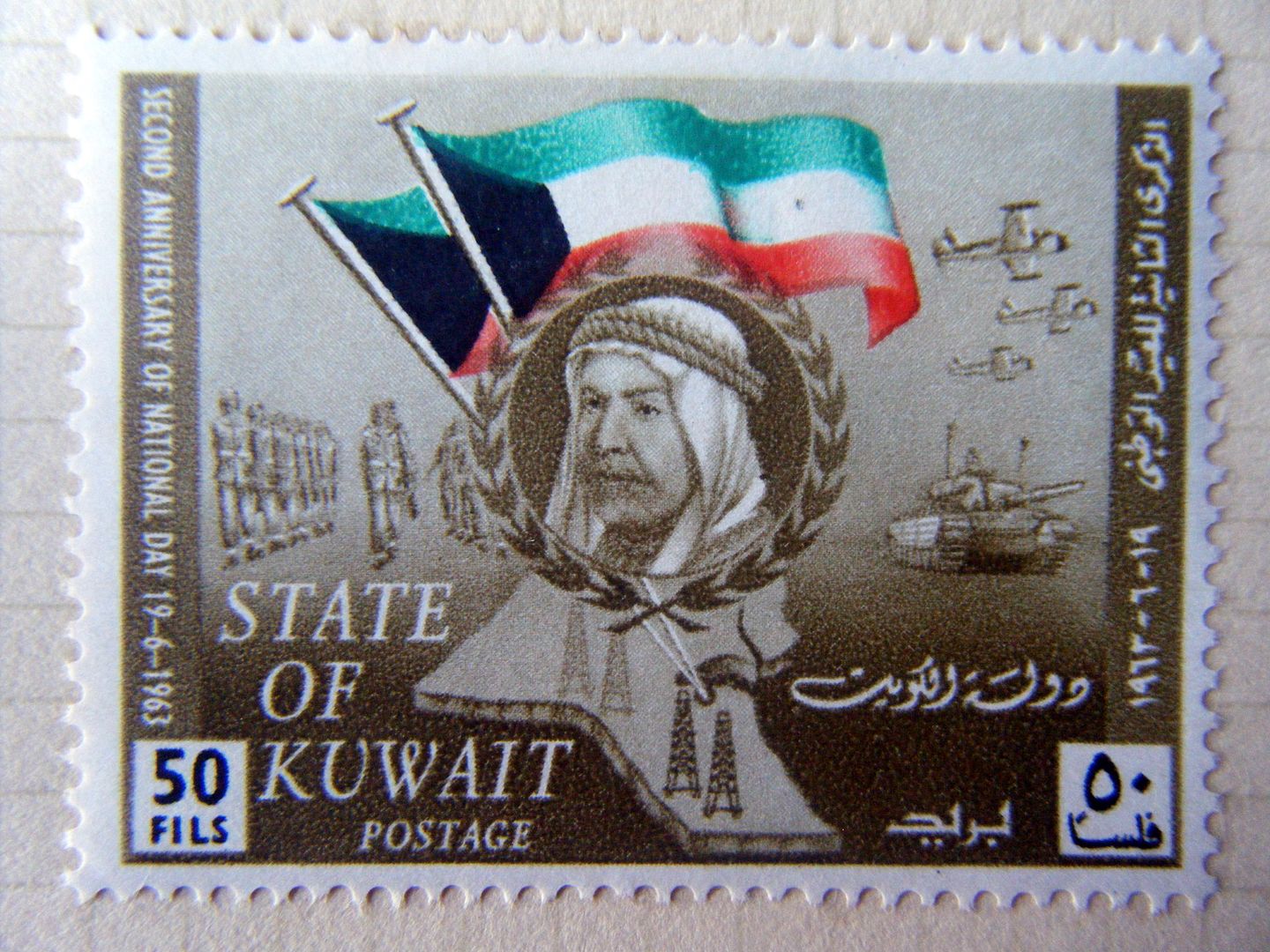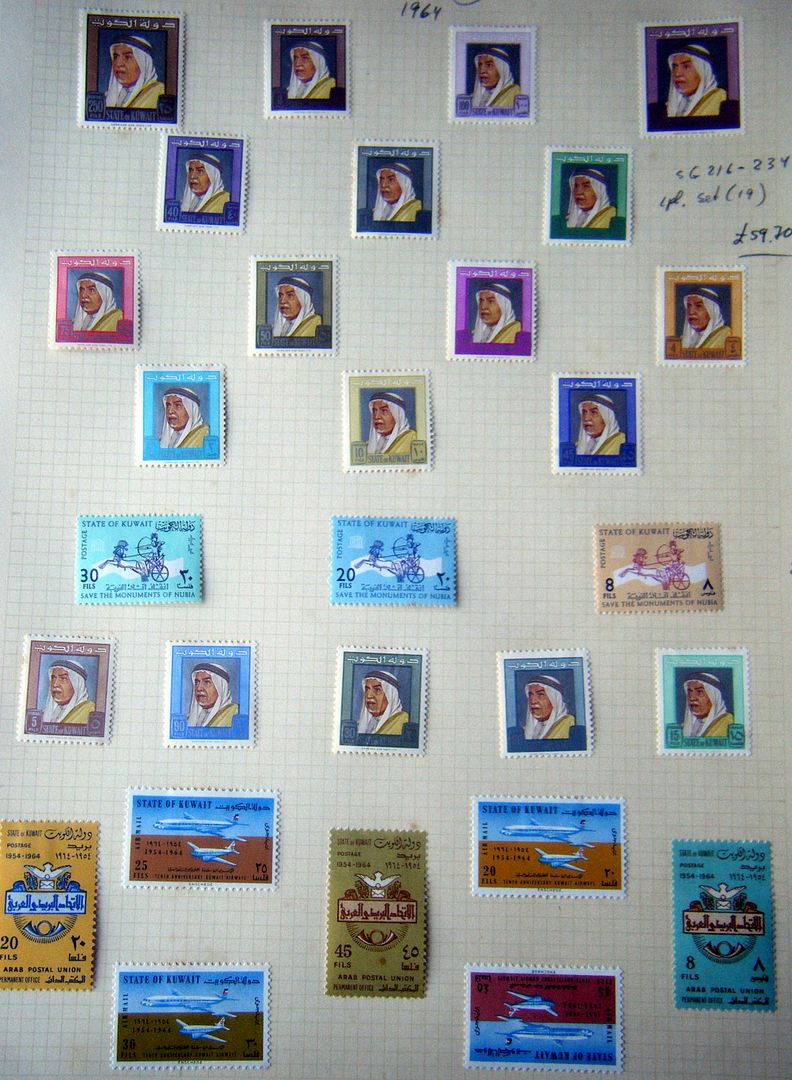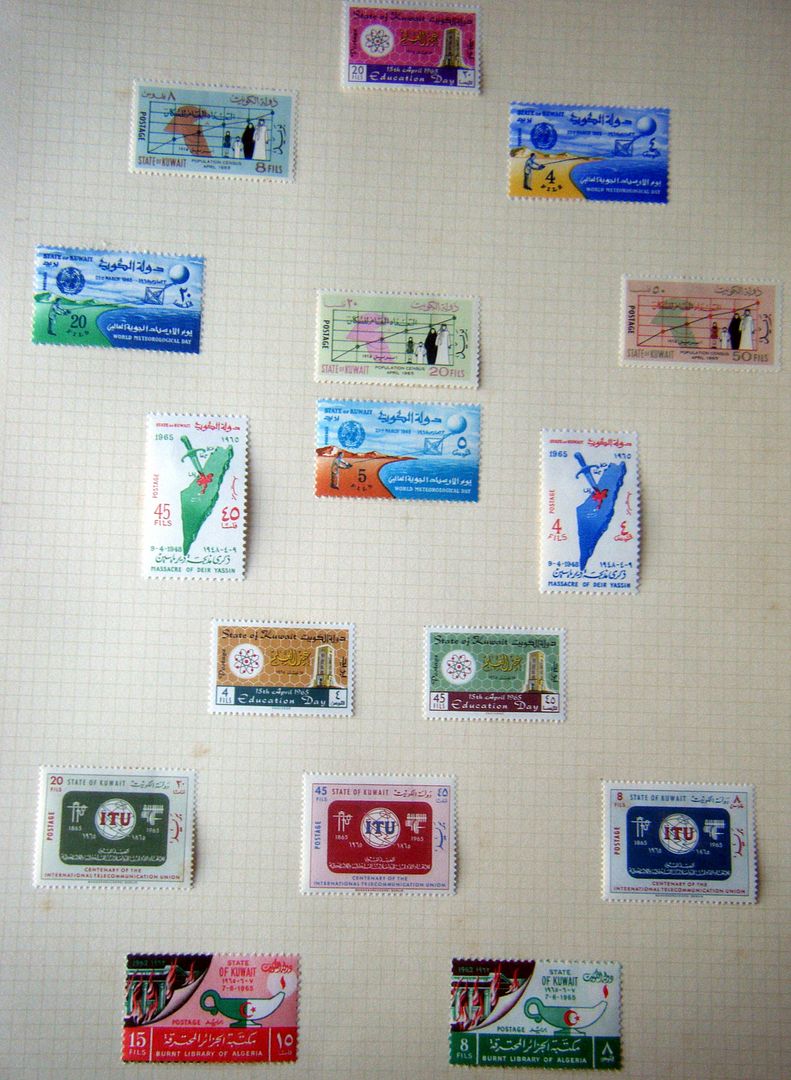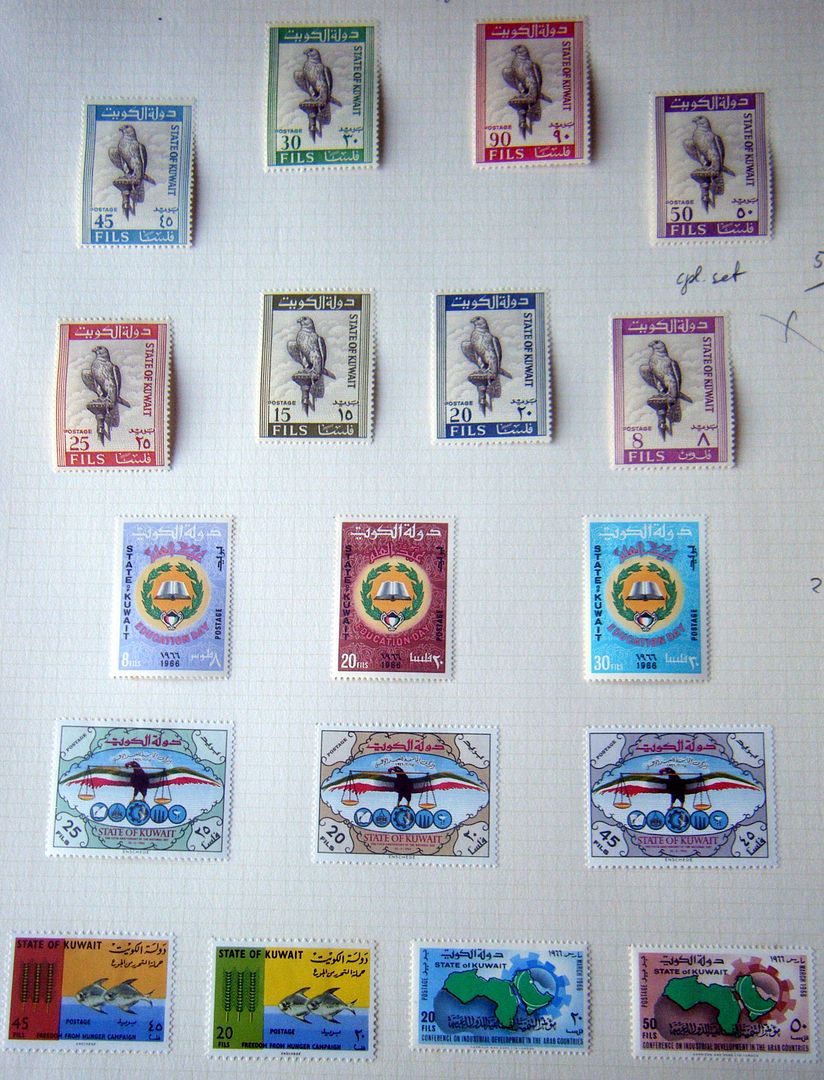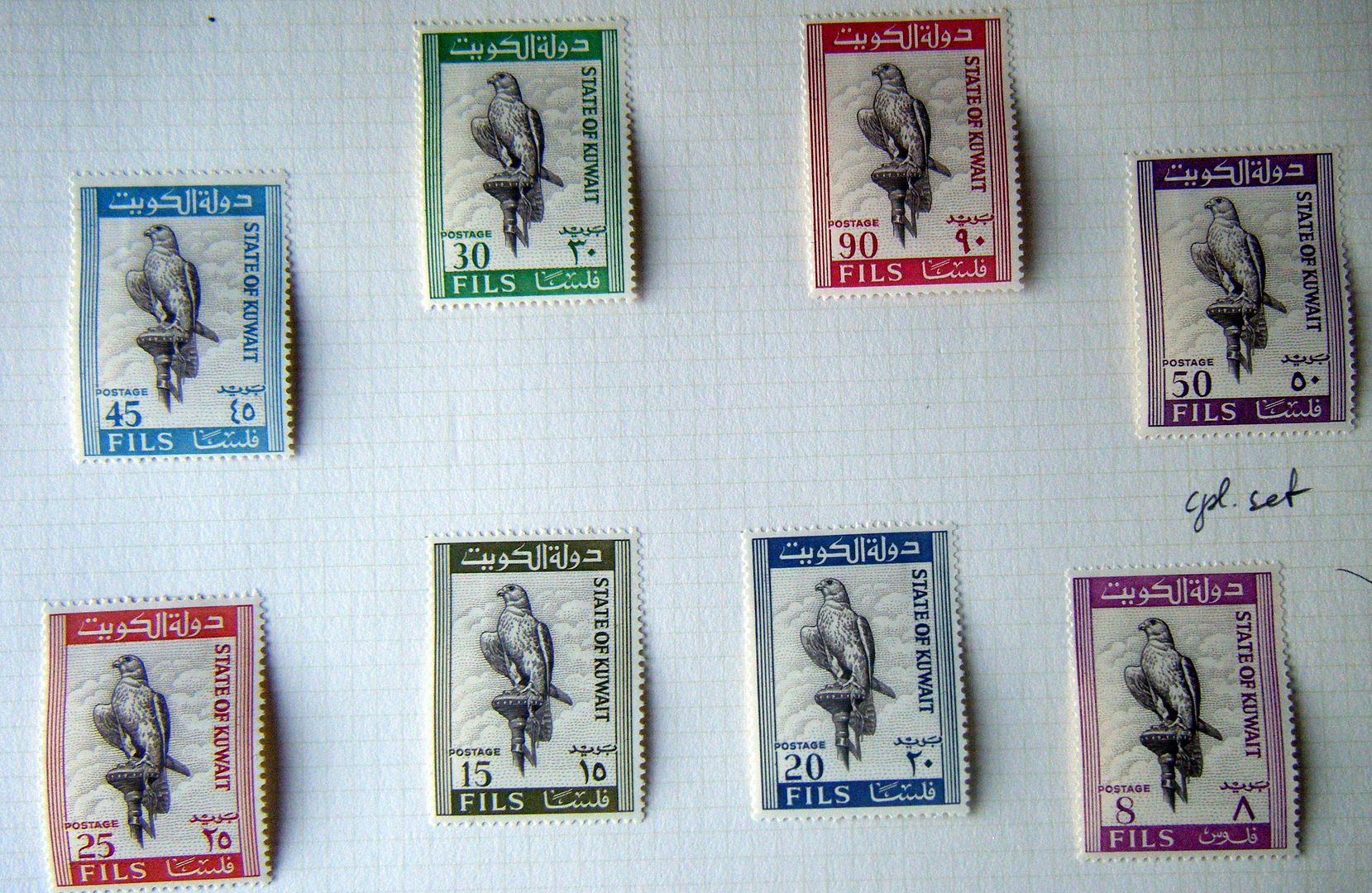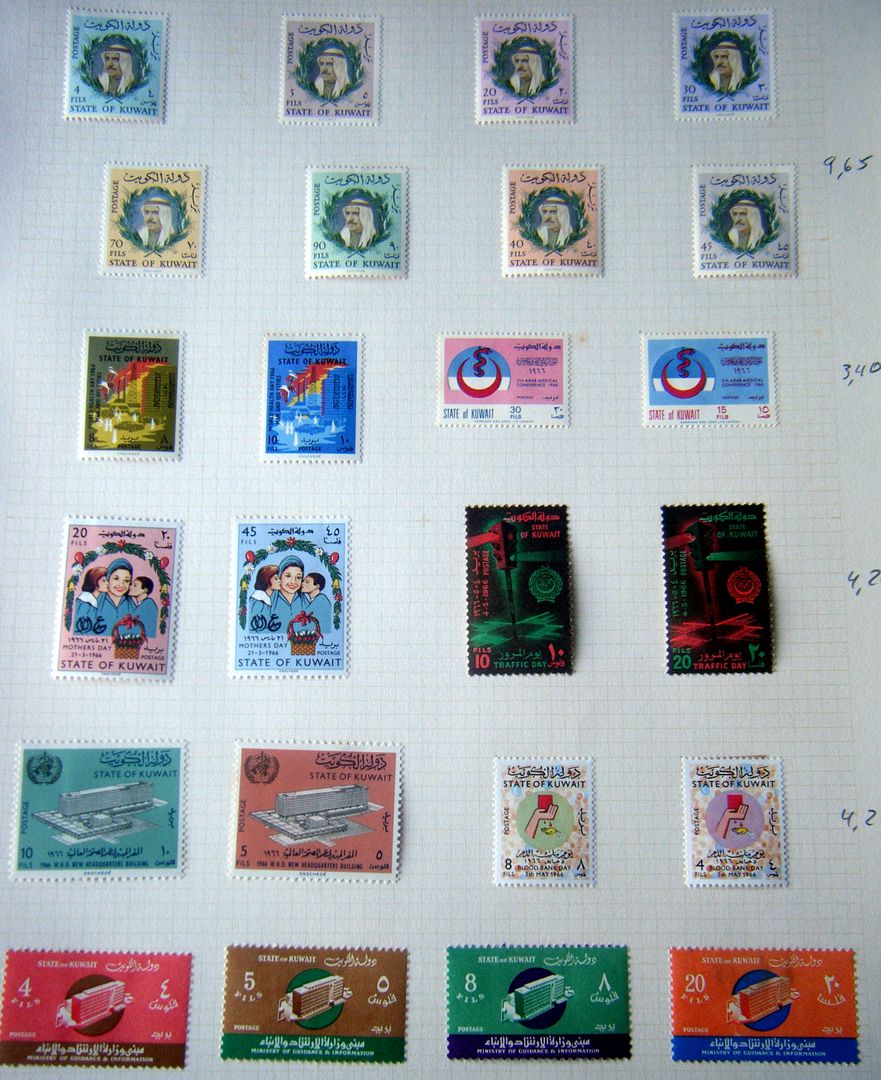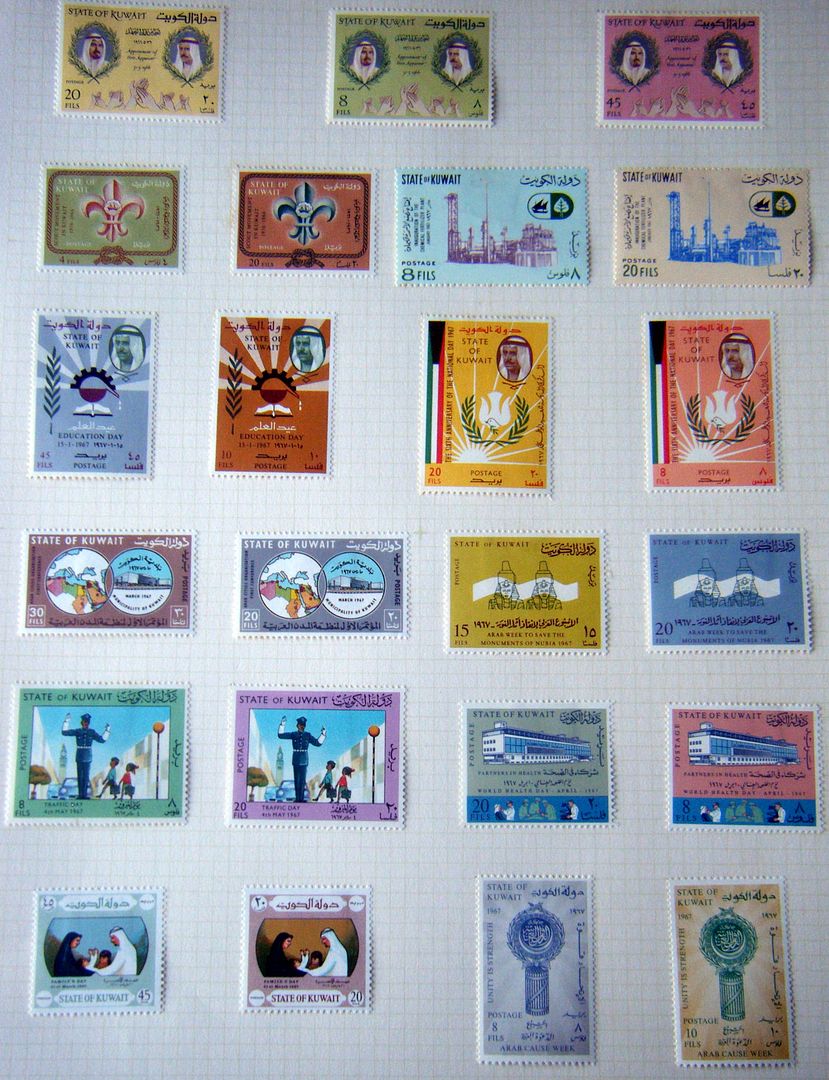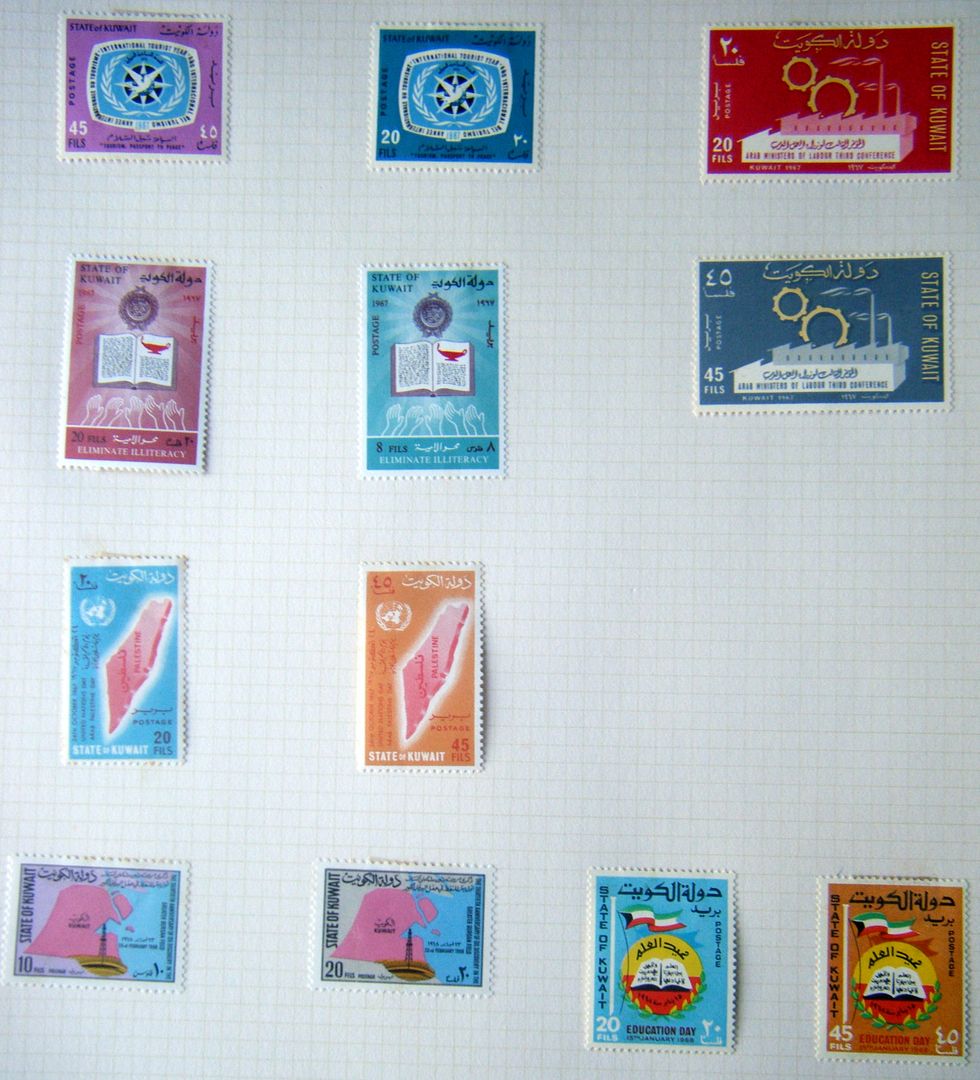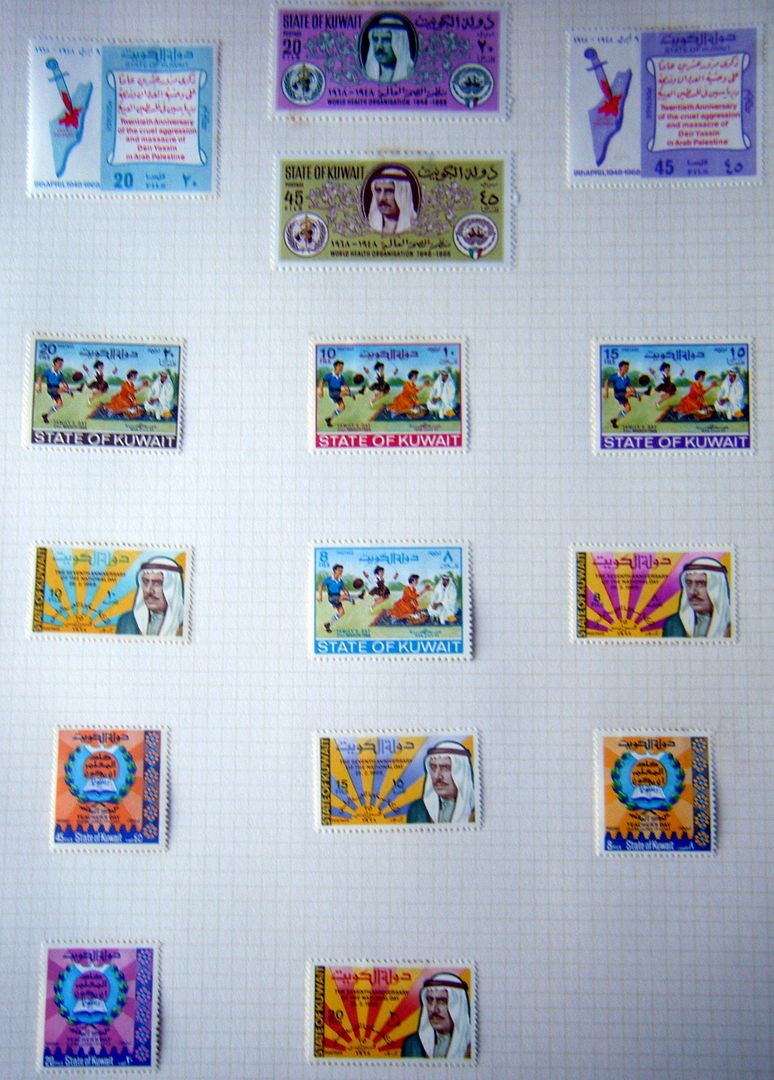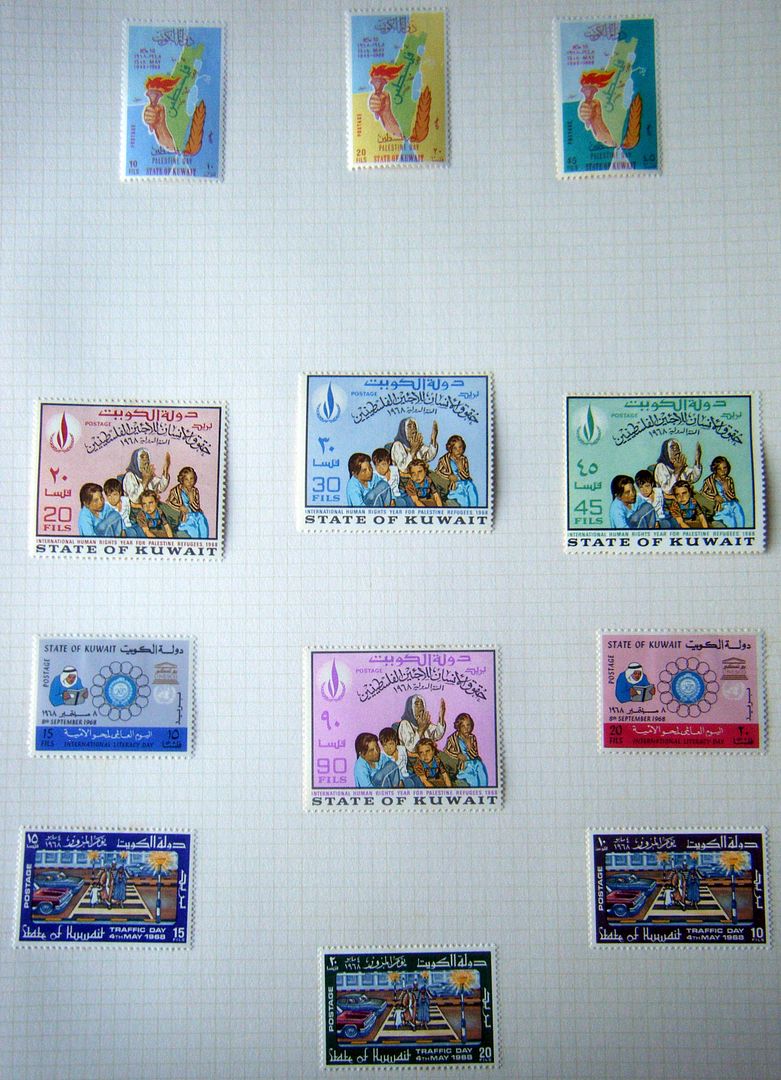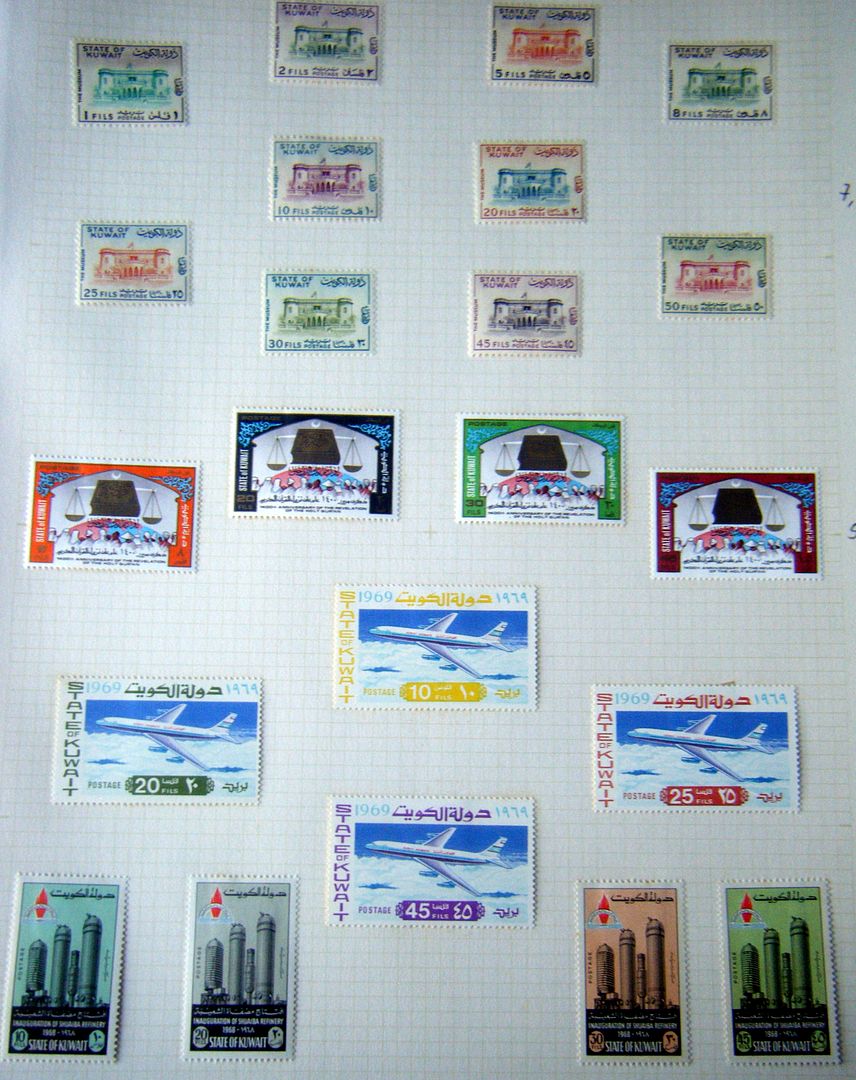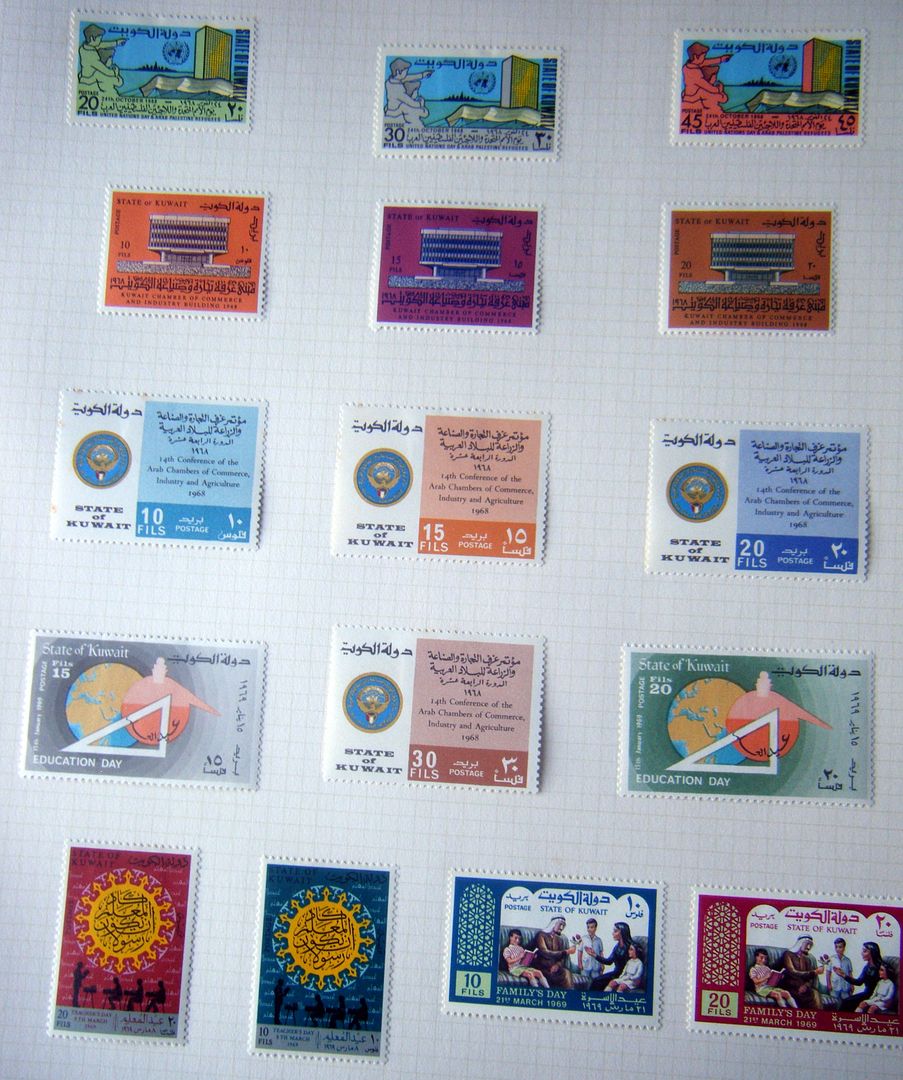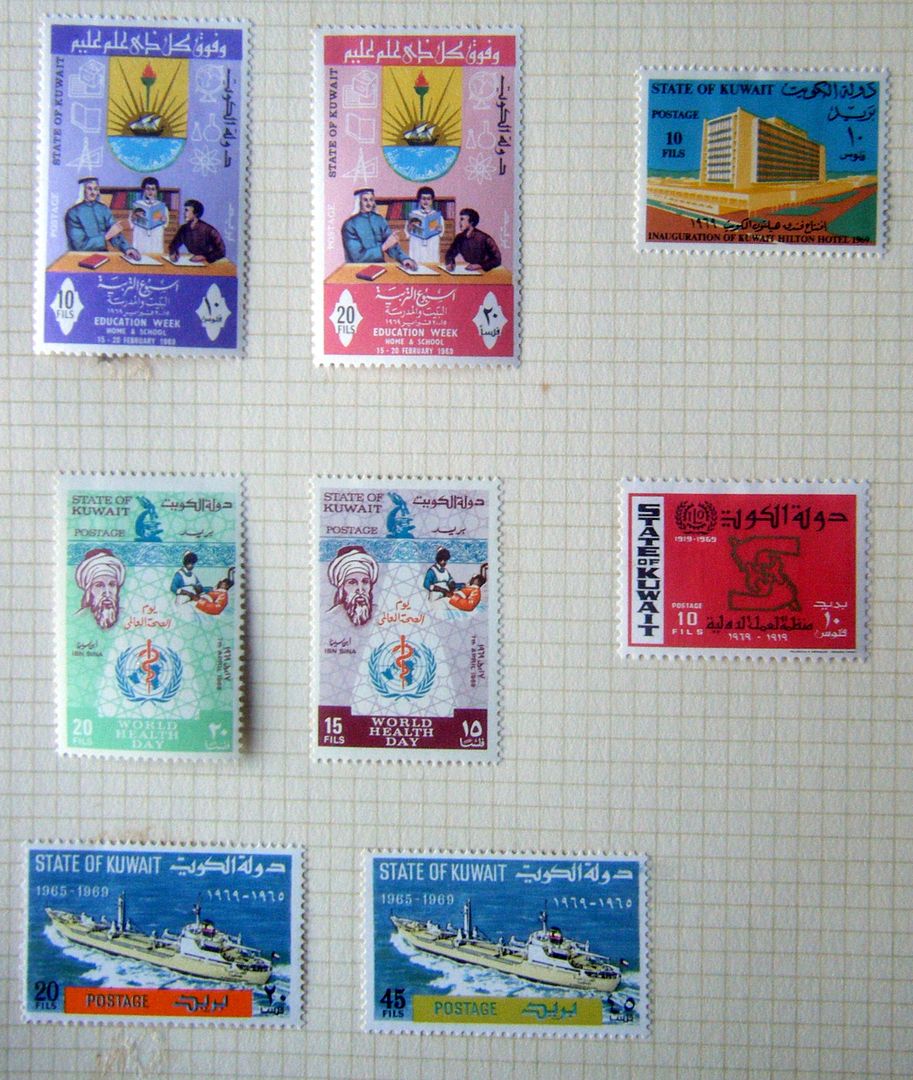 KUWAIT 1958-1969 Mint Stamp Coll on leaves. Cat £545. $A275
A couple of no account sets are lightly stuck to these heavyweight pages due to humidity, (Ret $7 each -
http://tinyurl.com/PageSG
!) but cat value of the used cat is often MORE than the mint if you float them off, and call them 'very fine used'. Coff.
Those huge, really heavy gauge Stanley Gibbons "Philatelic" pages are a little aged here and there, so that would be a very wise move actually to re-house the entire lot in a stockbook and would yield a rather nice collection.
A little mild perf toning now and again, but again, generally on the no account sets, and really luckily, most of what is here is on the pages, not any stamps! Re-house them, and problem solved.
Most of these seem to be £5 to £10 sets, so clearly were missed by most as new issues, hence the good SG value today. A great way to pick them up in one hit.
In 30 years of dealing, I have NEVER once before had a Kuwait collection for sale.

Sets here up to very high SG cat - these generally in nice shape. Top end stuff you see photo'd in auction catalogues.
Attractive stamps, and VERY seldom offered in a large, near complete run. Bought cheap today, so out they go cheap as well to a new home!
$250 plus post unreg'd $5 local, $10 global
=========
REMEMBER - Most parcels leaving me this month will have these GEMS as franking!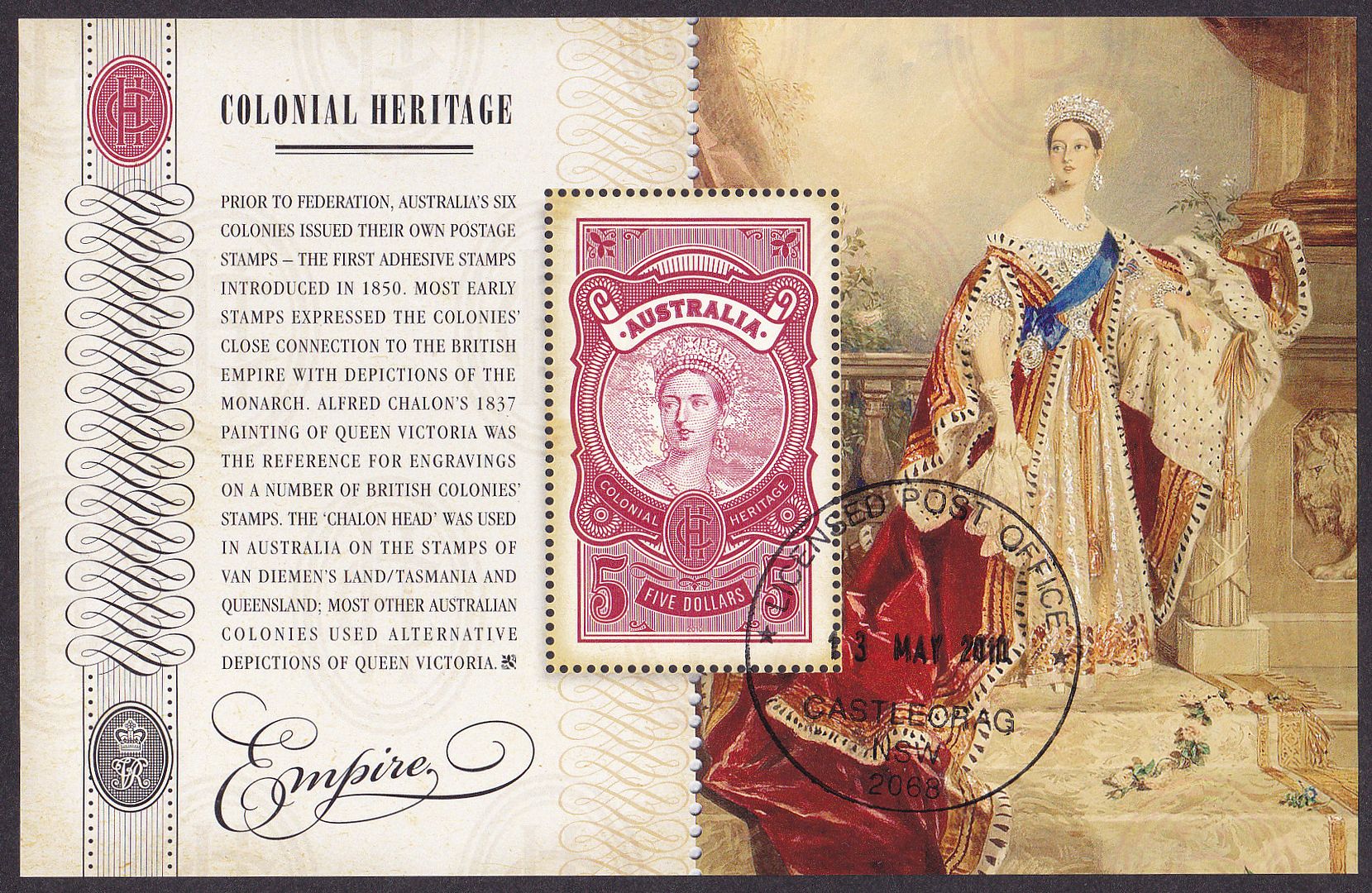 Remember, adding another lot of
mine
(posted by either
Admin
or
GlenStephens
or
Global Administrator
, or
ozstamps
) - here (or on my website) for sale in general
adds ZERO
to your shipping cost, so have a good look at what is on offer here in case something else appeals:
http://www.stampboards.com/viewforum.php?f=27
All payment details are on -
http://www.glenstephens.com/payment.html
Call it "KUWAIT coll" - stock number 497UT" and please order via:
http://www.glenstephens.com/order.html
For overseas members, to find out the approx cost in YOUR currency, click here -
http://www.xe.com
MONEY BACK GUARANTEE
- don't like it - mail it back within 48 hours of receiving it. No-one ever has yet.
- and "lay-by/layaway" is always possible - email me with any queries to glen [at] glenstephens.com -
OR

"trade-ins"

always possible!
If you have a pile of surplus stuff I may well be happy to offset that against this item - see
http://www.glenstephens.com/buying.html
And many similar mouth watering NETT price offers are being loaded weekly onto -
http://www.glenstephens.com/rarity.html
and
http://www.glenstephens.com/specials.html
As per stampboard convention - this lot is offered exclusively to board members - and on no other sales venue.
For members who make a BANK TRANSFER payment you

WILL

generally get your goods faster as it saves me some hassle.
.