Wikipedia has a good summary of the 6th Division movements here:
http://en.wikipedia.org/wiki/Australian_6th_Division
One of my indulgencies at Uni was to study Egyptology. The old pharaohs believed that if people spoke your name you remained immortal. That's why they had their names plastered all over their tombs and monuments and is also why when there was a political change and a previous pharaoh like Akenaten (father of Tutankhamen) becamed reviled, the new order chiselled their names off of all the records they could find. This meant that you were not only dead, your immortality was terminated.
Brian died a few years ago yet reading his letters I am amazed at how a young vibrant man jumps out of the pages. Maybe the ancients were onto something.
Anyway...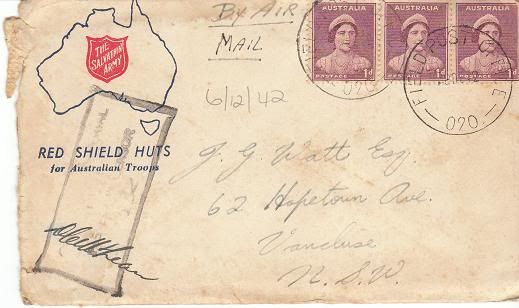 Letter numbered 18
Dated 6 December 1942 (Morning)
Dear Gordon,
Well I am all packed up and waiting to move to the first camp we went to on the island. Have no idea how long I shall remain there but hope it is not long.
Had a letter from John Brown yesterday dated 7 Nov, it had been to several units before finding me. Hope no more of my mail has had the same fate.
Opened the cake yesterday and found it in very good condition despite the fact that the tin had been knocked about a little and was not air tight.
No letters have arrived from you for about five days now but some mail may be waiting for me when I get back, I believe the Christmas rush has started and that may have delayed things.
(Afternoon)
Arrived back in time for lunch and went on shift immediately afterwards. Parcel No 7 was waiting for me when I arrived back together with 2 bundles of papers dated about 16 Nov. I notice that the parcel was dated 25.11.42 so it did not take long.
Please send up some more Sal Vital and a soap holder in the next parcel. There is no need to send any more tomato or Marmite up but the coffee and milk and fruit and cream is always welcome. Still have the old water shortage trouble here and it is hard to keep clean after the other camp.
I believe that there is a new book of D.L Murray's just out called "The Three Witches", would you please get a copy for Em as a Christmas present from me.
Associated News have reduced their dividend to 3% but their shares are still around 10/3. I'm afraid I am not interested in them at that figure though they should make a fair recovery after the war. Pleased to see McNivens at 19/- no sellers, it is an improvement on two months ago.
Have they lifted the brown-out yet, we can have as much light as we like here though of course there is a blackout when a red warning is on. Have they had you out of bed for any more "yellows" lately?
7.12.42
No mail arrived today so I cannot comment on your activity. I expect several letters will arrive together, they usually do.
Best wishes
Brian
Letter Numbered 19
8 Dec 1942
Dear Em,
We received another comforts fund issue today, consisting of cigarettes, tobacco, shaving soap, washing soap and tooth paste which wasn't too bad. I also believe that our Christmas parcels from the comforts fund have arrived so we won't starve on the 25th.
The writing materials arrived OK as did everything else in No 7 parcel. Will you please send some pencils up also some APC powders and a bottle of casc.
Thanks very much for the Penguins, I shall be able to settle down to some reading. I have only read one book since leaving home.
Went for a swim in the sea last evening after tea. It is the only good thing about this place. Fond it much easier to swim in after the fresh water.
All the sweets have arrived in good order and I have been enjoying them the last few days. Came off shift at 8AM and go on again at 6 tonight so the day is my own (I hope).
I mentioned in Gordon's letter yesterday that I had only just received a letter from John Brown dated 7 Nov. As I have not received any letters since then I am wondering whether any more of my mail has had a similar experience.
Please excuse the writing but the pad is on my knee and the pen very dry. Things are improving, we actually had an orange for lunch today, the first fresh fruit for about 6 weeks.
Well there is nothing more to tell at present so cheerio and,
All the best
Brian.
(No envelope)
Letter numbered 25
Dated 15.12.42
Dear Em,
Here I am again, you must be getting tired of reading my writing. Anyway I think it is better to write frequently instead of waiting until I can write half a dozen or so pages.
I wrote to Gordon yesterday in reply to his letter of the 6th. Your letters of the 7th and 9th also arrived yesterday and I was glad to receive them. Don't be surprised if you don't hear from me for a while, you know how things are.
It is a pity Peter was not a little better on his birthday. I wrote to him several days ago so he should have it by now.
Glad to hear that the garden is proving so profitable, with things so expensive it is well worth while, I only wonder how you find time to look after it these days.
I note your remarks re censors, yes, I think several people will be sorry when the war is over.
I had not heard anything about the fishing, was it in or outside the fence?
The food has been a little better lately and as I still have several tins left over from my parcels things are not too bad.
I have started "Pinkney's Garden" and so far it is very good. It helps fill in the time between duty and washing and believe me there is plenty of both.
Received a letter from Big Kath today wishing us all the best for the 17 ult. (?) Ted is at Mt Brecken now, he has started his training earlier than he expected. Bruce Spencer is back at Bradfield, he also has finished with his guard and is now on the real thing. I believe that Neville Levien went to Somers.
No more parcels have come to hand, I have received 3,4,5 and 7. Well I have no more news at present, shall answer Kath's letter in a few days.
Best wishes
Brian