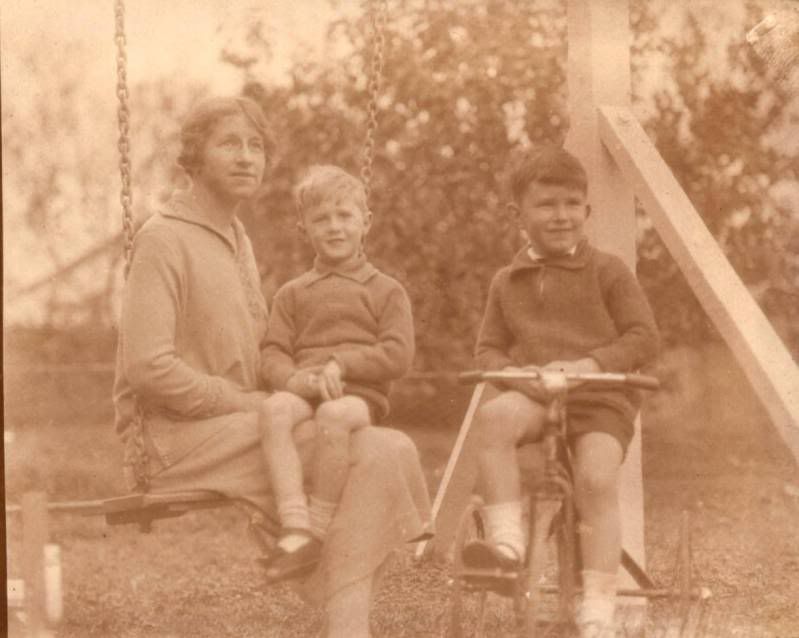 This is Em around 1927 with Ted on her knee and Brian on his tricycle.
I found an English website where Phil Williamson had posted a photo taken by his Grandfather in 1910. I wrote to them and they put me in contact with him. Phil wrote the Williamson family website. I sent this email.
Dear Mr. Williamson,
Among other things, I am a stamp collector with a particular interest in postal history of the second world war. Some time ago, I bought a box of letters from a person in Brisbane which included about 300 letters from Brian Watt to his parents Em and Gordon. Despite the content being fairly bland as censorship was strict, I got the idea of using them as a timeline for a book I have been planning on life in Australia in the 1940s.
I am a member of a stamp discussion group and together we have been trying to put some flesh on the bare bones of the stories. We came across your family website and I found your email address. I have been trying to contact you for a couple of reasons. Firstly, I would not like to upset family members with this project and secondly, It would be very helpful to have any family input that members might like to give.
The progress so far can be seen at:
http://www.stampboards.com/viewtopic.php?f=29&t=27540
Having said that, I am compelled to ask whether your father, Ted has written his memoirs. The Williamson family seems to be dotted with larger than life characters and both Ted and Roy have stories that deserve to be told to a wider audience.
I hope this email finds you.
Best wishes
John Armstrong
Today I received this reply with the above photograph.
Hi John,
Your email came as quite a shock, as we did not know that these letters were floating around in the public domain. They must have been overlooked when either Brian's or his parents' estates were wound up and assets dispersed (obviously to second-hand dealers etc). However, they seem to have caused a great deal of excitement, more for the historical value of the letters than for their stamps and covers.
I would only ask that you apply a level of sensible censorship if you come across anything in the letters which you feel would be embarrassing or unkind to any family members. Most are dead, of course, but we would still not like their memories to be tarnished in the eye of the public.
All of the names in the letters are mentioned in my website, which you have discovered. Unfortunately it is not very "user-friendly", having been originally prepared for a paper copy, rather than for the internet. If you search for the names, you will find all the information you need to piece together the family tree.
I have emailed my father, Ted, to get his opinion. He served in the famous 460 Squadron RAAF, as a wireless operator in Lancaster bombers.
I am also sending a copy of this to Peter Williamson, to let him know what is afoot. He may wish to contact you separately.
Just to whet your appetite, I have attached a photo taken in about 1927, showing Brian's mother Em with Ted on her lap, and Brian on his tricycle.
I will be in touch when I hear back from Ted.
(BTW, if you ever consider selling the collection, I would appreciate having first option. They may be merely interesting from a stamp collector's point of view, but as family history they are priceless.)
Cheers,
Phil Williamson
And this was my reply.
Dear Phil
I am delighted to hear from you. I read Ted's letters to the Lancaster site with interest as a friend of mine has been working for some years on a book about them.
Thankyou very much for the photo. It is great to have a real picture to add to the ones we have built up in our heads about these. As I mentioned, the letters will only form a timeline for the book so anything of a sensitive nature can easily be left out though I don't envisage that there will be much. However, there is a lot in the early letters about Peter's illness and the time he spent in hospital when he was nine or ten. Even with the sparse references in the letters you get a strong impression that this was a very difficult time for the family.
We have probably become more attached to Brian's story than researchers should but it has been enlightening to see how, in such a dramatic time, people could get on with their lives while doing what needed to be done. The war was won as much by the thousands of people who kept the machinery working as by the heroes at the front.
As for the letters, I had been wondering what I would do with them after the book is done. At the moment I type a few each week and scan the covers for our group to work with. I need the letters typed anyway and this means there is minimal handling. Once I have this I basically don't need to touch them again. I would far rather return the letters to you than sell them into the philatelic market. If you send me a postal address, I will post the ones I have done so far. If there is any need to see them again, which I doubt, I will always know where to find them.
There is one exception. In 1945, Ted send a V-mail message to Em from London. V-mail is a particular interest of mine and until I saw this one, I did not know that they ever sent them to Australia. In fact, I have yet to meet anyone who has seen one sent here. Mostly, they went to England or the USA.
V-mail was a clever way of sending a lot of messages by air. They photographed a prepared form carrying the message and then shipped the microfilm rather than the letter. The post office at the destination country then printed out the message and delivered it.
They could carry far more messages this way. This also had the advantage that if the plane was shot down, the originals could be recopied and sent again. I would particularly like to keep this piece for my collection.
I hope you don't mind if I share your email and the photograph with the rest of my group. I know they will be as excited as I am to have made contact with Brian's family.
Best wishes
John