You just see them in every budget packet and kiddies collection.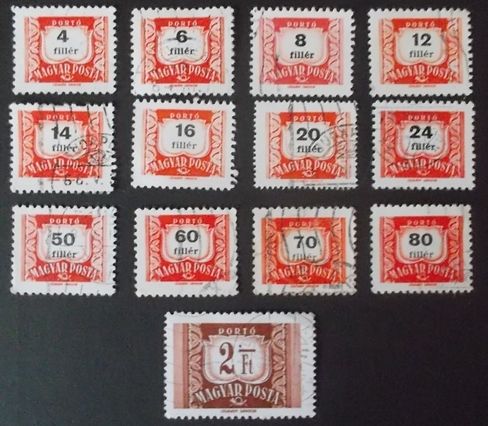 This is not a complete set, but a good sampling. I read they were released in 1954, replacing a similarily common 1951 green set. But why are they so common?
Did AMPOL buy 10,000,000 of them for their packets in the 60s, or did the Hungarian government print 500,000,000 to get kids hooked on them.
If anything, they are not even very attractive, but why are they so common and so popular with the kiddies. SG has them all at 10p each except a 84 filler which is about 50p, but you never see that one in the kiddie sets, always 4 filler to 80 filler small and about 6 or 7 of the large brown ones to 5 florints.
But sets seldom go above 80. The stamps were all found in a world ferret box at one of my clubs in like 5 minutes.
In amongst dozens of low value Italian Siracusa heads, German inflation stamps, Hungarian castles, Romania 1973 set with those bubble cars and telephone codes etc, and those small size Soviet stamps from 1 kopek to 15 dated 1961 and 1966.
So does anyone know how they became so popular, or does anyone know much about them at all. I noticed most of mine look properly used, none have gum, but some have a dodgy looking official Budapest postmark.
_________________
I collect Malta, Ireland, Malta, Tristan da Cunha, Malta, various Pacific Islands, Malta, New Zealand, Malta, Australia and Malta.