In answer of how many 77s there are:
9 examples have been recorded - 4 mint and 5 used.
8 examples should exist, one used example having been lost in the SF earthquake of 1906.
Four mint examples (all well centred):
AB - Royal Collection
AC - stolen with Major Raphael's(?) collection, whereabouts unkown
BA - Tapling collection, British Library
?? - Ferrary collection, whereabouts unknown
Four used examples (all centred high to right):
LL - London 80 circle in bars, perfs clipped top and left, ex Lato, currently in English collection.
MI - straight edge at bottom, sold by Robson Lowe Nov 1944, whereabouts unknown
PH - on piece, sold by Robson Lowe 15/2/56, Adams collection, whereabouts unknown
PI - on piece used with 1862 4d SG79, London 15 in bars. In American collection I think??
Sorry for the bad scan, but here is the last item on the above list: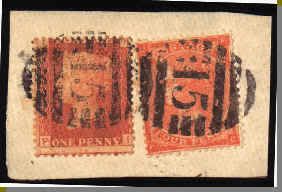 Current SG cat £160,000 used, unpriced mint.
INDENTIFYING PLATE 77 FROM PLATE 177
Stamps of plate 177 are frequently claimed as 77, having the plate number 1 obscured by accident or design.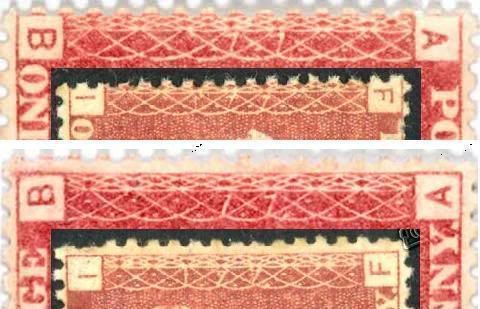 The scan shows the mint plate 77 from the British Library against a common plate 177. The numerals 77 are in the same position along the sides on both plates, but if you look at the foot of the 7s it is discernable that on the 177 they all come down to a point that is slightly left of the intersection that is made by the two curved lines below.
On the rare plate 77, this is not so. All four of the 7s come down to basically the point of intersection.
It is this way on all 240 stamps of both plates.
Happy hunting.
Scott