Hi all,
I have been a "collect whatever I get" collector and am still the same.
Just decided to have a thematic collection and thought let me start with my own nation..
I seperated all the India stamps I had and found that I am just beginning to realise how little I have acheived.
Also I saw that very few thematic collectors, collect India as a theme... It is just because getting a 1947-2010 collection is very easy.... Even during swaps, I have seen a few remark...
NO.... I DO NOT WANT INDIA STAMPS
...
Others` loss is my gain... I thought let me present my wantlist to fellow members who have Indian stamps just sitting idle in their collection who are willing to swap them for something they wish... Here are a few of my wishlists... Do feel free to contact me regarding anything you have to offer from Post Independence India to help in my collection.... duplicates... mint.... used.....and even damaged (as long as they can be space fillers)!!!
How many... what you want in exchange... that could be negotiated
..
Even if you have any stamps not out of my wantlist but of no use to you I am ready to swap for them... I have posted a few images now and a
LOT
more coming..
Thanks in advance..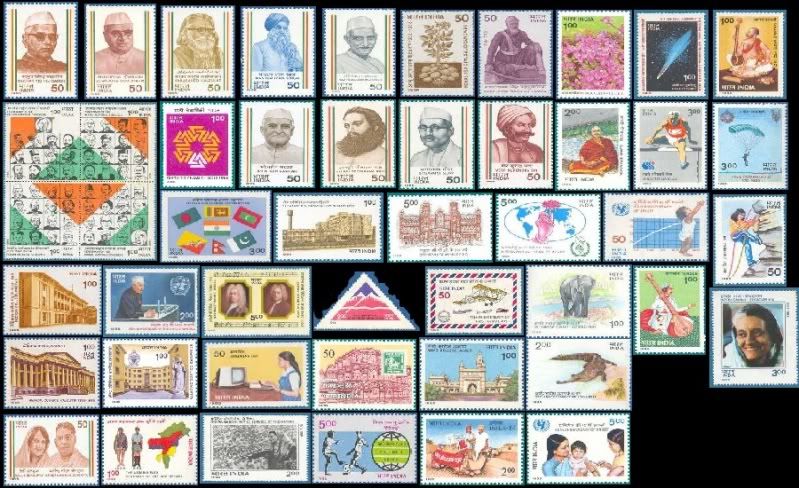 P.S- I do not intend to buy from anyone.. I want to take this slowly and build it as it comes...
_________________
Started to collect post-Independence India, help me complete the voids
http://www.stampboards.com/viewtopic.php?f=9&t=29439
Collecting Canada (just started) and CHESS on stamps.!!!!!!