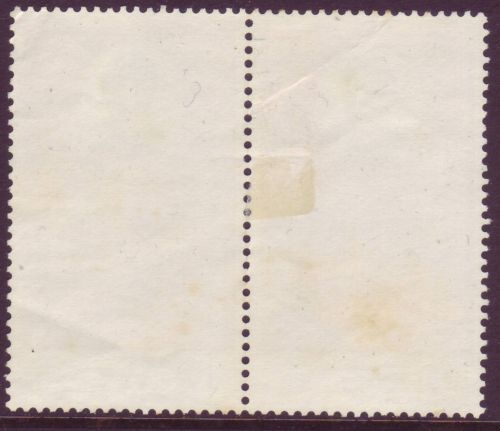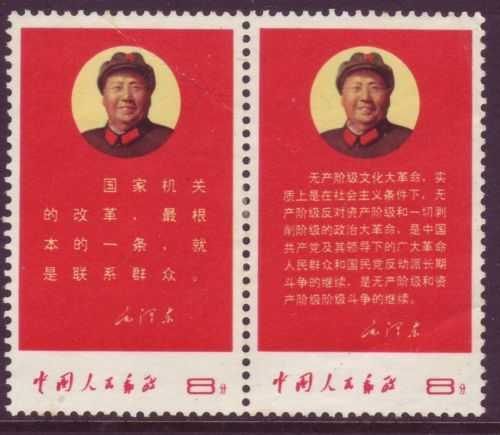 Poll - what are these 2 defective, mid range, 1968 China stamps worth?
Here is the dilemma all dealers like me face each day.
You have something on your desk, and you need to set a fair price on it.
What I have here is are just 2 units of a Mao se-tenant strip of 5 from 1968.
The huge new new SG China cat - which I seriously recommend to EVERY person collecting China/HK, has upped the price heavily on perfect examples of these to £225 each.
The current "Yang" catalogue rates then at $US250 each
in fine condition
These sadly are not perfect however. There is a large hinge remainder, and both units have gum toning and quite bad creases - as is evident.
The paper is highly surfaced, thick red, so creases crack the printing ink. As you can see!
USED these stamp are worth a third of mint, so washing them and calling them 'VFU' is not an option on these.
These are lesser lights in the Mao China stakes, and these 2 have never been in the stratosphere level of the un-issued stamps we hear and read about so often.
They are basic mid level items, and have no flaw or variety on them - just poor condition.
Indeed these stamps were relatively common in Australia, as Seven Seas Stamps had masses strips of 5 in their cheap approval packets in the 1960s, as the USA dealers were restricted in dealing with China.
So faced with this condition, and knowing the new updated SG cat value, what would YOU offer them for sale at, and regard that as a fair and reasonable price.
See how tricky it is being a dealer and needing to be accurate.
They are on YOUR desk and you need to set a fair value on them. Do it!
Please vote in the poll, and add your comments as to WHY below!
What is fair market price for these 2 stamps today?