Thanks Kristine. Maybe I could come there. I have happy memories of San Diego from when I visited way back in 1979. We played at a music festival called the "Great American Showdown" in Pio Pico Park. Great times, only marred slightly by the earthquake that shook things up later that night. That's enough reminiscing. Not much happening with Brian but here he is anyway.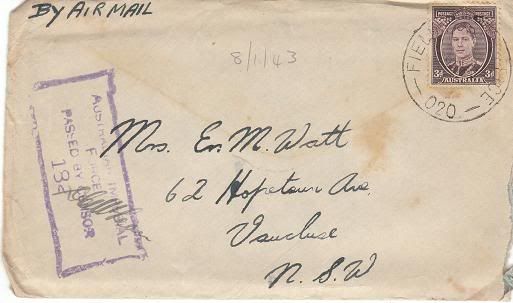 Letter Numbered 42
Dated 8.1.43
Dear Em
Letter no 39 arrived this morning together with one from John Brown. John is still at the school and has about 3 weeks to go.
Glad you had an enjoyable time at Killara the other day. I expected Mabel would feel better after a break from Peter, it must be a very worrying time for them.
It is amusing to read about Joan but what she says about Bill might be true for both of us.
Thanks for seeing Roy about the dividend but I will leave it until I ccan fix it up myself.
You seem to be having some mixed weather down there both very hot and wet. It is a beautiful morning here but I am afraid we will be complaining of the heat before long. Things are much the same except I am back on the switchboard.
The news has been very good the last few days and I hope it continues to be so, there is no doubt about the U.S.S.R.
Managed to purchase some canned fruit salad and some chocolate yesterday. Now that the canteen stocks are better I think you can suspend the parcels for a while. The meals have improved a little over the last few days so life is not so bad.
Have you heard of Phil lately? He has not written to me.
I have some washing to do before I go on shift so must say aesta livista.
Best of wishes
Brian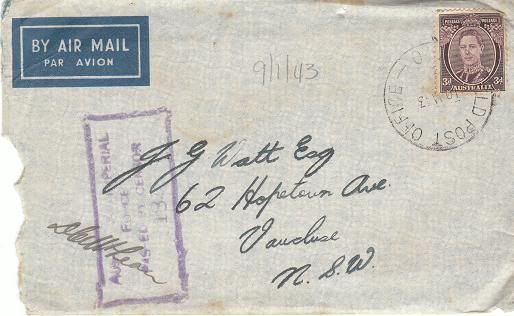 Letter Numbered 43
Dated 9.1.43
Dear Gordon
Thank you very much for your letter No 40 which arrived here yesterday afternoon. It was posted at 11.30 AM on the 6th so it only took two days.
You seem to strike Joan on the phone a lot lately from your letters, I gather that Bill won't be a free man for long after he gets back. I have not heard from him yet by the way.
Most of our shifts are 5 hours except the night shift which is 10PM to 8.15 AM.
I wrote to Ted for his 21st and he should have my letter by now. I think he has another two months training to do at Mt Brecken before he goes to a flying school.
Apparently the weather is making the grass grow and keeping you busy in the garden. I would like to be there to give you a hand.
Thankyou for phoning O'Brien as you say he is going to write. I shall wait until it arrives before I drop him a line.
The South Australians don't appear to pass on much news, Roy will have to write Harold again with questions A to K. Any news from that branch of the family is always welcome to me.
I suppose you will have resumed toil again by the time this arrives but I hope the change has done you good. By the way, do you see much of Frank A. these days or is the other person back at Old South Head Rd.
Things are exactly the same here so there is nothing more to comment on.
Best wishes
Brian
P.S. I went to the pictures last night and saw Harold Floyd so you can guess how old it was, still it was a good programme and I enjoyed it. I am looking forward to the next show in 10 days time now.
Letter numbered 44
Dated 11.1.43
Dear Em,
Your letter of the 7th arrived yesterday afternoon and no 42 of the 8th came this morning.
I am not sure what I said in the letter which was censored, it may have been several things however it can't be helped.
So Nancy is coming back to Sydney, I don't suppose she will be over for a month or two. Pleased to hear that Peter is showing signs of recovery, your last two letters have been more cheerful regarding him.
I had intended to write more this morning but I had to go out and get a load of gravel so I have only a few minutes before I go on shift.
The envelopes arrived in good order and I put them into a cake tin. They should keep dry there.
I spoke to Bill last night. He said he was off colour for a few days after Xmas but is OK again now and is very busy. From our conversation I think that Joan is adopting a very opportunistic attitude. Still I will know more when I see him.
Five bundles of papers arrived today but I have not had time to look at them.
Well I must stop now and go to lunch, more news tomorrow.
Best wishes
Brian
Note: From the family web site:
" Roy married Mabel MacArthur at the Parish Church, Kennington, London, on 19th December 1918. They had a daughter, Joan Maud, (born 1920), and two sons, Alan Cleveland (20th February 1922) and Peter MacArthur (1934). Joan married William Miles Donnelly (born on 10th September 1921, died of emphysema on 23rd November 2000) on 30th June 1943, and lived at 190 Warrimoo Avenue, St Ives. They had two daughters, Anne Barbara, and Paula Margaret."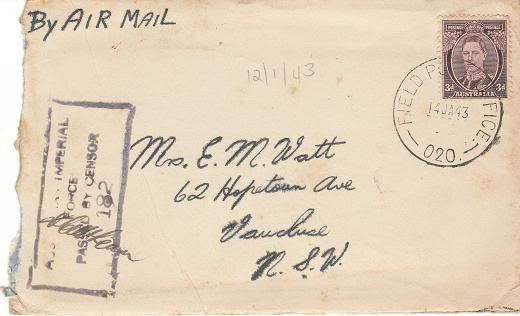 Letter numbered 45
Dated 12.1.43
Dear Em,
Sorry for such a short note yesterday but it was just one of those things. I have now received all your letters up to No 42. They have been arriving in consecutive order lately. The papers which arrived yesterday vary in regards dates, some are Nov 7&8 and others are Dec 16-17. I have only glanced at a few of them and the Bulletin so far.
No, I have not been to the new canteen yet but hope to get there sometime in the near future.
I note that you are sending the Readers Digest on and shall be glad to receive same.
Had a shower of rain this morning and now that the sun has come out it is very himid. We usually get a shower of rain every day.
Roy seems to be busy going from one Department to another, I suppose he is making use of his position with the party. Glad to hear that Peter is looking better, Bill mentioned the other night that Joan said he was improving.
The routine here is still the same, mainly shift work on the switchboard.
None of the outstanding parcels have come to hand but no doubt they will arrive in due course. I suppose Gordon resumed work again yesterday and will have settled down to toil again before this arrives. Have you heard of Phil recently? I suppose he is still in the west.
Well, I have exhausted my supply of news so will close.
All the best
Brian