Brian is back after a very busy Christmas.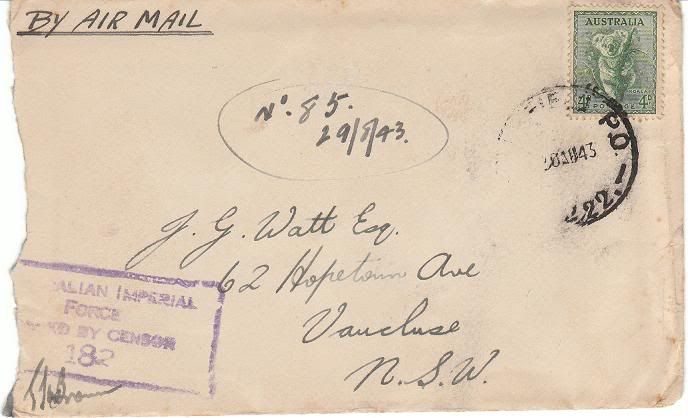 Letter numbered 85
Dated 29 Aug 1943
Dear Gordon,
I have just realised it is over a fortnight since I wrote to you, so here go a few lines.
The May Digest arrived yesterday together with a parcel of papers dated 13 - 15 July, but there were no letters.
I was on night work last evening and had a rotten night, only managed about three hours sleep so I am pretty tired today.
There is a shortage of water at present owing to the water truck breaking down and I have a pile of dirty clothes waiting washing.
A lot of chaps returned to camp today after a few weeks away and we are now back to eight men in a tent. Our officers however, apparently don't believe in equality of sacrifice as most of them have a tent to themselves.
What do you think of the election result especially regarding Wentworth?
At present I am reading "The Husband's Story", an American publication of about thirty years ago and a poor novel at that, still better than nothing. Try and get hold of "Deadline" if possible, you and Roy should enjoy it.
It is just on tea time so I shall close.
All the best
Brian
Letter 86 is missing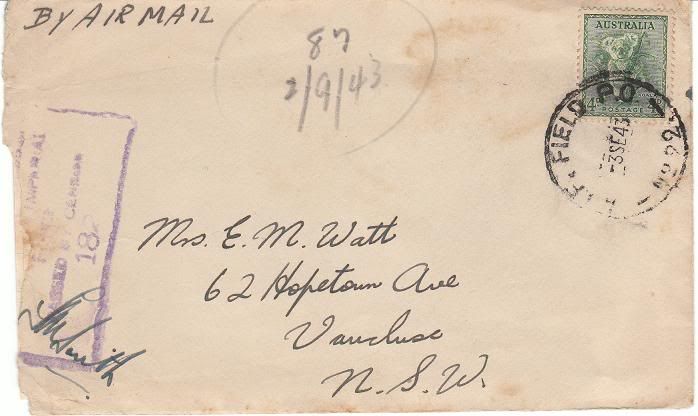 Letter numbered 87
Dated 2 Sept 1943
Dear Em,
I was very glad to receive your letter 124 of the 20th last night although it had been opened by censor 1393.
Glad to hear that my coupons have arrived however there is nothing I want to buy with them at present.
I gather from your letter that Alan is away from his unit which will account for his not receiving any mail. Has he been ill or at a school?
I am pleased that you are getting my mail in good time but the service from you is far from satisfactory. The papers I mentioned in my last letter were dated 9-13 July.
Saw a good picture, "The man who stayed for breakfast", last night together with some interesting shorts.
I mentioned previously that I could do with some socks and I was pleased to read that you have a pair nearly finished.
Please excuse this scribble but I am writing this in bed and there is a noisy card game in progress at the same time making it hard to concentrate.
There is no sign of the packet you sent but most likely it is held up with the rest of the mail. Well I will close now as it is getting dark.
Best of wishes
Brian
Letter 88 is missing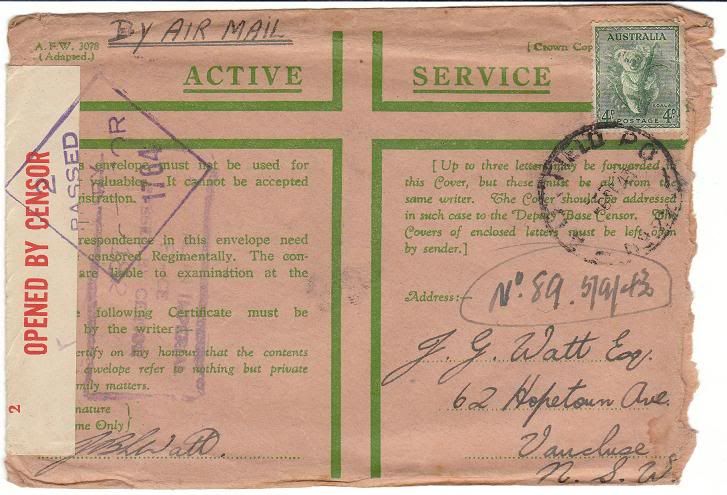 Letter numbered 89
Dated 5 Sept 1943
Dear Gordon,
I have managed to obtain a green envelope at last, so have a chance to write about several things. The enclosed cuttings will interest you if you have not already seen them, in any case file them in the usual place.
I have not seen many recent papers but I understand that the price limits on certain preference shares have been removed and I noticed that some McNivens changed hands for 25/- the other day. As there appears to be plenty of buyers at present it is no doubt advisable to hold on to them although they can't go much higher, still it is so hard finding anything else with a decent return these days.
Both B.W and J.S.H.S. seem to be rising but you can keep me in touch with any changes. Goodness knows how the new government's fiscal policy will affect things.
The mail situation was relieved by the arrival of Em's letter 127 last night and I shall write to her tomorrow.
I gather that Alan has been in hospital but you did not mention what his complaint was, I shall drop him another line in a day or so.
Have you seen or heard anything of Les recently or has he retired to his shell?
Will close now as it is time to have a look at the football.
All the best
Brian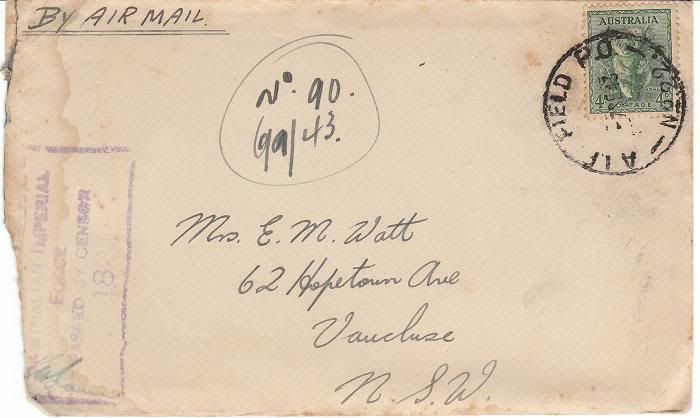 Letter numbered 90
Dated 6 Sept 1943
Dear Em,
As I mentioned in my letter to Gordon yesterday, your No 127 arrived a couple of days ago after having been censored by 1722. Letters 119/123 and 126 are still missing.
Glad to hear some news of Harold, he must be kept very busy with extra work and the addition at home.
The censor deleted the place where Bill is but if Joan is going there I suppose he is still in N.S.W.
I received parcel 18 posted on the 2nd of last month so it made good time. Some newspapers also arrived but I have not opened them yet.
At present I am reading "Ragged Trousered Philanthropists" which you sent the other day and am finding it quite enjoyable.
Was on shift last night and on piquet this evening so this is being written in between times.
I am very sorry to hear that you had such a bad time with the flu and hope you are over it by now. It is times like that you miss Lillian.
Had no rain the last couple of days and I was able to get all my washing dry yesterday however I think it will be wet again before long.
I don't suppose you know where Ted is now or whether he has finished his W.A.G. course.
It is almost time to eat so I will close.
Best of wishes
Brian