Bolton Percy York
24 September 1969. Double circle handstamp, "B" over date
Bolton Percy is a village in the Selby district of North Yorkshire, about 10 km southwest of York. According to the 2001 census it had a population of 305.
Bournemouth
22 April 1922. Continuous roller with 5 wavy lines
Bradford Yorkshire D
8 November 1972. "Bradford means business"

Bournemouth, a town of 163,000 people, does not have the county of Dorset in the postmark.
Bradford, a town of 293,000 people - the 14th largest town in the UK, keeps the "Yorkshire" in its postmark, however. That's because there are
other
Bradfords in Wiltshire, Somerset, Cornwall, Greater Manchester and Northumberland.
Bradford West Yorkshire
18 May 1984. Large single circle handstamp
In 1974 Bradford became a City Metropolitan Borough in West Yorkshire instead of a City in the West Riding of Yorkshire.
This postmark is on a stampless aerogramme used to a British soldier on active service in the South Atlantic.
Bradford Philatelic Counter
10 April 1990. Illustrated handstamp
With a picture including the hills surrounding Bradford, a sheep's head and two woollen mills.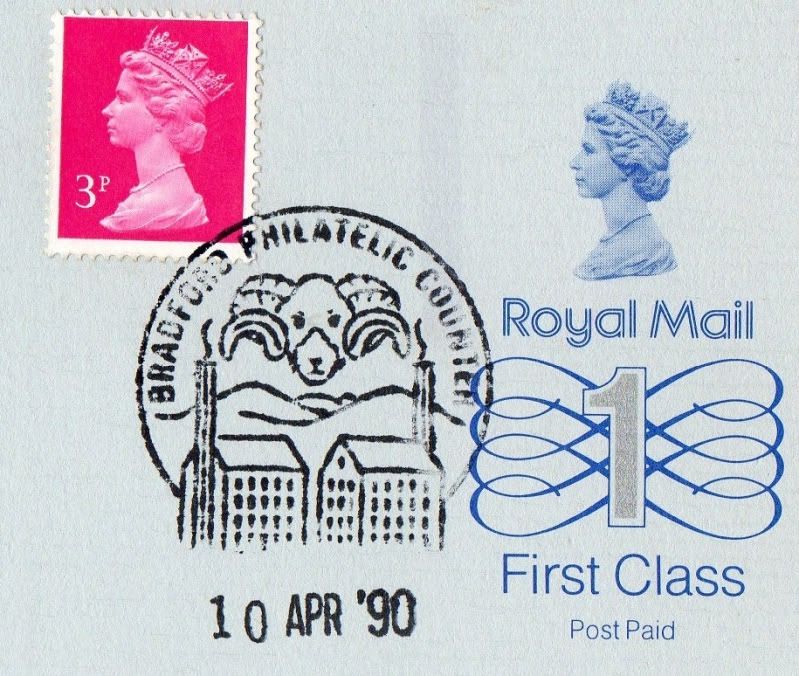 The 3p stamp pays the charge levied for the special cancellation.