rammyg3 wrote:
I've just realised blue-lazer is a member of this board, then I guess they are both real
Well I hope so
I'm a bunny in perf overprints! Don't normally collect these...
Please confirm this Glen Stephens.
Well you typed it.
BUNNY

.
Blue Lazer's strip is of course fine.
Re the 3d Kookas, A bunny is someone who paid $56.50 for an off centre pair of forgeries, that any REAL dealer would sell you genuine copies for far less, in that grade.
And in a year a REAL dealer will still be here to refund you. This fake ebay forger handle will NOT be.
Why newbies in stamps run around ebay bidding like maniacs on material they admit they know nothing about truly astounds me. Do you buy "genuine Rolexes" in pubs on Friday nights for $50?
glenn028
is no connection to me but he bought these recently made OS fake overprints.
You bought the fakes off him.
Neither of you had the sense to read stampboards, or you would have seen your fakes shown before and after the forging of the "OS".
More fool both of you, and you are BOTH victims.
So I suggest you mail your fakes back to glenno28 for a full refund.
And suggest he mails the back to nsb13579 for his refund. And BOTH of you report him and his other fake handles to ebay, for knowingly creating forgeries. 100s of them, via a swag of fake handles
glenno28 needs his brain examined for bidding on ANYTHING from a "PRIVATE FEEDBACK" seller in Australia, which spells FAKES in huge capital letters to anyone with an IQ above 10.
traralgon3844 wrote:
I started this thread like that to show that everything on eBay isn't what it seems.
Anyone who had a look at the auctions run by
unistamps
will have seen that they were all
private
.
Private auctions are generally the hallmark of someone with something to hide. Just like private feedback.
The big problem with that block is that
unistamps
had sold it before the two occasions in the opening post when it was part of a block of 8. He obviously bought it himself to be in a position to later perforate it OS. Hence the reference to shill bidding.
Take a close look at the block depicted below. As you can see it was sold by
unistamps
and was not perforated OS.
Pay particular attention to the block of 4 at the left. I am sure you will agree that it is the same block, but oddly enough there are no holes in it.
What say ye now?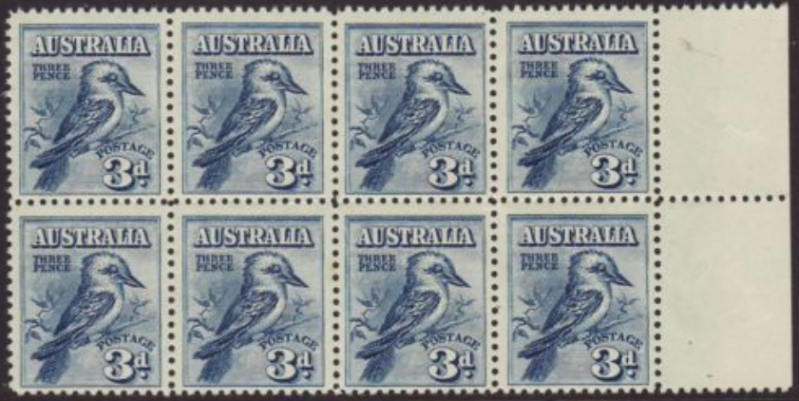 AFTER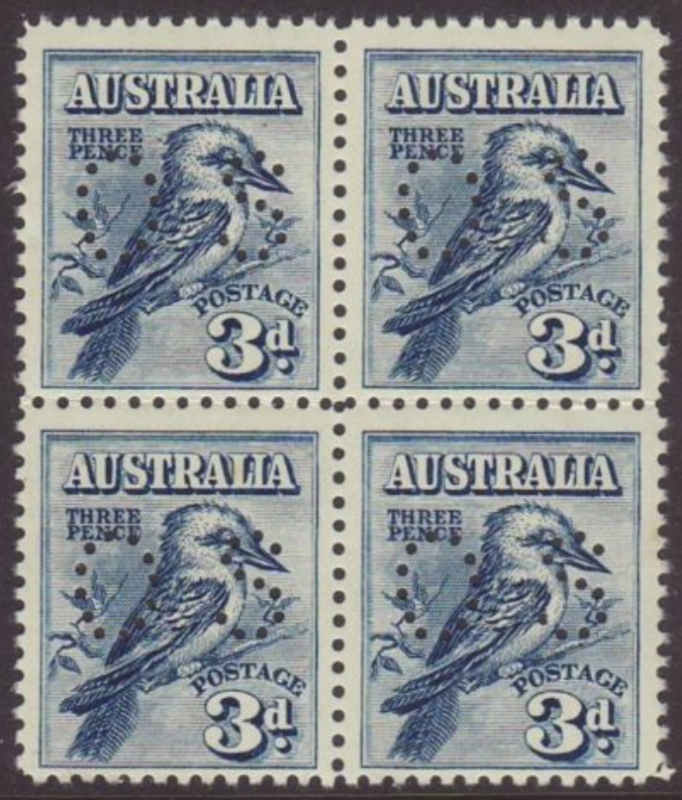 This forger has been reported to eBay but it appears this sort of activity appears to be fine by eBay as he is not NARU. Carry on like this on Delcampe and you are nuked in an instant.
BruceK wrote:
Not again!
Current sale on ebay.
http://www.ebay.com.au/itm/1928-3d-KOOKABURRA-PAIR-PERFED-OS-MUH-/270913914190
This is a match to this pair sold by nsb13579 on 19th Jan. Posted earlier (Identical perfs, centering & perf OS)
Which was half of a block of 4 Perf OS, which was half of a block of 8 without Perf OS.
Unfortunately I cannot ask a question or report an item as I do not have a login ID for ebay.