patg wrote:
(locakart) is there no bottom to your well
You seem to have an endless supply.
Also, with all the British postal stationary, what's the story behind the Argentine avatar?
Best to all,
pat
Pat,
I have been collecting postal stationery for many years. Postal stationery gives a good reflection of what rates were actually in force in most circumstances in most countries - see for instance the thread on Belarusian provisional surcharges from 1992 at
http://www.stampboards.com/viewtopic.php?f=17&t=30222
. But there are exceptions such as the Seebeck issues for Central America
Although some collectors prefer unused items, I have always liked to collect items used (reasonably) in period as well. Reasonable btw is a lot more for stationery than the two months that some Stampboarders call reasonably in period. Postal stationery was often bought at the counter when the customer didn't have the means of posting something to hand - might as well buy a stamped envelope instead of a separate envelope and stamp. It also got used when something particular like a registered envelope or an aerogramme was needed.
Being bought at the counter, you often therefore get the items postmarked at the counter, hence the large number of handstamped postmarks on the stuff I have compared to what you will find on mail posted in a pillar box.
Britain also produced a wealth of printed to order stationery for private firms and individuals and official stationery for government departments - which is where a lot of the machine postmarks come from.
Both my sister-in-law and myself recently had our lofts re-insulated. I found a couple of old albums of York and Yorkshire postmarks - which I must confess I thought I had disposed of many years ago. She found an album of old postcards, about a third of them used.
The well is not yet empty as a friend of my wife has just let me have a look through her collection. There are a few postmarks to come from there as well even though she had nothing in her collection that I collect
It's still interesting to look through somebody else's collection though.
Great Britain has virtually stopped issuing postal stationery - yes, I know that there are still a few items available but in all truth the United Nations issues more nowadays.
I looked therefore to diversify and settled on three countries - I've got a largish collection of stationery of the whole world. Firstly, Romania which is the second largest issuer of stationery ever (after the USSR) but has very little which is truly expensive. Secondly, Iran - because its issues are very, very interesting if you get a decent catalogue (Higgins & Gage misses out several key issues).
Thirdly, Argentina - because it splits nicely into older and modern material with a large gap between them when nothing was issued. The older stuff is catalogued in basic, more advanced and even more advanced detail in Higgins & Gage, Ascher's
Grosser Ganzsachenkatalog
and Vasen and Riese's
Catalogo de Enteros Postales Argentinos
. There is also quite a lot of web based very advanced information about Argentine issues and at
http://foro.filateliaargentina.com.ar
the Argentine Philatelic Forum. The newer stuff is all on the Correo Argentino website. There is also a lot of material available via dealers online - mostly in Argentina itself and North America.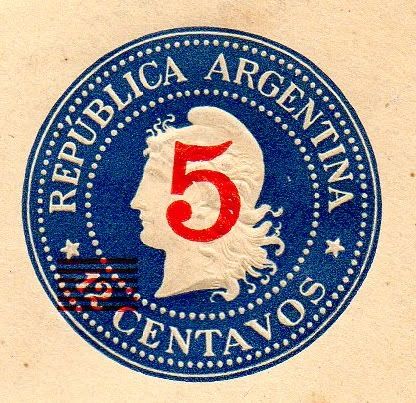 The avatar sums things up quite well. The 12 Centavos blue was issued in 1899 and used for international envelopes, such as letters to Great Britain. It has the Cabeza Grande "Big Head" embossed version of the Liberty design. This is a design perfected from the Cabeza Chica "Small Head" which doesn't look anything like as nice.
The embossed version was dropped in favour of a flat-printed imitation in 1902 to save money. But the 12 Centavos rate had risen to 15 Centavos in 1901. So they converted the remainders to inland envelopes by surcharging them with a large red "5". There are (of course) two types of the "5"....
So the Argentine avatar is about philately. Read one catalogue and it's simple. Read another and it gets more interesting. Read another and it gets complicated. Read the research into individual issues and it gets cleared up
or confusing
Well you did ask