Guys, I am getting lots of emails saying "Here is my address: send me this sheet!".
However, I won't send my items to you until I have received
YOUR
letter. I don't send these free items
UNTIL
I have received your contribution to my post costs.
(This is just to make sure I don't end up posting hundreds of overseas letters and only get a dozen responses with stamps included.)
Fair enough?
Any stamps at all are fine to send. Prefer commemoratives in mint sets and minisheets, so just what ever is easy for you.
So please don't email me your address. Include it with your letter when you write and send me your stamps.
(And I'm happy to include some New Zealand used too if you'd like a few of our country's interesting issues, and like to send me some of your used ones.)
regards, Bruce.
============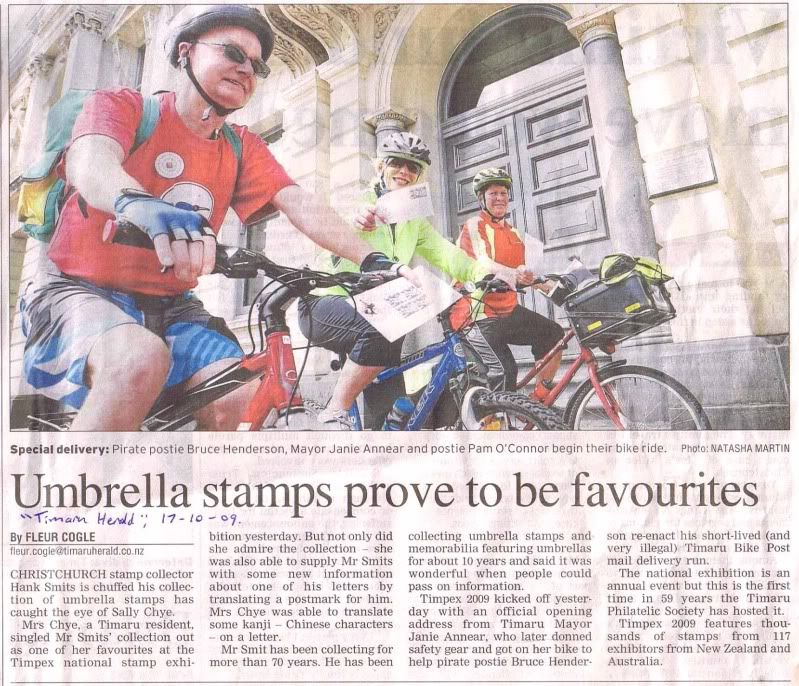 I made the local newspaper on Day 2 of the Timpex
National Stamp Exhibition, cycling with Her Worship,
the Mayor, and a NZ Post postie. I could not smile at
the camera as the Mayor and Pam are doing, as I was
trying to avoid running over the photographer's feet!
Observe that the cover I am holding has a

BLOCK OF FOUR

of
the bikepost stamp! I have no idea who ended up with that.
The ones I have just have a single stamp on as in the photo
in my first message.