Some interesting comparisons between the Irish and US situations.
The following charts all relate to Ireland, the first in the EURO Zone to need bailing out.
This chart shows the Irish Unemployment rate (remember, the bailout only occurred in Ireland due to banking problems, specifically the Anglo Irish bank).
Not a pretty picture, is it?
Next is the Irish GDP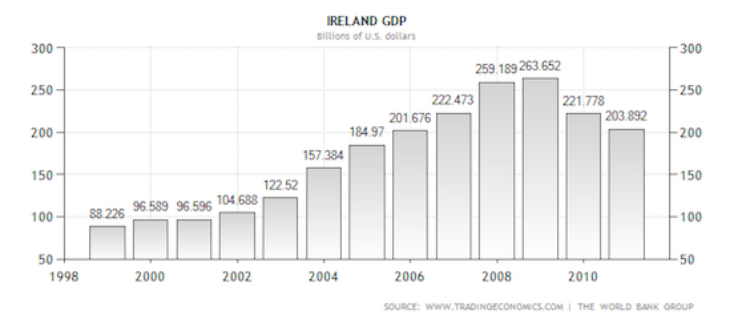 Just as depressing, GDP is falling, as it will when austerity is forced on you as a condition of bailing you out.
Now the Irish Government's Debt to GDP Ratio.
Up to the GFC the debt ratio was falling, reflecting the economic conditions in the Republic. Remember the Economic Miracle of Europe? All came to a shuddering halt when banks started failing and had to be bailed out.
Finally, the Irish Fiscal position.
Massive deficits, getting worse despite the need to be reduced.
What does all this have to do with the USA? Well, whilst I don't have charts, teh raw data is stark enough.
US GDP in 2011 was US$15.087T, Government Debt is about 102% of GDP. Ireland's is 96%.
US Budget Deficit is 10% of GDP at around US$1.5T. Ireland's deficit (remember 3% is the treaty figure supposed to be met, under normal circumstances) is a whopping 31.3%
So, US Federal debt as a % of GDP is worse (barely), but all other indicators are better. Deficit as a percentage of GDP is one third as bad. The US GDP is also growing and unemployment (finally) in a sustainable downward trend.
If I can get some time I will try and accumulate the same data for the rest of the EURO Zone. With the probable exception of Germany, I suspect most of the rest will look pretty awful as well.
The big advantage the US has over Europe (well, apart from being the world's largest economy) is the ability of the Federal Reserve to set monetary policy that applies to the entire US economy, to a single currency (which also just happens to be the global reserve currency).
In Europe, the largest economy is Germany and ECB monetary policy is more targeted at it that anywhere else. Or, more precisely, inflationary pressures in Germany have more influence on Official Interest rate settings than anywhere else in the Zone.
When Ireland and Spain need the sort of interest rates that prevail in the USA (i.e. effectively zero) and the ability to inflate their economies by 'printing' money (quantitative easing), they can't. If inflation picks up in Germany (entirely possible) then rates are going up, not down.
It's a wonder, now, how anybody really believed a single European currency was a good idea (outside of Germany and, possibly, France that is). Indeed, whether the idea was thoroughly thought through in the first place.
_________________
Peter
Hawthorn - AFL Premiers 1961, 1971, 1976, 1978, 1983, 1986, 1988,
1989
, 1991,
2008
.