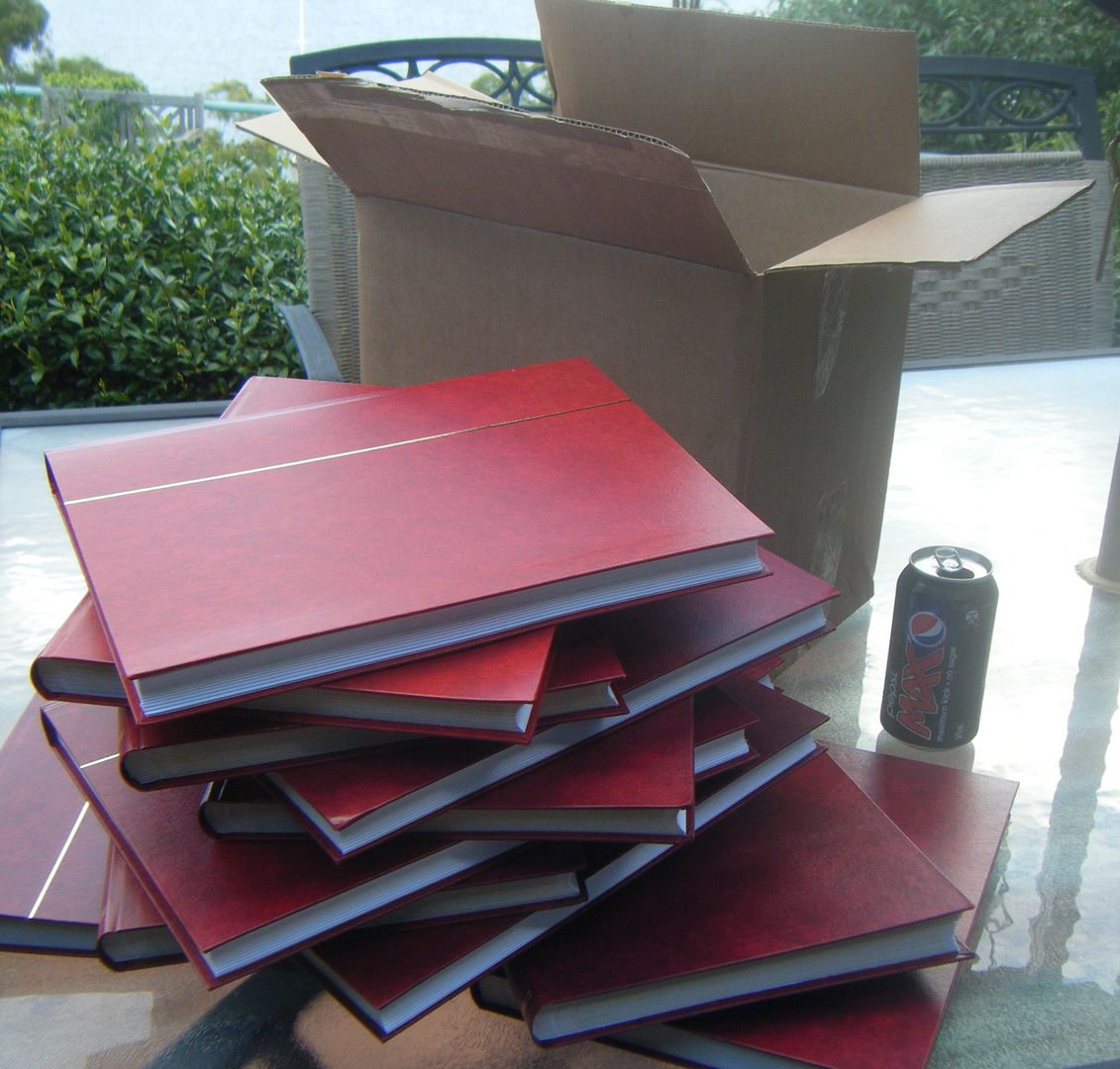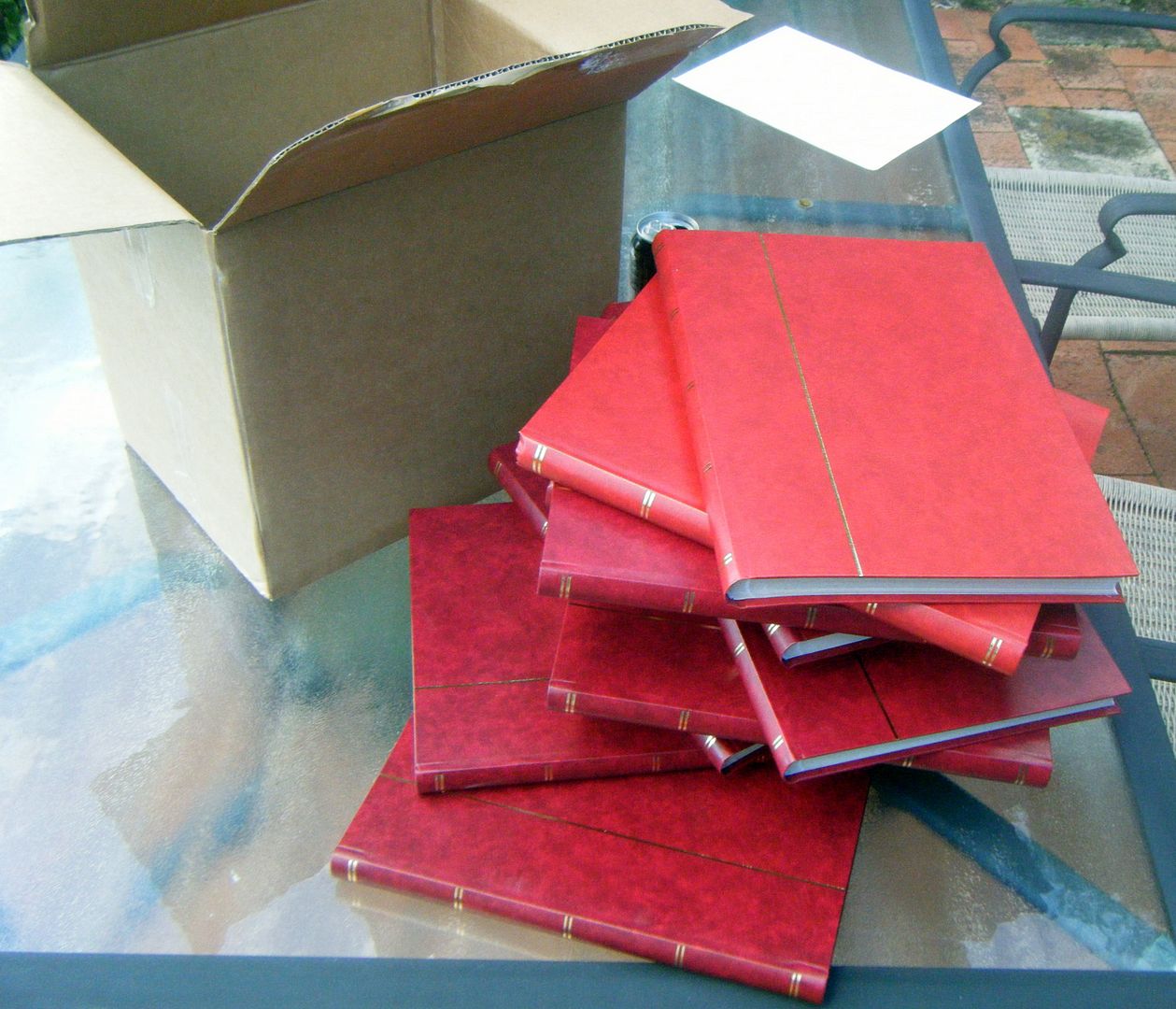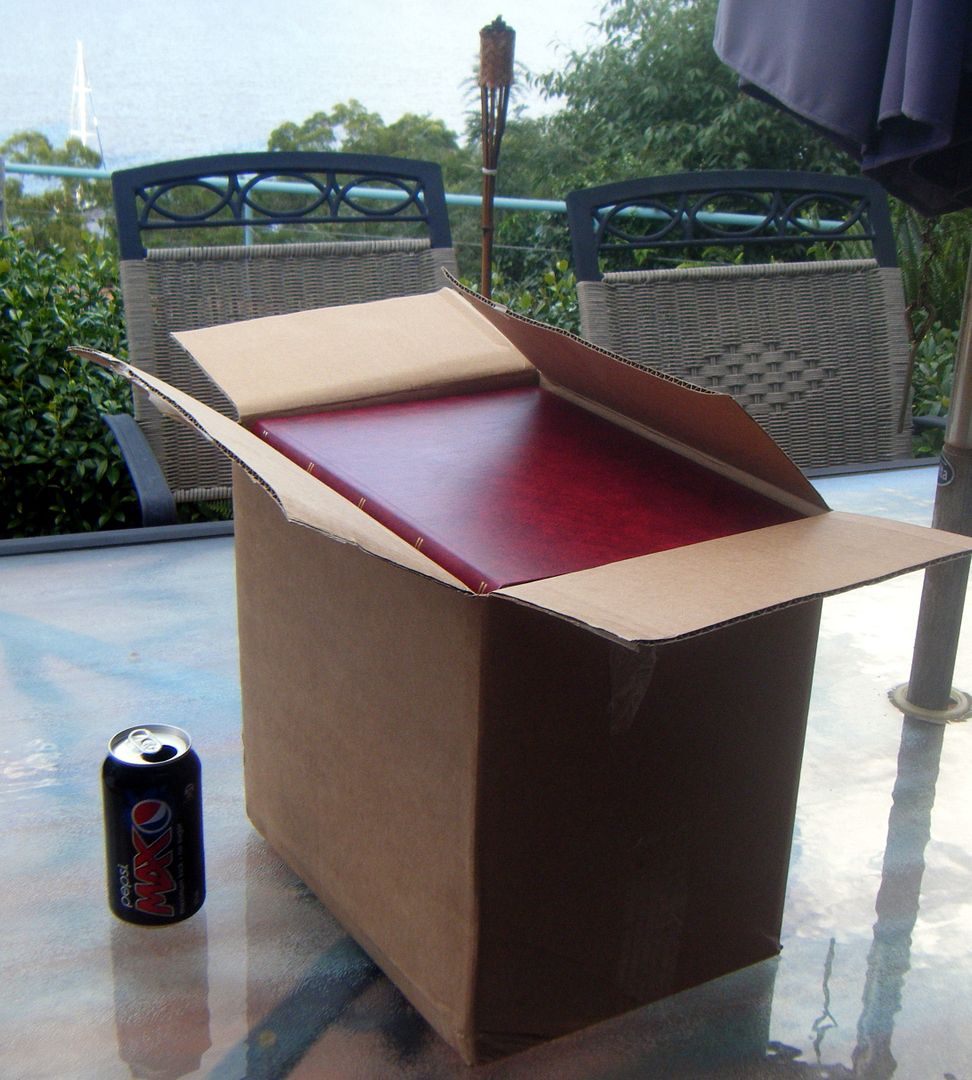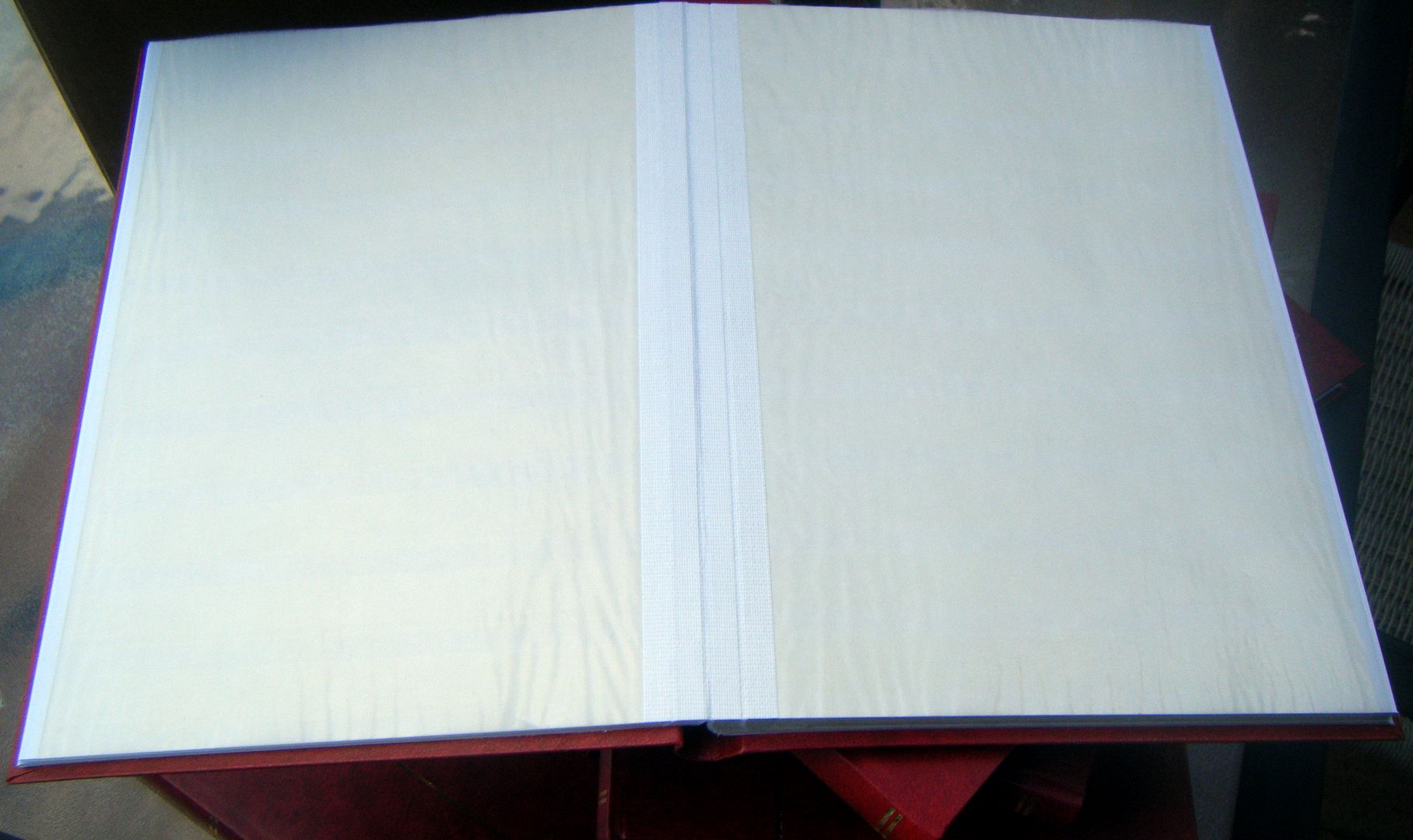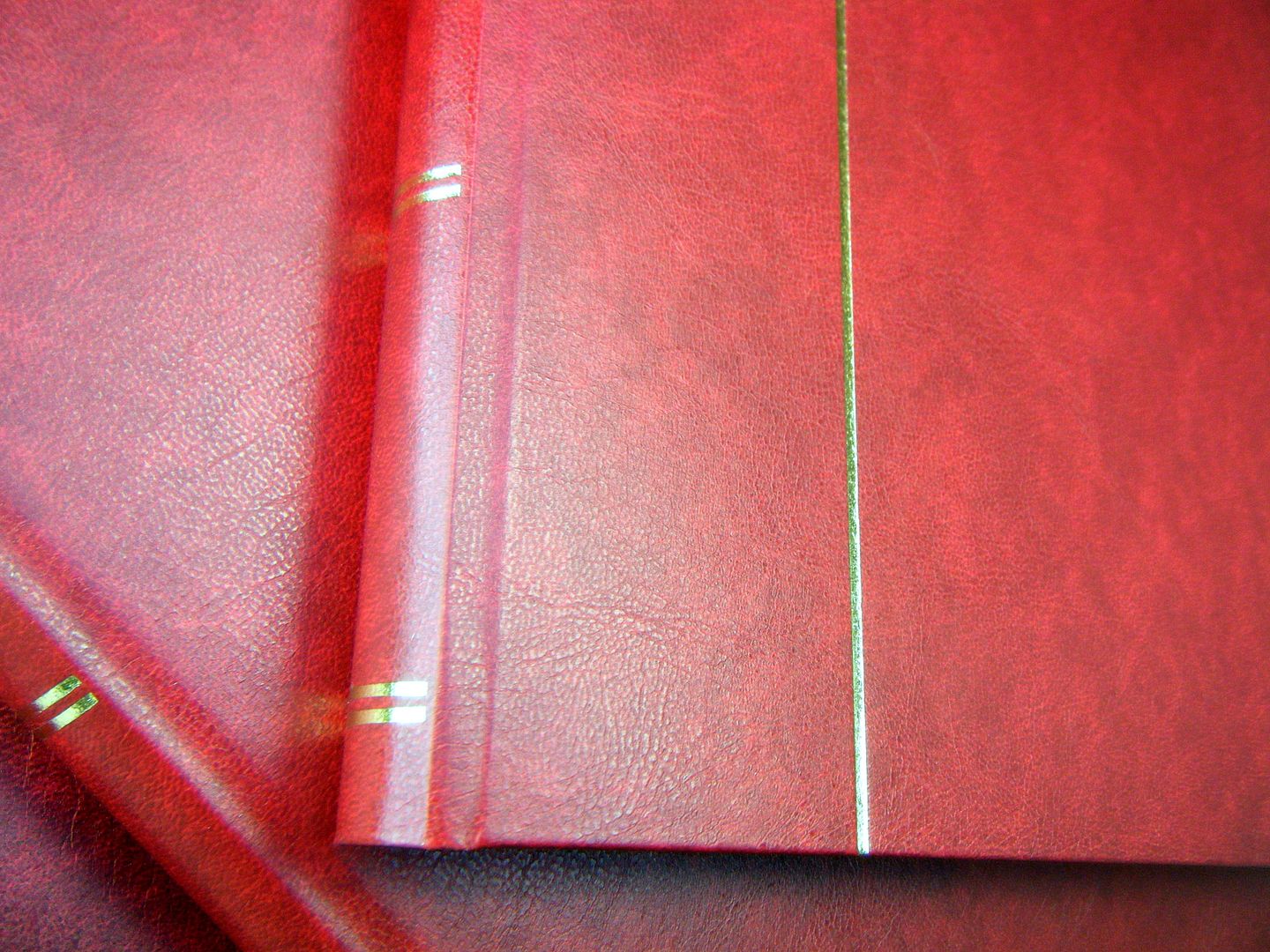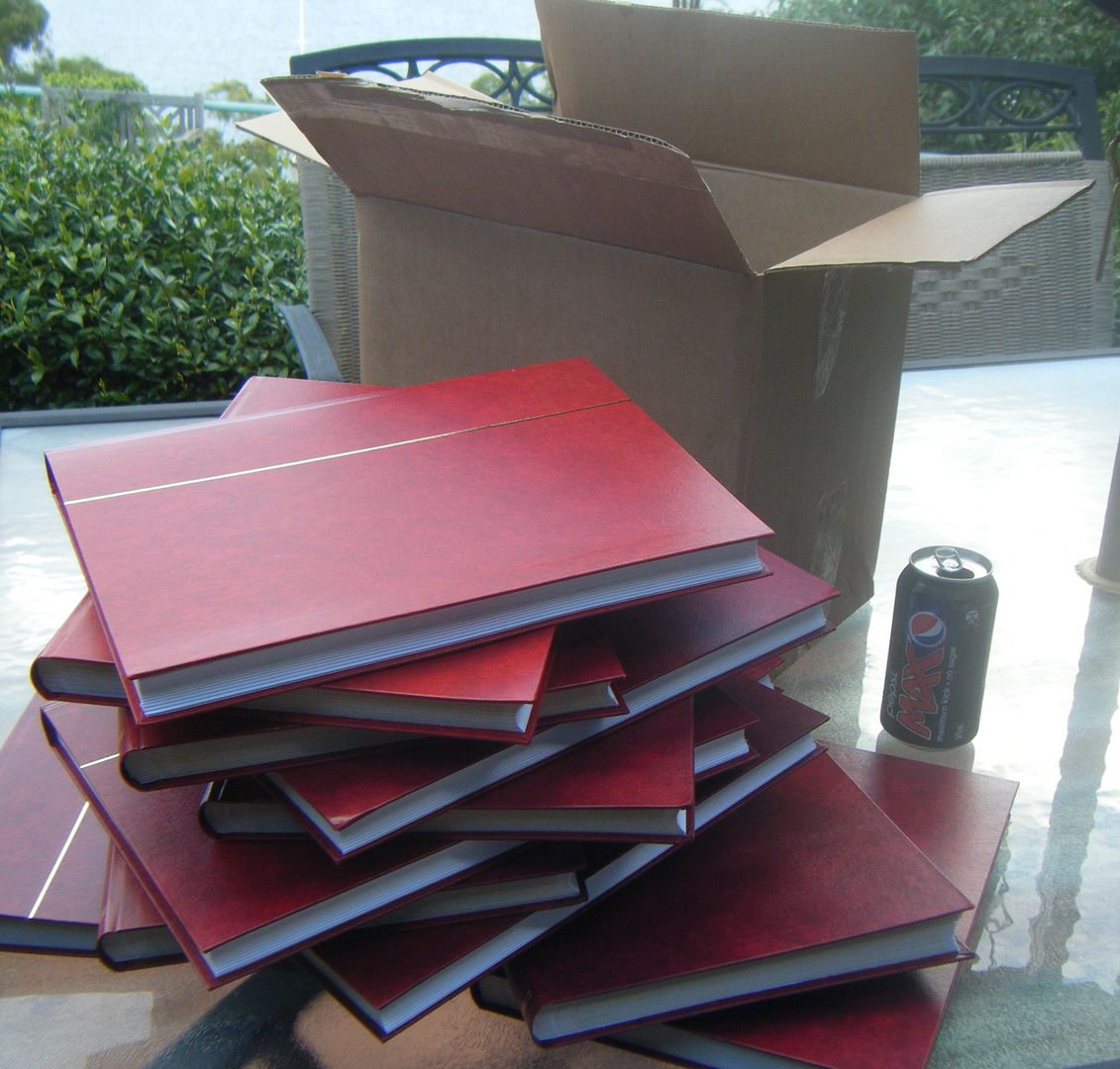 German made 32 page stamp stockbooks - $15 each. LIMITED TIME OFFER.
WHAT a deal!
I bought a few PALLETS off these. I've sold 1000 wholesale, and am offering stampboards members a few 100 at that same price point, until sold out.
It does not look like I can get more at that price, so when these are gone - Bye Bye!
All boxes are mailed along with a free current "Stamp News" magazine - retail $9 alone!
Quality German made, white pages, with the 5 double gold bands on spine, and down front cover.
The most economical way to sell them, is in
factory cartons of THIRTEEN
as shown above.
That keeps your shipping costs down - inside within a 100K radius of Sydney one book costs the same to mail as all 13 books! $15 post and pack it all these cost - $1 a book! True. To Newcastle or Wollongong to Lithgow.
Buying a factory carton keeps your unit cost way down too.
These average out at 15 BUCKS apiece
- HALF the usual retail for a quality book. If you buy a box, keep how many you want and take the rest to the next Club meeting - you'll be killed in the stampede at $15 each.
OR list them on ebay at $20-$25, and average down your own copies prices.
I lot of folks lie doing up stockbooks of surplus material to place in Auction, and at $15 a book
THIS
is the cost-effective way to do that.
And remember these are all the LARGE standard "A4" (quarto) page size. One dealer was recently offering a "special" to clients at around this same price per stockbook, but they were the teeny little half "A5" sized pages!
This new line has really CLASSY looking covers front and back - like a
rich grained leather look
I suppose you'd call it. SO much nicer looking than the boring solid colours used for the past 30 years - even by "Lighthouse"!
These are top quality West German made books. Surely your stamps DESERVE the best .... and at HALF the usual storage costs ..... why ever not?! The photos above were taken by me, and are of the books you actually receive. Same colour covers in each box.
Do NOT even think of buying Asian made stockbooks. They all look cheap and nasty right from day #1, all pages and covers are highly acidic, non linen hinged,
and the pages warp.
They RUIN your stamps as the high acid content, combined with our humidity bathes your stamps in literally a weak acid bath - all year long. This accelerates toning/foxing, which RUINS your stamps. "Saving" a few dollars a book could ruin your stamps worth $1,000s. Just plain dumb.
These use neutral bleached board for pages and covers to alleviate this problem. West German quality. All with the famous 5 gold embossed bands on the spines, and front cover. The usual 9 strips per page, so 288 a book or
3744 storage strips a carton!
Strong LINEN HINGED pages on both sides for very long wear, and
DOUBLE glassine interleaving
to protect all your stamps - and stopping the cheaper single interleaved pages from tangling and crumpling up - which they ALWAYS do!
REMEMBER: It is a great idea to now and again re-house ALL your stamps. At this price why not do that NOW? Stockbooks 10-15 years old WILL have mould growing on the pages if stored in Australia.

NO doubt about it.
In any coastal areas it will start in well under 10 years. For a measly $15 a new stockbook, to put your $1,000s of stamps into a brand new clean book makes superb sense.
A cheap pizza costs more than one of these. Foxing on the STAMPS will lose you half their value - or indeed, even more. Once mould starts on the stockbook pages, that toning/foxing/rust spreads like a cancer to the other pages, and to the stamps inside.
Like fruit in your fruit bowl at home .... one piece of fruit gets mould and the entire bowl has it within 24 hours. Stamps are no different. It spreads fast. Another good reason to replace them all NOW at this great price!
In over 30 years of stamp dealing I have learnt one truism. No collector can EVER have too many empty stockbooks! Just because you "think" you will not use 10 or 20 (or 30 or 40 or 50) you are WRONG!
13 Books for $A200 plus post
=========
Remember, adding another lot of
mine
(posted by either
Admin
or
GlenStephens
or
Global Administrator
, or
ozstamps
) - here (or on my website) for sale in general
adds ZERO
to your shipping cost, so have a good look at what is on offer here in case something else appeals:
http://www.stampboards.com/viewforum.php?f=27
All payment details are on -
http://www.glenstephens.com/payment.html
Call it "Box stockbooks : Stock 375TC" - please order via SECURE site:
https://www.glenstephens.com/order.html
For overseas members, to find out the approx cost in YOUR currency, click here -
http://www.xe.com
MONEY BACK GUARANTEE
- don't like it - mail it back within 48 hours of receiving it. No-one ever has yet.
- and "lay-by/layaway" is always possible - email me with any queries to glen [at] glenstephens.com -
OR

"trade-ins"

always possible!
If you have a pile of surplus stuff I may well be happy to offset that against this item - see
http://www.glenstephens.com/buying.html
As most know - I do NO fairs or shows, have NO shop, and do NOT bother with ebay or other auctions. I buy endless bulk lots from Estates, and distress sales etc, in this massive city, and offer it here at NETT prices for fast turnover. NO "20% Buyer Fees" to add to
my
prices, as in auction!
And many similar mouth-watering NETT price offers are being loaded weekly onto -
http://www.glenstephens.com/rarity.html
and
http://www.glenstephens.com/specials.html
All stampboard lots under $A200 are mailed Unreg'd, as reported delivery problems are near nil. If Reg'd is required,
STATE that on order form
– cost is extra $A4 local, and minimum $A13 extra foreign. 'All risk' Insurance is always possible if required, at $A2 per $100 covered - again it
must
be specified on order form.
As per stampboard convention - this lot is offered exclusively to board members - and on no other sales venue.
For members who make a BANK TRANSFER payment you

WILL

generally get your goods faster, as it saves me some hassle - but you MUST email me the confirmation number etc - many "forget"!
.