A few years ago, in a packet of early NZ used stamps, I found a number of stamps on piece similar to this: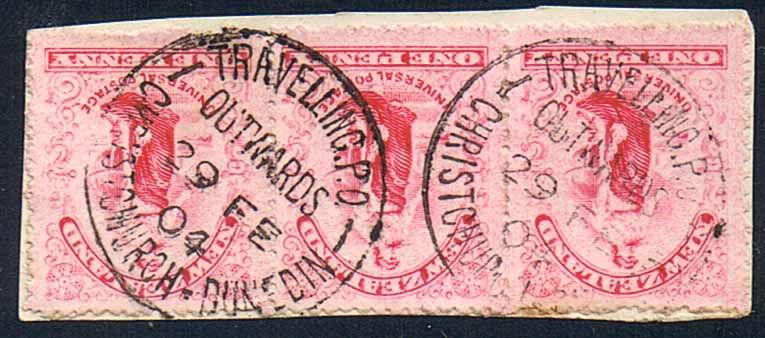 C.7, Christchurch to Dunedin run.
Earliest known usage: 4th November 1903.
Latest known usage: 6th December 1911.
Up till then, I had never heard of
Railway Travelling Post Offices
, nor that they had their own special postmarks (which, curiously, are
NOT
listed in the "bible" of NZ postmarks, "Wooders' NZ Postmark Guide."
I kept a couple of the best pieces with this C.7 cancellation, and sold the rest. I was spurred on to collect the
Railway Travelling Post Offices
of New Zealand, and will illustrate some of these here in the months ahead, d.v.
If you have any NZ
RTPO
s, you may like to show them here also. Or feel free to ask any questions.
Best book for info on these is "

Mails by Rail in New Zealand

" by Albert Johnstone & Robin Startup, published 2001.
Old postcard showing the Auckland to Wellington express train passing through the centre of Palmerston North.

The main railway has now been re-routed several kilometers west of the city, so passengers now have a considerable drive to meet a train, rather than a quick trip to centre of town as in this era shown!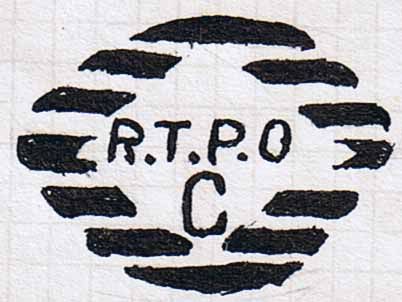 C.1. Christchurch to Dunedin run.
Earliest known use: October 1878.
Latest known use: 24th February 1886.
The first
RTPO
was the Christchurch to Dunedin route, and commenced on 23rd November 1878. It occupied half of a second-class van on the express train.
The trip between Christchurch and Dunedin took 11 hours! There were two such
RTPO
's: one on the southbound train and the other on the northbound train. Crews changed over at St Andrews, near Timaru, and later at Studholme Junction.
The first cancellations issued to the
RTPO
were an oval within thick bars with "
R.T.P.O. C
" (now known as
C.1
), and an A-class datestamp, with
R.T.P.O. (C )
and date. This is known as
C.2
. Index letters below the date are A or C for
southbound, and B, D, or H for northbound.
1882 Queen Victoria 2d "second sideface" stamp with

C.1

cancel.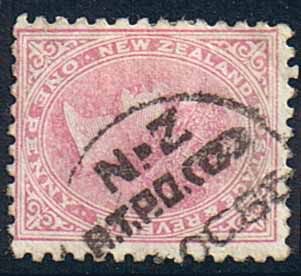 C.2.
October 1885, on a One Penny QV second sideface.
Earliest known use: 16th November 1880.
Latest known use: 10th June 1886.
Note how fuzzy the

(C)

bracketed appears! This pmk always looks this way.