Hi
Here is another well travelled cover.
In the early 1930s, Imperial Airways had two main routes from London to Empire countries, the Eastern route (London - Karachi) and the African route (London - Cape Town). From June 1932, mail from New Zealand could be sent by surface to Karachi and flown from there, joining the African route in Cairo.
This is one of 48 covers on the first acceptance of airmail from New Zealand to Khartoum in Sudan.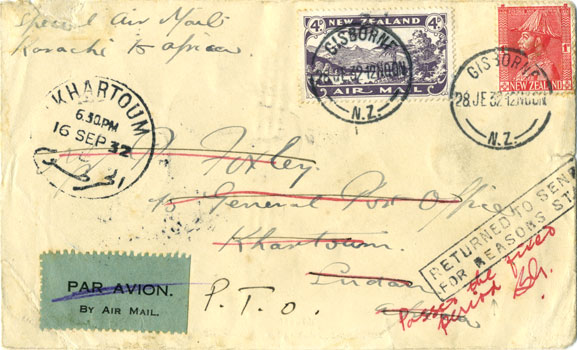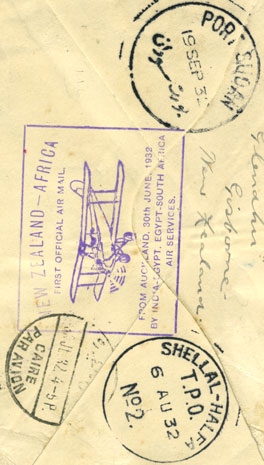 It started its journey on 28 June 1932 in Gisborne and has the New Zealand - Africa cachet and a transit mark at Cairo on 30 July. The TPO mark at Shellal - Halfa on 6 August shows that the last leg to Khartoum must have been by train. It has a
returned to sender
cachet and a Khartoum postmark on 16 September when it presumably started its return journey. There is a Port Sudan (which is on the Red Sea) transit mark on 19 September showing that was where its return jouney by sea began.
Par Avion
is scored out showing that it was not flown on the return journey.
The thing about
busy covers
is that the transit marks can tell quite a story.
Cheers
Bob
_________________
My website: "New Zealand Stamp Images", at
www.nzstamps.org.uk
describes New Zealand philately, postage stamps, airmails and postal history.