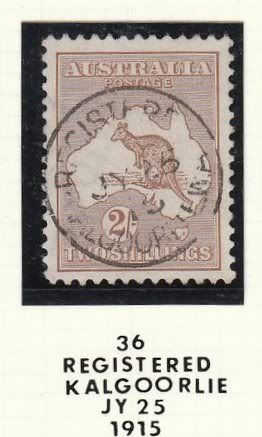 When
Didge
bought the large album off me, I'd already sold off a few nice looking pieces like these above to a client, who had ordered "Superb Used" off my list.
In fact this album had been laying around my "office" for about 10 years gathering dust before I ever touched it.
As the pages had Letraset wording saying
"Registered Kalgoorlie JY 25 1915"
etc, clearly no other copy would exist to fill that gap with! Same with the lovely 2d and 1/- First above, and some others.
So I needed to go and somehow broker a deal, to get that very happy collector to part with them all, so they could go back into the original album, where they "belonged".
I honestly can't recall who it was, or what it took to get him to part with them, but it was done
somehow
.
That 2/- 2nd would have to be the
finest postal used example
existing anywhere - in my view. That tiny little Kalgoorlie "thimble" cds on a parcel post stamp is a gem.
I've now sold it THREE times, as the original buyer got them all from me decades back, and hope they stay for a
long
time where they are now.
Neither stamp above was terribly expensive, (the 2d was about $10, and 1/- was probably $15, and both would now be worth 5 times that today, to any number of my clients) but as I often say, getting even a TRULY superb postal used ½d roo is
just
as tough as the £2.
Strikes like these above are truly are 1 in 1000 on the lower value Roos.
.