OK .. this thread is as good a time as any to have an educational session on these "A99" sheets.
Much of the info about these out there is second or third or fourth hand, and has generally never been documented, especially visually.
Being lazy, I have not touched my copies for 9 years until now, other then when clients asked about them specifically.
I was the most active buyer of these at the Exhibition, and ended up with by far the best stock anyone had or has of these interesting items.
I was at the huge show for all hours on all days, and
Simon Dunkerley
and I - a well known error specialist - were keenly interested in these perfins, and compared notes many times, as it was a unique experiment.
There were two large hydraulic machines operating. Side by side.
One with a perf head designed to punch the holes in the "square" design
brown
sheet, and the other with a perf head to punch the horizontal design stamp
"blue"
sheet.
I took this photo of the one above, where the female AP staffer was perforating the
BLUE
sheets only
The operator fed the leading edge of the sheet in, and when in position, pressed a button and
GUZZOOOMMP
down came the top perf head, and punctured the sheet. One sheet at a time.
This technique had never been in operation at any stamp show anywhere in the world as far as I know, and like all machines had it's shortcomings.
Several things were occurring.
------------------
1. The machine did not puncture the sheet fully. See the
large red rubber MALLET
in photo above. That was there to thump the flat top of the perf head when this occurred, to ensure all the holes were punched through fully before removing it. On the first day the operators were not too fussed about doing that, creating these PART PERF errors. These below I sell for
$A125
per sheet:
This photo above of one unit is over-exposed to show the error more clearly.
----------------------------
2. The sheet was fed into the machine a little out of square (there was a guide grid template to assist them) so the perfin head did not strike accurately. The misperf can vary from being noticeably badly centred (
$60
a sheet) to grossly off centred as per these 2 - price
$125
a sheet. (Remember, a perfectly NORMAL "A99" perf sheet is about $30. )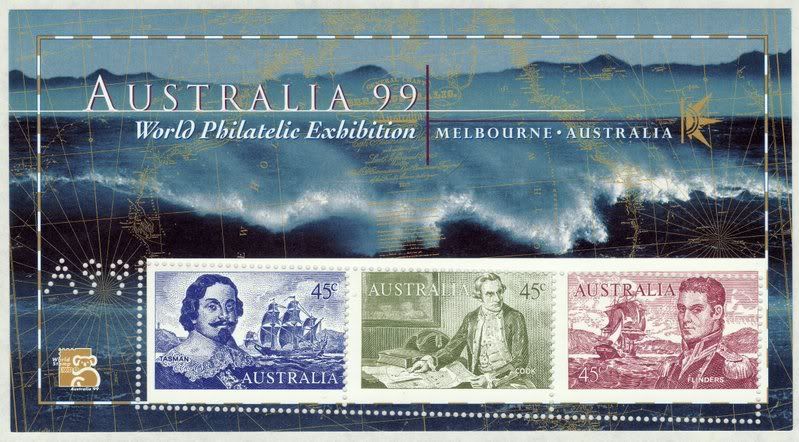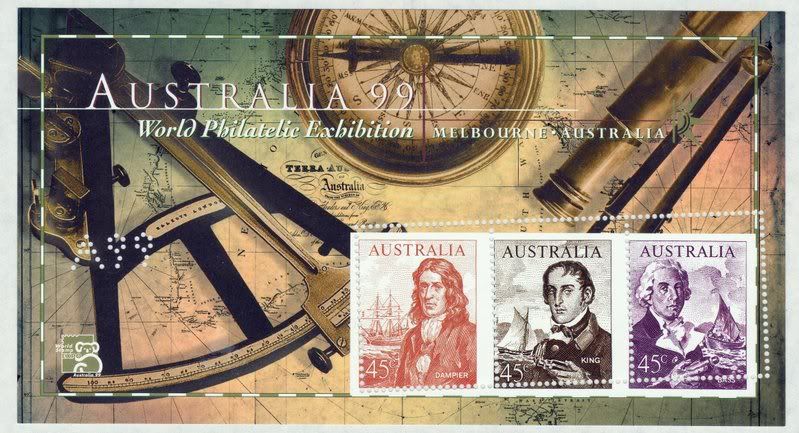 -----------------------
3. The sheet being inserted wrong way around. Fairly easy to do as the grid only had a key line for where to align the sheet, and no indication which way was up. Being unionised the staffers rotated every few hours, and often new staffers took over and glitches like this below occurred early in their shift. Quite striking visually, and these sell for
$A200 each
.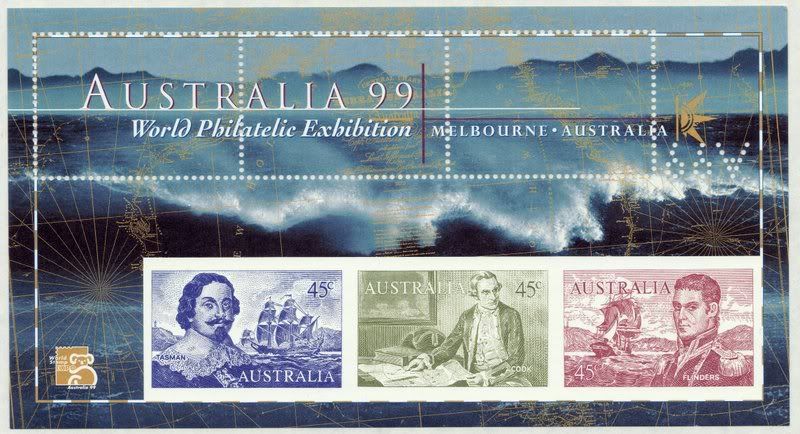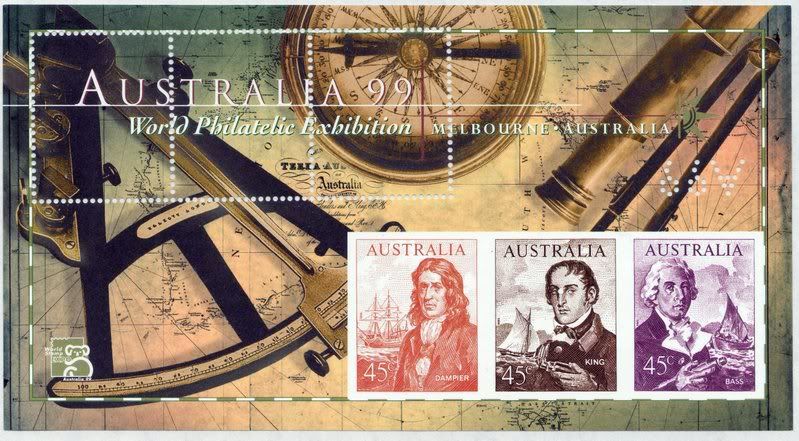 -------------------------
4. The ones that WERE clearly "suspect" are shown below. Of course stamp collectors being stamp collectors they are by essence the priciest, being
$250
each! i.e. taking a blue mini sheet and inserting into the brown sheet perforating machine or vice versa. Such sheets were done in the first few hours of the first day in the main, by collectors schmoozing the operator to oblige. At that point they had not been warned by Maiden they'd be in deep doo doo for doing this.
So one gets either a sheet with totally wrong shape perfins, OR a correctly perforated "A99" sheet got an extra wrong shape perfin like the one below. The situation
waroff
mentions I am not personally aware off, as there were always supposed to be 2 operators, one for each machine, and as they were hydraulic and complex, the public touching them was clearly
not
meant to occur for safety and insurance (and common sense) reasons.
Any "funnies" I bought were from collectors who had sweet-talked the operators.
------------------------
That pretty much covers it. A few other similar variants I saw, but they were few and far between.
All I do know is that visually striking perforation errors on earlier Australia stamps are often in the
multi 4 figure $$$ mark
, so it is often a decade or two down the track these kind of things get fully appreciated.
The fact remains that #1 #2 and #3 were created by Post Office employees .. no doubt WHATEVER about that, and I am aware of some of #4 from that source .. including the ones in my stock.
They are as much a Post Office produced error as a missing color or imperforate or double print.
Even rather minor and uncatalogued "kiss prints" are getting
$A29,125
at auction in recent weeks, so that is a relevant pointer.
http://www.glenstephens.com/snseptember08.html
Stanley Gibbons makes clear mention of the items above existing in a footnote, and that will ensure ongoing worldwide demand for them.
.