I've shown some of these in various places before, but I thought I might pull them all together, and show the full set in all its blowsy beauty.
This was another product of the drive by Bombay printers to find business in Central India during the Depression years. It led, amongst other things, to the Orchha 1935 set I've discussed in another thread, and the shortlived issues of Bijawar (1935-1941).
The Charkhari 1935 set, SG 45-53, was printed by Batliboi Litho Words, Bombay. Gibbons says of the set
'This issue was subject of speculative manipulation, large stocks being thrown on the market cancelled-to-order at very low prices and unused at less than face value. The issue was an authorized one but was eventually withdrawn by the State authorities.'
For many years, Gibbons refused to list the many errors that exist in the set, probably on the grounds that they were printer's waste. The errors probably were, but most occur CTO as well as mint, suggesting that the State PO was quite happy to sell them to the crazy collectors. And thank goodness they did: it makes for a great display of all that can go wrong when an all-purpose printer tries its hand at security printing. Some of them are every bit as spectacular as the WA Inverted Swan (yes, I know), but are a great deal cheaper to acquire.
On a more serious note, the set comes in three perforations - 11, 11 1/2 and 12 - and compound. Compound is scarce. And genuine commercially used are rare. The give-away is that the CTO all have double-ring CDSs, which only seem to have been used for that purpose. Commercially used have single ring CDSs.
So, here is the lowest value, the Half Anna, in an imperf between block, gummed both sides to make up for the missing perfs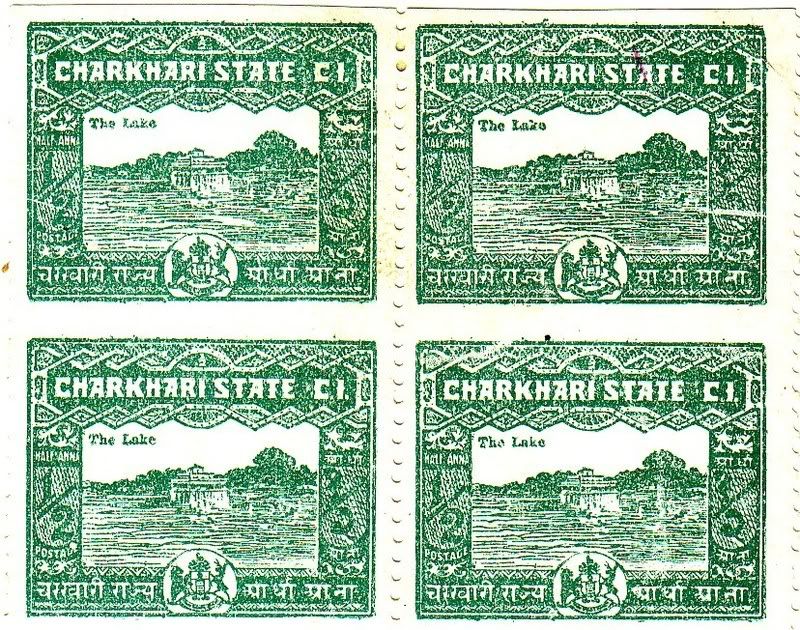 And here is the 1 anna
More problems with those blasted perforations ...