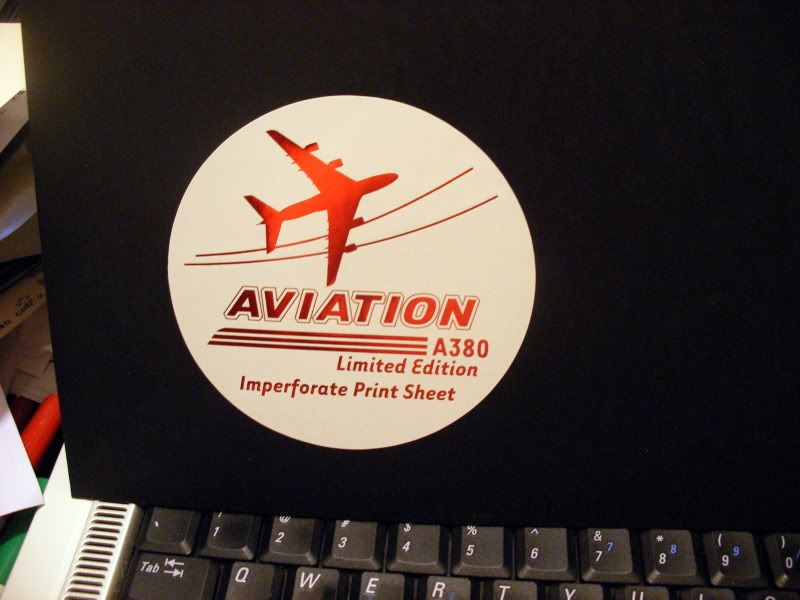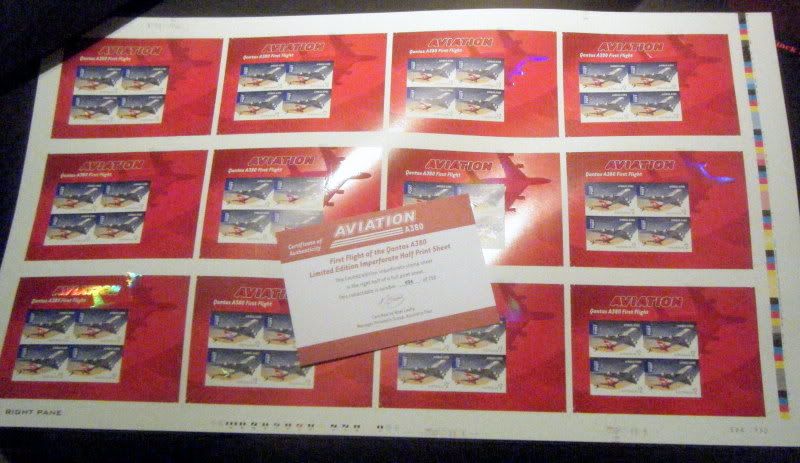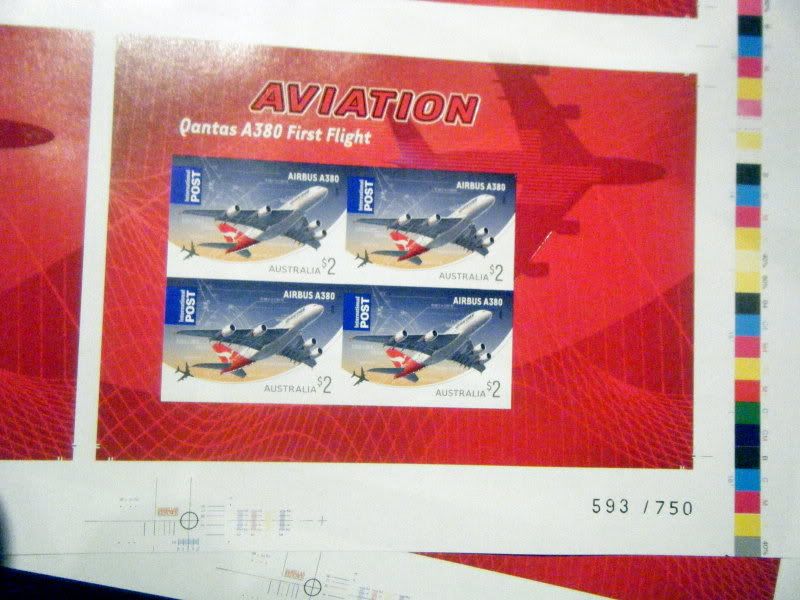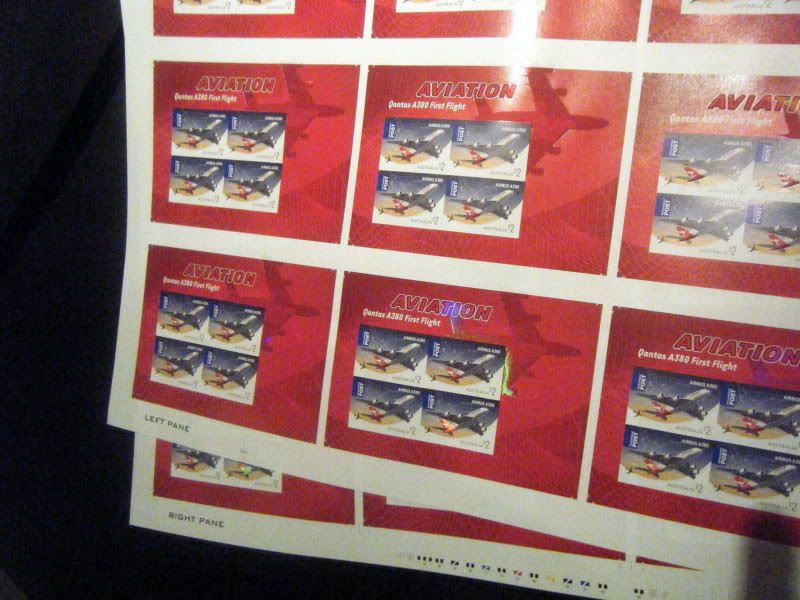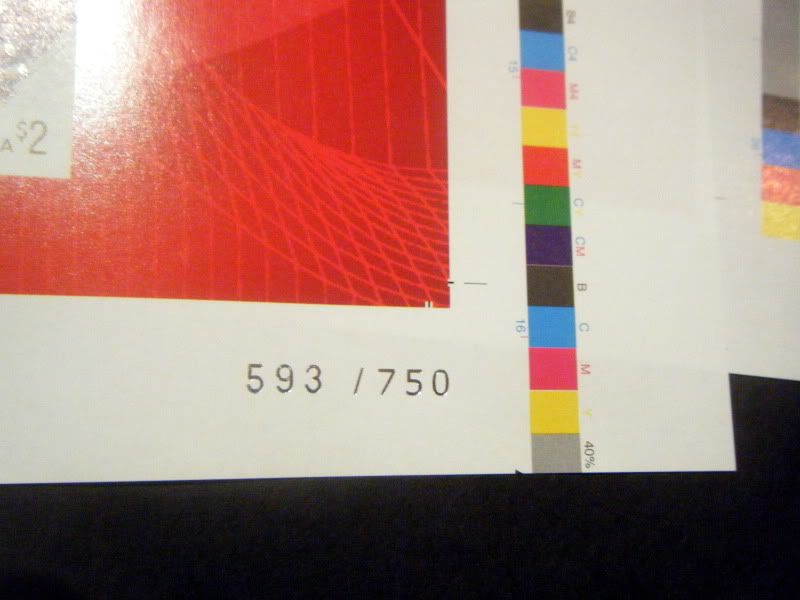 On November 25 Australia Post released 750 x IMPERFORATE panes of 12 mini sheets of 4 x $2 stamps.
You needed to phone a special '800' number after midday, and maximum order was a sheet a person, and they sold out within hours as you'd expect.
All the $2 stamps depict the massive new
Qantas Airbus A380.
These are really neat sheets .... there is a clever use of high gloss extra laminate/varnish coating on selected parts of the design that really makes it eye-catching. On the Qantas Kangaroo on tail, the large word AVIATION, and the large plane at right side. Parts of it with the right light on it look almost holographic as you can see in the large shot of the sheet of 12.
Each sheet is
foil
numbered in lower right margin, and also comes with a
hand numbered
card of guarantee that
only 750 panes
in
TOTAL
were sold including all left and right panes, as they offered with Architecture imperfs - although
they
were done in a much larger
5000
run - and are still much sought after.
Indeed there were only 375 left pane and 375 x right pane ... both panes of 12 sheets are marked thus lower left.
This is a
Qantas Airbus A380 issue
and that is a red hot theme, even for non stamp collectors. And it is
imperforate.
It is limited,
it is 100% OFFICIAL PO
, and will be RED hot - just like the stamp border colour!
These are large items .. lots 5 and 6 for example, fit absolutely PERFECTLY onto a hanger sheet or stockbook page.
There is **NO** other way to obtain this sheet IMPERFORATE.
I am selling these as follows:
1.

Fully imperforate

pane, being a block of 4 x $2 stamps, with wide outer margin -

$A35

a pane of 4.

2. As above but

top RIGHT pane,

with

massive

RH margin and all the colour bars as you can see.

$A50



3. As above but

top LEFT

corner pane with all the colour "targets" in top margin.

$A40



4. An uncut imperf

pair

of 2 of the panes 4 (face $16)

$A65



5. As above but a vertical PAIR from

top left

of sheet.

$A75



6. A vertical pair from

top RIGHT of sheet with all colour bars

and mega wide margin!

$A85



7. A corner block of 4 panes of 4 x $2 stamps. (Face $32)

$A115

.

8. The lower

RH corner block of 4 panes

with machine foiled number number

AND

the matching hand numbered AP guarantee card matching the sheet number

$A200



9. As above but lower RH corner

SINGLE

pane, with Certificate and colour bars at right.

$A120



10. The 2 x lower left

corner blocks each of 4 panes

with "LEFT PANE" and "RIGHT PANE" in large letters on margin as you can see in photo. Lovely set.

$A225



11. Lower left corner block of 4 x Panes of 4 with EITHER - "LEFT PANE" and "RIGHT PANE" wording.

$A110



12. As above, but a

single pane

of both "LEFT PANE" and "RIGHT PANE" wording.

$A85



13. Or the full uncut pane of 12 with foil sheet number, matching numbered certificate, and all in the thick archive flat storage box with white gloss archive paper, special thick black storage folder and special large sticker on outer, and hard shipping folder - and all shipped in a large outer packing bag for extra protection -

$A350
Reg'd Postage at cost .. I'll advise, based on outer size of what you order. For the larger items overseas please get quote, as the folders are large in size.
However, as everyone knows, nice CTO stamps under plastic used on ALL sendings as always!
This uncut sheet offering sold out in hours from AP and is the

ONLY

source of these OFFICIAL IMPERFS.
I had a number of stamp clients sit on the phone and order these from PO for over $100 a sheet inc post, and
I have also paid them $100 profit
for their trouble of making the multi dial phone call to secure them. One chap dialled
120
times before he got through he advises!
I do not care, as at least I'll have stock, and inevitably, no other dealer in the country will.
Order now -- stock has just arrived, and these are strictly first in - best dressed.
Airbus A380
- like Concorde is a HUGE collector theme .. often by folks who do not otherwise collect stamps. I hang out on several Frequent Flyer boards and the
A380
is today the only game in town.
I got $A750 just for a few Concorde stamp bits and pieces from my flight!
http://www.glenstephens.com/concorde.html
I was invited to the official party at the Sydney Hilton this year when the first
Airbus A380
commercial flight on earth arrived, (and was offered a seat on the return flight by a friend!) and folks from all over the world paid a fortune to be on that inaugural round trip flight.
They are all A380 nuts.
I chatted with many of them at the function and they are addicts. If each one of THEM bought just one of these panes, they alone would consume the entire issue - think about it!
Every Qantas staff member worldwide got given a special A380 pin, and PO pack of the PERF issue, and many of them are now in the market for the IMPERF sheet.
Remember, adding another lot of mine here (or on website) for sale in general
adds ZERO
to your shipping cost, so have a good look at what is on offer here in case something else appeals:
viewforum.php?f=27
All payment details are on -
http://www.glenstephens.com/payment.html
Call it "A380 Imperfs on stampboards" - and do SPECIFY which lot number above you want, and please order via:

http://www.glenstephens.com/order.html
MONEY BACK GUARANTEE
- don't like it - mail it back within 48 hours of receiving it. No-one ever has yet.
- and "lay-by/layaway" is always possible - email me with any queries to glen [at] glenstephens.com
And many similar mouth watering NETT price offers are being loaded weekly onto -
http://www.glenstephens.com/rarity.html
and
http://www.glenstephens.com/specials.html
And remember - I use a
PAPER based
credit card transaction system as I am too lazy to get a machine. In general, you will almost certainly be charged
weeks after
you get the goods, as I do such boring things in large batches "when I get time".
For members who make a BANK TRANSFER payment you

WILL

generally get your goods faster as it saves me some hassle.
.