Based on Ian McMahon's Monograph for the Philatelic Society of Canberra, 1991, and my own holdings, I have compiled a list of private users of the 3d, 3 1/2d and 4d embossings (large and small dies) for Australian stationery envelopes, - one illustrated below, 3d large die: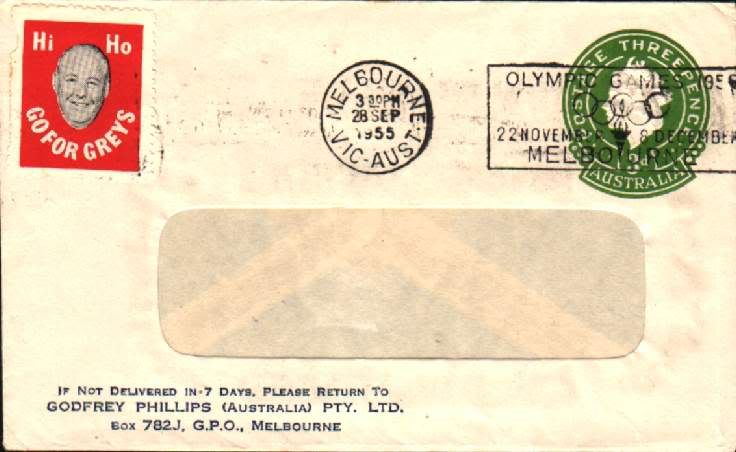 Can anyone add to the list below, or identify those users where only a PO box is given as identifying the private user?
Where dates are given, I have those examples. Where no date is given, the entry is from Ian McMahon's llistings. It's a long list, lets make it more complete.
Queen Elizabeth 2 Embossed Envelopes Printed to private order ("PTPO"):
3d green - large die:
Alexander Fergusson
Alfred Lawrence and Co (Brisbane)
Ampol, Melbourne used 10 March 1955, 14 Feb 1956
Berlei Limited Melbourne used 25 Jan 1956
Box 15 Redfern used Sydney 26 July 1956
Box 15 16 GPO Sydney used Sydney 31 Dec 1953
Box 4509 GPO Melbourne used 6 Oct 1955
Box 771L GPO Brisbane used Brisbane 23 July 1954
PO Box 274B Melbourne
Briscoe & Company used Melbourne 19 April 1956
Brunton's Flour Mills
Buckley and Nunn
Bunge (Aust) Pty Ltd Melbourne
Business Equipment used Melb 20 July 1955
Chairman Phylloxera Board, Adelaide, unused
City of Box Hill, Melbourne, used 6 Jan 1956
Colac Dairying Company
Containers Limited Melbourne used 1 March 1956
T N Chuck Wire Fencing and Gate Co
Registrar, Council of Public Education
A W G Davey and Sons
H B Dickie Ltd (Yarraville)
David Jones Sydney used 5 October 1956
M Donaghy & Sons
Eltham Shire used Melb 5 May 1955
Farmer and Co Ltd Sydney
Flack and Flack Melbourne used 15 March 1957
Footware (Doery and Tilley) Pty Ltd
Ford Sherington Ltd
Fuller, King and Co, Melbourne, used 5 April 1957
GPO Box 1516 Sydney used 5 Oct 1955, 27 August 1954 - 2 different security papers
GPO Box 238D Brisbane
GPO Box 773H Melbourne
GPO Box 4509 Melbourne
R Graham Henderson & Co used Melbourne 2 March 1956
Glover and Goode Pty Ltd Melbourne
Godfrey Philips Pty Ltd used Melbourne 28 September 1955
Greer and Ashburton Melbourne
A G Healing Ltd Brisbane
Harris Scarfe Limited used Adelaide 4 Jan 1956
H J Heinz Co Pty Ltd
Henry Berry and Co Pty Ltd Melbourne: two sizes
small used 20 Feb 1954, larger used 25 Jan 1954
James Walker
Johnson and Phillips Limited Melbourne- 2 different types used 24 April 1956, 14 August 1956
Norman Bros. Pty Ltd Melbourne used 3 Nov 1955
Noyes Bros
Onkaparinga Woollen Company Limited used Adelaide 26 Jan 1954
28 Paisley St Footscray
Queensland Pastoral Supplies (Brisbane)
Rexbilt Shirts Pty Ltd
Shire of Ferntree Gully
Slazengers (Aust) Pty Ltd Melbourne
Sydney University Union used 8 June 1956
The Committee of Direction of Fruit Marketing, Northgate
The Myer Emporium Ltd (Brisbane and Melbourne)
R G Turnley and Sons
Turner Manufacturing Company Ltd, Nunawading used July 1955
Wallace Buck and Goodes
H R Varley
Robert Young Pty Ltd
3½d red - large die:
Henry Berry
Box 1516 GPO Sydney, used 24 October 1955
Box 531 E Melbourne
Box 771L Brisbane, used 28 March 1955
Box 4028 GPO Sydney used Sydney 19 March 1957
Box 912 GPO (British Patented Perforated Paper) Sydney used
Sydney 15 April 1957]
GPO Box 238D Brisbane
PO Box 389D Melbourne long type used 25 August 1955
City of Box Hill
City of Geelong
Commonwealth Steele Co Ltd Waratah
Creamoata Ltd
Dennys Lascelles Ltd
Glover and Goode used
Irrigation Commission, Box no. 2708 GPO Sydney, used 11 May 1954 large type
David Jones
MVRC Melbourne
Netherby Wine used Melbourne 22 Oct 1957
Norman Bros
PO Box 1 Waterloo, used 6 April 1955
Queensland Pastoral Supplies Pty Ltd
Shire of Buln Buln, Drouin
Sidney Cooke
Stuart Alexander & Co Pty Ltd, Sydney, used 17 Dec 1953 large type
The Trustees and Executors and Agency Company Ltd
Val Morgan
3½d orange - large die:
89-105 Exhibition St Melbourne
29 Paisley St Footscray
B W & Co
Belmont Trading
Buckleys Melbourne
Box 1576 GPO Sydney
GPO Box 1516 Sydney
Business Equipment Pty Ltd Sydney
D'arcy Shelley, Sydney, used 8 March 1957
M Donaghy & Sons
Farmer and Company Limited, Sydney, used 13 Dec 1956
Ford Sherington Sydney
Glover and Goode Base Metals
GPO Box 773H Melbourne
H Hecht & Co
Kornblums
Melbourne and Metropolitan Board of Works
Mackay "Silentruba" Products Pty Ltd
Moffat-Virtue Ltd, Sydney, used 9 April 1957
R Graham Henderson and Co, Melbourne, used 20 Jan 1956
Shell Company of Australia
SKF Melbourne
The Myer Emporium
Wright and Co
3½d Red - small die:
Ampol Petroleum, Melbourne, used 12 June 1959
Box 771L GPO Brisbane used Brisbane 11 July 19??
Box 156 PO Newcastle
Cyclone Company of Australia, Sydney, used 30 June 1959
Cyclone Double-Grip Scaffolding Pty Ltd, Sydney, used 13 June 1959
Greer and Ashburner Pty Ltd Melbourne used 28 Sept 1959
Hardies Fibrolite used Melbourne 9 June 1959
H J Heinz Company Pty Ltd, Sydney, used 14 Dec 1957
H R Varley and Sons Pty Ltd, Brunswick, unused
Moffat-Virtue Ltd, Sydney, used 9 Dec 1958
Price Waterhouse and Co, Sydney, used 16 Jan 1959
Rheem Australia Pty Ltd used Sydney 4 Jan 1959
N H Seward Pty Ltd, Melbourne, used 10 Dec 1958
Shire of Deakin, used 19 July 1960
Smith, Johnson and Co, Sydney, used 12 March 1959
Sydney Cooke used Melbourne 9 June 1958
Sydney University Union used 26 Feb 1958
Thomas National Transport, Sydney, used 23 Jan 1959
Turrella Industries Pty Ltd, Sydney, used 10 June 1959
3½d Orange small die
28 Paisley St Footscray
Alfred Lawrence and Co Brisbane
K J Ballantyne Pty Ltd
Berlei Ltd
Bosch
Briscoe and Co
Brunton's Flour Mills
Burns Philp and Co Ltd
Box 1 PO Waterloo
PO Box 100 Abbotsford
PO Box 156 Newcastle
PO Box 24 South Melbourne
Colac Dairying Company
Creamoata Pty Ltd
Fler
GPO Box 773H Melbourne
R Graham Henderson & Co
Greer and Ashburne
Gunnerson Noxworthy
Hannaker and Middleton
Harston Partridge and Co
H J Heinz
Jacka Furnishings
Jacka - Wortley Fabrics
James Walker
Jex Pty Ltd
Johnson and Phillips
Mammy Products
Melbourne Metropolitan Board of Works
Moldex Ltd
Myer Emporium
Val Morgan and Sons Norman Bros
Noyes Bros
Onakaparinga Woollen Co
Queensland Pastoral Supplies
Rexbilt Shirts Pty Ltd
Robert Young Pty Ltd
SKF, Melbourne
Sydney University Union
R G Turnley and Sons
H R Varley
Wallace Buck and Goodes
Silent Ruba Products
4d purple - large die:
K L Ballantyne
Blyth Chemicals Limited, Elsternwick, used 5 April 1958
Box 869J Eliz St PO Melbourne used 15 March 1957
Box 4142 GPO Sydney, used 28 Oct 1956
Box 1459T Brisbane
Box 771L GPO Brisbane
Caltex Oil
Commonwealth Steel Company
Creamoata Ltd
D'arcy Shelley Pty Ltd, Sydney, used 14 March 1957
David Jones
Farmer & Co
Federal Chemicals
R Graham Henderson and Co, Melbourne, used 29 May 1959
Graham Henderson of Australia Melbourne used 29 May 1959
Mackay "Silentruba" Products Pty Ltd
Robert Bosch Pty Ltd, Melbourne, used 23 Oct 1957
Shire of Charlton
University Club, Sydney used 20 Dec 1956
4d purple - small die:
Australian Wholesale Grocery Ltd
Australian Institute of Mining and Metallurgy used Melb 23 Feb 1960
Box 869J Eliz St Melbourne, used 23 August 1957
PO Box 156 Newcastle
PO Box 7 Waterloo
Creamoata Ltd
David Jones Ltd, Sydney used 20 April 1959
GPO Box 238 D Brisbane
Queensland Pastoral Supplies
Rodda, Ballard & Vroland
Shire of Eltham
The Shell Company of Australia used Brisbane 15 May 1959
Sidney Cooke Ltd Melbourne, used 18 Sept 1958
The Trustees Executors and Agency co
Vacuum Oil Co Pty Ltd, Sydney two types used 3 Dec 1957, 22 Mar 1958