Hello, Jim, hopefully I'll be able to get a hold of these stamps for you , here's a picture to keep you going...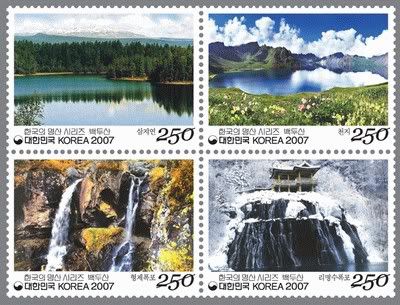 # Featured in the fourth series of the "Celebrated Mountains of Korea" is Mt. Baekdusan (Mt. Paekdu), the mountain that symbolizes the heart and soul of the Korean people. This new stamp, a joint work by South and North Koreas, features the picturesque scenery of Mt. Baekdusan, shown in a photo taken by Lee Jeong-Soo and Kim Yong-Nam -- photographers from South and North Korea.
# Covering the Hamgyeongnam-do Province and Hamgyeongbuk-do Province in North Korea, as well as the northeastern region of China, Mt. Baekdusan rises 2,750 meters above sea level making it the highest mountain on the Korean peninsula. As indicated by its name, the top of the Mt. Baekdusan is covered with snow almost throughout the year on white flat stones. The mountain serves as habitat to a wide variety of fauna and flora that vary by the climate which in turn vary significantly depending on the sea level. The mountain was designated in 1989 as a "biosphere reserve" by UNESCO.
# 1) Lake Samjiyeon (Lake Samji)
As indicated by its name, Lake Samjiyeon comprises three lakes which are often cited as the most superb view among those in Mt. Baekdusan. These three lakes, a byproduct of volcanic activity blocking the course of the river, are 4.5 km in circumference, with the largest lake being 1.8m deep on average. Well matched with the whinstones that are spread out nearby, the lakes present a truly grand spectacle.
# (2) Lake Chonji (Lake Chon)
A crater lake at the top of Mt. Baekdusan, Lake Chonji has a circumference of 14.4km, a total area of 9.16km2, and an average depth of 213.3m, with the deepest point extending 384m deep. Surrounded by dozens of peaks that stretch like a wall, such as Janggunbong ?- the highest peak on Mt. Baekdusan -- Hyangdobong, Baekunbong, etc., Lake Chonji is a crater lake located at one of the highest locations in the world. As a habitat to rare alpine flora, the Lake is also very important in academic terms.
# (3) Hyeongje Falls (Hyongje Falls)
As indicated by its name, Hyeongje Falls are two waterfalls that come splash down side by side on a rock cliff. They are located about 1 km from Baekdu Waterfall. Falling perpendicularly over the rock cliff, the waterfalls create water fog, presenting a truly wondrous sight of nature. Around the falls live such alpine flora as a kind of rhododendron, blueberries, etc.
# (4) Rimyeongsu Falls (Rimyongsu Falls)
Unlike typical waterfalls that descend from the upper stream, Rimyeongsu Falls is very unique: from the breast of a cliff, underground water gushes out to descend in several streams. Comprised of underground water and with a height of 6 meters, the falls don't freeze even in the midst of the coldest winter, presenting a mystical view, together with pure white frost all around.