Some of the covers in this next lot of questions might be recognisable by a keen-eyed poster on this thread
.
This is a very long set of questions, so I do apologise. The information received in answers, though, is very useful as I am gradually starting to understand a lot more of the context behind covers and letters and the very interesting postal history of the area.
Question 1! This cover was sent from Kothamangalam to Conoors. It seems to have passed by Kandukathan en-route. Would the label have been attached by the post office for some unknown reason, or would it be applied before sending; an instruction by the sender to mail via Kanadukathan?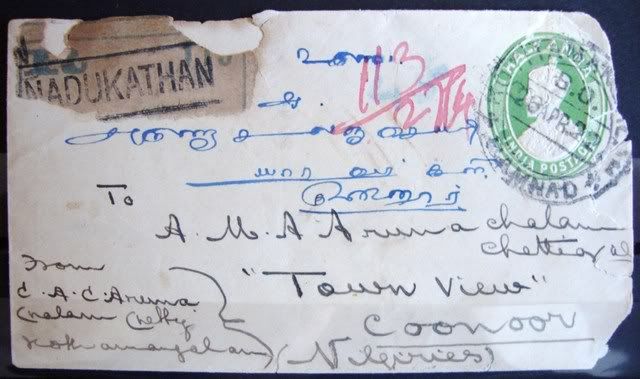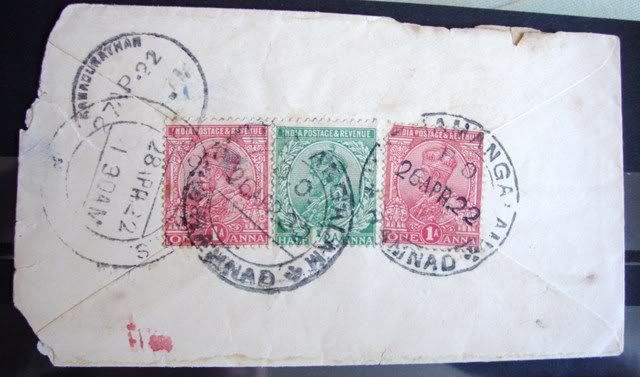 Question 2: The Right hand cancellation is Calcutta GPO, whilst the left is something similar to "Je*re". Is the cancellation a Bombay-circle cancellation?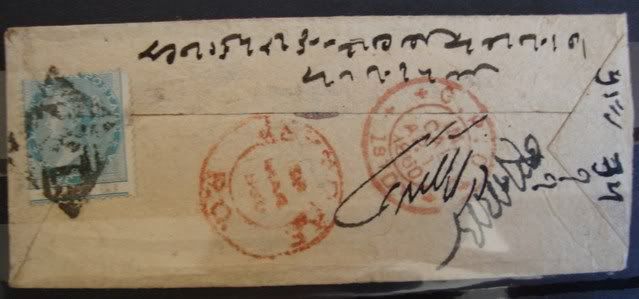 Question 3: The pentagonal cancellation is illegible, but seems quite unusual. Can such a cancellation be attributed to an area/function?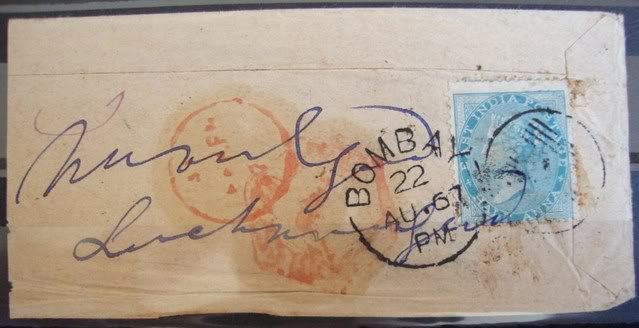 Question 4: What does the number after the registered stamp indicate? Is it the 185th letter posted registered through the post office?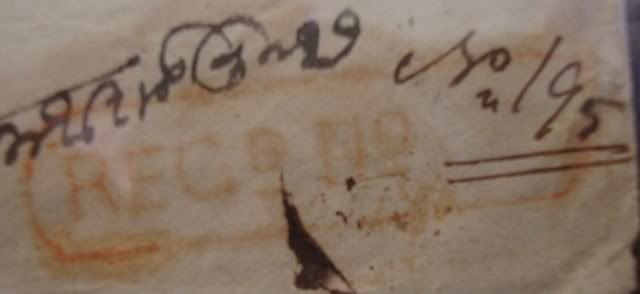 Question 5: Is this a number 3, Bombay-circle postmark - the lines run the opposite direction to other stamps with this cancellation? Is there a reference other than Robson-Lowe for identifying which post offices numbers refer to?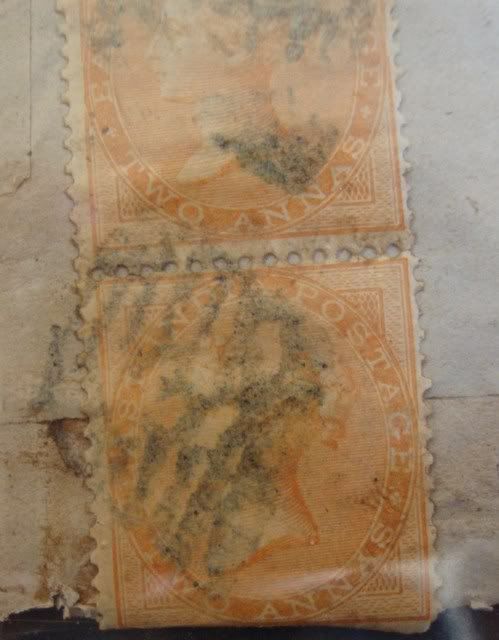 Question 6! This cover has a "Too Late" cancellation on the reverse. Since its local mail, I'm unsure what its too late for. Was it sent too late to pass through the postal system that day? Seems unlikely, as its the only example of the stamp I have, and it seems unlikely that late posting would be such a rare occurence.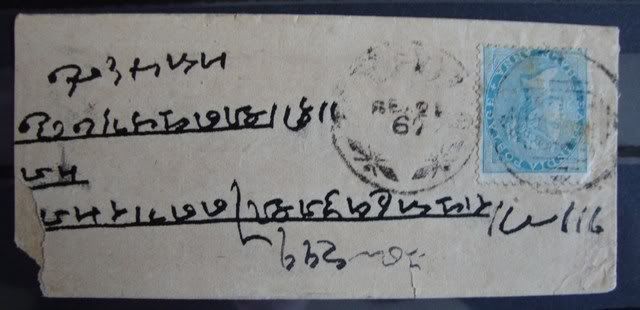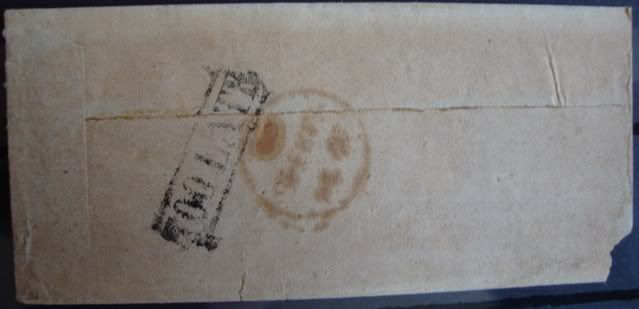 Question 7: Three postmarks, from three different places! Based on the dates, the cover was sent from Seekur to "Nu*" and passed through Ajmere. Any idea where place the 116 duplex cancellation was applied?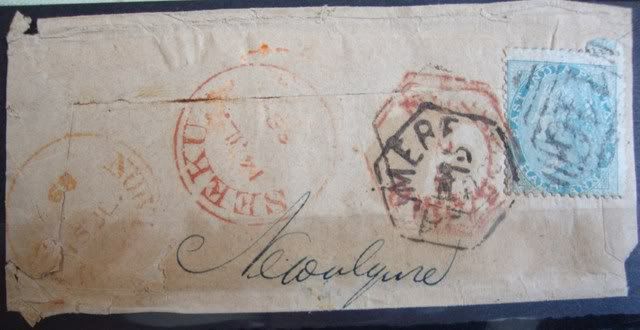 Question 8: Simple one, I think. Is this a Bengal area postmark?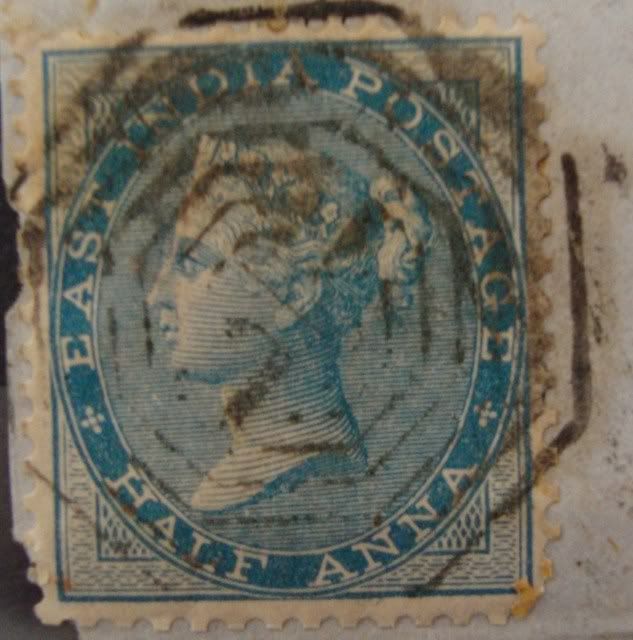 Question 9: A lovely cancellation on the reverse of a cover which I can't make heads-or-tails of. Is it smudged texted around the side? - looks like it might say GPO on the base - but I can't read the top.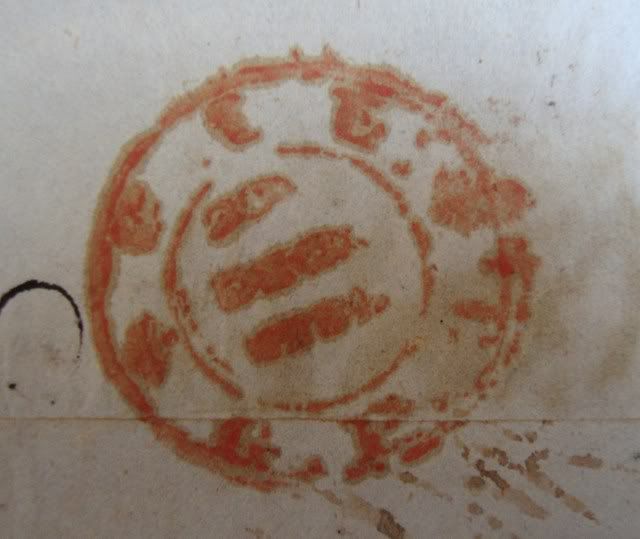 Question 10: The final question of a marathon series of questions
. A type-9 duplex cancellation with a 9 within it - any idea on the location?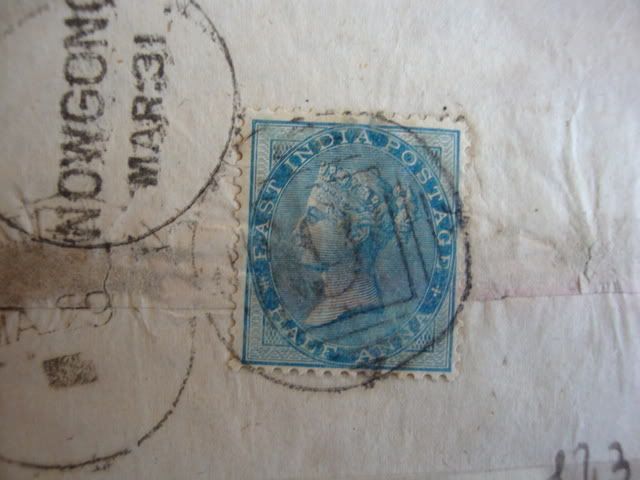 Many, many thanks for any answers to any or all of the questions,
Ben