Some clients do wonder what I mean when I say things like:
" I'll mail it when I ever see that album again"
or
"It is now buried under a foot of other stuff"
or
"Your order is getting into the TOP 6 inches of the pile"
or
Yes I do have a stockbook of Germany around the place SOMEWHERE
As their neat little stamp den experiences no such issues, and such answers from me seem incomprehensible.
So based on some incredulity in another thread where I showed just ONE photo of my patentedĀ® filing system, here is some more background.
I live on my own in a very large 3 storey home, overlooking the Harbour.
From top to bottom it is a metre or two deep in stamp boxes, and cartons and paperwork and junk.
On stairwells, in hallways, and covering
every
surface of the kitchen dining rooms, lounge rooms and bedrooms, even top of the washing machine.
A few random photos I took below will convey the message a little more clearly!
The massive garage is also stacked high with shelves and cartons, but I was too lazy to go down the 40 stairs to take pix of that.
So look carefully at these photos and when I say your little black stock-card or Hagner sheet or letter is misplaced - trust me - it
IS.
So c'mon .. I can't be alone - who also here has a slightly less than Library Of Congress standard, neat, patented storage system like I do?
-----------------------------------
Main work desk area:
Careful filing of all orders to be processed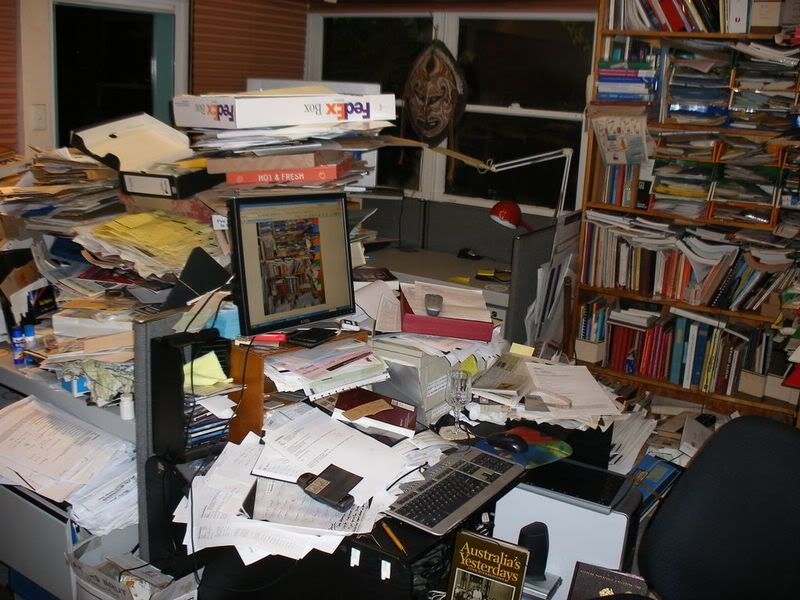 One Guest Bedroom
Another Guest Bedroom of meticulously catalogued material:
Kitchen Table -- encourages

small

dinner parties
Neat and tidy Lounge Room
Spartan kitchen bench space:
Part of main bedroom - free of all stamp material
A hallway to another Guest Bedroom - many "Desert Magic" Drying Books!:
Relaxing Lounge Settee
Stairwell
Elegant Jarrah Dining Table
Pristine cook-top surface
Neatly filed reference books.
Nearly stacked orders to be worked on "soon"
More "urgent" orders at my fingertips. "Almost to the top of my pile"
.
GlenStephens wrote:
I am pleased to report that great progress has been made in the GARAGE .. far neater and more organised than it used to be, as these pix from this week show.
Glen